Quick Links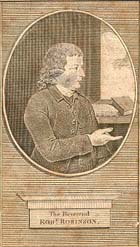 Portrait of the Rev. Robert Robinson (1735-1790), the frontispiece to his Seventeen discourses on several texts of Scripture (Cambridge: 1796). Sp Coll TCL q140
Trinity College Library
Early printed books (over 3,000 items printed before 1801, including 21 incunabula) from the library of Trinity College, Glasgow. A theological college, the strength of the collection lies in works on divinity and religion.
The College was founded in 1856 as a theological college for the ministry of the then Free Church of Scotland. After 100 years, its library had grown to over 75,000 volumes and 14,000 pamphlets, including many personal collections (e.g. the 4,000-volume library of the College's first Principal, Patrick Fairbairn) and some institutional collections such as the United Presbyterian Synod Library, transferred to the College in 1900.
In 1974 the University received the entire library of Trinity College from the General Assembly of the Church of Scotland. Although the Church of Scotland retained formal ownership of early printed books, it was agreed that they should be placed on permanent deposit in the Special Collections Department of the University Library.
The Trinity College Library material housed in Special Collections includes some 2,000 items selected from its general book stock. In addition, early printed material was segregated from the University of Glasgow's Divinity Hall Library and the personal libraries of John Eadie, James Mearns and Constantin von Tischendorf, which the College had acquired over the years. A number of books (including some Divinity Hall and pamphlet material) have yet to be catalogued.
How to find material from Trinity College Library
A substantial number of pre-1820 books have been catalogued; browse through a list of titles (warning! over 3,000 items are listed here), or use the rare books search to locate specific items.
Peter W. Asplin "Trinity and related collections in Glasgow University Library", Bulletin of the Association of British Theological and Philosophical Libraries, vol. 2, no. 17 (June 1993), pp. 3-8.
Stewart Mechie Trinity College, Glasgow, 1856-1956. With an account of the College Library by James Mackintosh (Glasgow, 1956), especially pp. 52-76.
Quick Links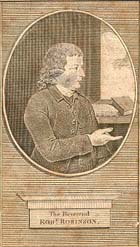 Portrait of the Rev. Robert Robinson (1735-1790), the frontispiece to his Seventeen discourses on several texts of Scripture (Cambridge: 1796). Sp Coll TCL q140