Quick Links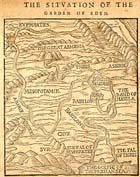 Page from 1633 Geneva Bible (Sp Coll Eadie 7)
Eadie Collection
The library of John Eadie (1810-1876), Professor of Biblical Literature in the United Presbyterian College, Edinburgh, including about 300 early printed books, including rare bibles and other theological works.
After his death it was purchased for the College library by Thomas Biggart of Baidland, for £2,000. Following the union of the United Presbyterian Church with the Free Church of Scotland in 1901, the collection went to the United Free Church College (subsequently Trinity College) in Glasgow and was transferred with the rest of the Trinity College Library collection to the University in 1974.
The original collection contained over 7,000 volumes, which was reduced to around 3,000 by the removal of items duplicated elsewhere in the University Library's collections. Most of the 19th-century books were incorporated into the Library's main stock.
How to find material in the Eadie collection
Quick Links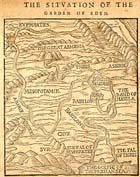 Page from 1633 Geneva Bible (Sp Coll Eadie 7)