Quick Links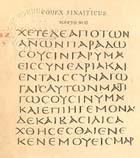 Frontispiece from Tischendorf's 1869 The New Testament (Sp Coll K.T. 306)
Tischendorf Collection
The personal library of the biblical scholar Constantin von Tischendorf (1815-1874).
Tischendorf is now best remembered as the man who first discovered and published the 4th century Codex Sinaiticus, the earliest known manuscript of the Bible; however, he also made significant contributions to biblical textual criticicism, work that remains of interest to scholars to this day.
After his death in Leipzig, his library was purchased for the Free Church College (subsequently Trinity College) Glasgow, for £460, with money raised by Thomas Martin Lindsay (1843-1914) and Alexander Balmain Bruce (1831-1899). In 1974, along with the with the rest of the Trinity College Library, the General Assembly of the Church of Scotland transferred the collection to the University of Glasgow Library.
The collection's 1,000 or so volumes include Tischendorf's copies of most of his own publications, many early works on textual criticism, and a wide range of near eastern travelogues. It also includes a few personal documents.
How to find material in the Tischendorf Collection
Browse through a list of printed items in the collection (Sp Coll K.T.); or, search for a specific item using the rare books search.
Browse through a list of manuscript items in the collection (MS Gen 527); or use the manuscripts search to locate a specific item.
Browse through a list of titles by Tischendorf held by the Library (NB this listing includes some items from main library stock as well as Special Collections material)
Peter W. Asplin and Jack Baldwin, "Tischendorf's library" in Matthew Black and Robert Davidson Constantin von Tischendorf and the Greek New Testament (Glasgow, 1981), pp. 79-89.
Konstantin von Tischendorf, Biblical scholar, 1815-1874: a commemorative exhibition of books from his library (Glasgow, 1974). Exhibition catalogue available for consultation in the Special Collections reading room.
Quick Links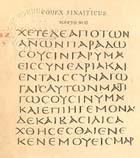 Frontispiece from Tischendorf's 1869 The New Testament (Sp Coll K.T. 306)