More information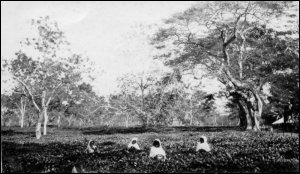 A photograph of tea pickers on the Burmacherra tea estate. (Copyright reserved.)
Guide to James Finlay & Co Managers and Assistants Letterbooks
About the company's tea estates
In 1750 James Finlay (1727-c1792) established the firm of James Finlay & Co in Glasgow. The company was highly successful, operating in overseas and UK markets and opening textile mills all over the world. Their Indian business connections were strengthened in 1862 when Finlay Clerk & Co was established in Bombay, followed in 1870 with the opening of the Calcutta branch of Finlay Muir & Co as the company was now known.
Around 1882 the firm began to diversify into tea estate management and by 1901 Finlay, Muir & Co was managing extensive tea estates in India and Sri Lanka. The Assam, Sylhet, Cachar, Dooars, Darjeeling and Travancore estate covered over 270,000 acres, 77,000 acres of which were planted with tea.
At this time the firm employed 70,000 individuals from the local population and a large staff of superintendents, managers and assistants from Britain. They were the leading Indian tea suppliers in the UK market with five main subsidiary companies to manage the tea growing interests - Amalagamated Tea Estates Co Ltd, Anglo - Amercian Direct Tea Trading Co, Chubwa Tea Co Ltd, Consolidated Tea and Lands Co and Kenan Devan Hills Produce Co Ltd. The last tea estates in India were sold to the Tata Tea Co of Bombay in 1982.
The company still trades worldwide in black tea, instant tea and decaffeinated tea and manages estates in Kenya and Sri Lanka. For further information on Finlays business today, visit their website at http://www.finlays.net/.
The Managers and Assistants Letterbooks (GUAS Ref: UGD 91/1/6/3/1)
As featured in BBC's Who Do You Think You Are? Magazine, October 2010.
These letterbooks contain a wealth of information about the men recruited in Britain to manage the Finlay tea estate business overseas. They contain summaries of the correspondence back and forth from the local superintendents to head office in Glasgow about the recruitment and performance of individual staff members. They contain very personal comments, both positive and negative which can shed light on the personalities of the men who managed the estates as well as the practical details of their everyday lives far from home.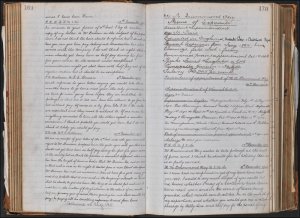 An index of names included in in the first 15 volumes of the series covering the period 1903 to 1937 is available as the Finlays Staff Index (A to Z, 37 pages, 2mb, pdf). These volumes predominantly cover staff engaged for work in estates in India and Ceylon (Sri Lanka). If you find someone of interest to your research, you are welcome to visit to look at the volumes or to order copies.
There are an additional 30 volumes of these letter books covering the period 1925 through to the 1970s. No consolidated index has been created for them. To see these items you can either visit us or commission us to do some research on your behalf. If the person you are researching could still be alive, the records will be covered by General Data Protection Regulations (GDPR). This means you will need to either (1) prove that you are the person referred to in the records, or (2) give us that person's contact details so we can seek their permission for you to see the records, or (3) provide us with proof of that the person is deceased.
We are grateful for the work of a number of volunteers and placement holders, and for the support of Finlays, which has allowed us to create this index.
Consulting the Finlay company archive
If you would like to know more about the rest of the extensive Finlay archive collection, including their textile manufacturing activities, you can see a summary collection description on our online catalogue here https://archiveshub.jisc.ac.uk/glaas/data/gb248-ugd091/1 (click on this link and type in "james finlay tea planters" - without quotation marks) . If you would like a copy of the full detailed catalogue of the archive sent to you by email in MS Word format, please contact us.
Other sources of information about British citizens in Asia and Africa
These Finlays records only cover British citizens employed by this Glasgow firm of tea estate managers but there is a great deal of information available in other archives about other British people who lived and worked overseas.
The BBC's Who Do You Think You Are? Magazine website has an excellent guide to Anglo-Indian ancestory.
The major source of information about life for British citizens in India, and the territories now included in Pakistan, Burma and Bangladesh, before 1947 is the India Office Library. The records can also include source materials for neighbouring or connected areas, covering not only South Asia, but also Southeast Asia, Central Asia, the Middle East, and parts of Africa.
The National Archives provides useful guides, for example to the birth, death and marriage records of British nationals overseas and to the sources for tracing soldiers in the British Army.
The Archives of the School of Oriental and African Studies at the University of London is an excellent source, particularly for information on people who went overseas as missionaries.
The work of the Families in British India Society may be of interest.
More information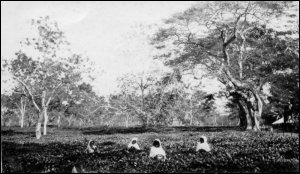 A photograph of tea pickers on the Burmacherra tea estate. (Copyright reserved.)