Nigeria

Collection: Dr Honoria Somerville Keer (GUAS Ref: DC 171)
Honoria Keer (1883-1969) studied Medicine at the University of Glasgow from 1903-1910, graduating MB ChB in 1910. She worked as a doctor during the First World War in France, Macedonia and Corsica, before offering herself for service with the Colonial Service and in 1925 she was appointed to the post of Lady Medical Officer at the Massey Street Dispensary, Lagos, Nigeria, which she held until 1934.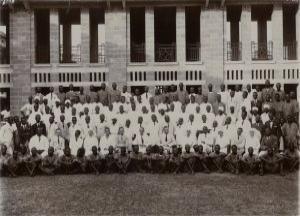 View larger image
This photograph shows staff members of Lagos Hospital, including doctors, sisters, nurses, dispensers and labourers. Dr Keer can be found seated in the second row from the front, fifth from the left, April 1931. (GUAS Ref: DC 171/3/15/1/38. Copyright reserved.)
For further information on Dr Honoria Somerville Keer archive, please see the online catalogue. See also Dr Honoria Keer's biography from the University of Glasgow's Roll of Honour (World War 1).
Collection: University of Glasgow Medical and Dental Final Year Dinner Books (GUAS Ref: DC 225)
The first Nigerian students at the University of Glasgow came to study medicine in 1913. James Churchill Vaughan and Isaac Lapido Oluwole graduated with a medical degree in 1918.
The photograph is from the final year dinner book for 1913-1918 MB ChB students, featuring James Churchill Vaughan (top left) and Isaac Lapido Oluwole (bottom left).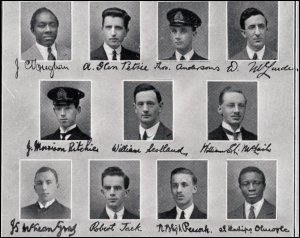 View larger image
Isaac Lapido Oluwole was born around 1892, the son of Isaac Olwole, a Nigerian Anglican bishop of Sierra Leonean and Egba heritage. After graduation he returned to Nigeria as the first African Medical Officer of Health in the Lagos colony. He pioneered school health services with schools inspections and the vaccination of children in their schools and started the first Nigerian School of Hygiene at Yaba Lagos in 1920.
James Churchill Vaughan was born in Lagos on 30th May 1893, the son of James Wilson Vaughan. On his return to Nigeria in the early 1920s, he set up his own private clinic and introduced a scheme of free medical services for the destitute. He became a vocal critic of the British Colonial Administration and took an active part in several nationalist organisations in Nigeria and Ghana. In 1934 he founded his own political party the Lagos Youth Movement with other leading activists – Dr Kofo Aboyomi, H O Daniel, Ernest Ikoli, and Samuel Musanya. This party was very popular, attracting members from all over Nigeria and soon became the centre of Nigerian political life.
(GUAS Ref: DC 225/1/5. Copyright reserved.)