Egypt

Collection: William Fulton Jackson (GUAS Ref: DC 111)
William Fulton Jackson was appointed the General Manager of the North British Railway Company in 1899, and was the last general manager to be appointed before the 'grouping' of the railways in 1923.
His collection at Glasgow University Archive Services is comprised of photographic prints and negatives of his family, ships, locomotives and various destinations around the world, including a large number of photographs of Egypt.
This photograph is entitled "View of Nile from Kasr Ibrim looking north, Egypt. Winter 1909-10".
(GUAS Ref: DC 111/1/243. Copyright reserved.)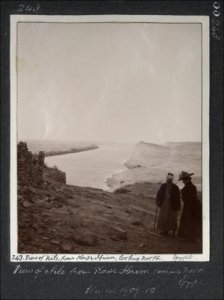 View larger image For further information on the William Fulton Jackson archive, please see the online catalogue.