Sketchbooks of Ernest Arthur Binstead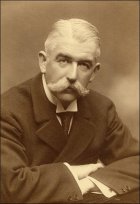 Ernest Arthur Binstead was a keen amateur artist who produced beautiful pencil drawings and watercolour sketches of the activities that went on around him during the first years of the twentieth century. During 2008, his niece, Miss Lee, donated two of his sketchbooks to Archive Services for permanent preservation. This exhibition is made up of digitised images of each of the sketches in the two sketchbooks.
The first sketchbook includes sketches made between 1898 and 1908. The majority of the sketches, however, were made during Mr Binstead's journey on the SS Garmoyle from Glasgow to the Isle of Dogs during April 1901. These sketches highlight both life on the ship and the sights viewed during the journey.
The second sketchbook is made up of sketches of the Dover and Folkestone area made during 1908. Again, the coast line and the ships that visited Dover harbour are featured heavily, with some additional sketches of visitors to the coast.
Mr Binstead was born in 1863, the second son of Charles Henry Binstead and Elizabeth Bailey. Having spent his childhood in Grasmere in the Lake District where his father worked as a land and mineral surveyor, he trained as a solicitor. In 1915, Arthur married Mary Openshaw, the novelist, in Hastings and went on to spend the majority of his adult life in London.
The full catalogue for the sketchbooks will be available via our online catalogue in the New Year. If you would like to order copies of any of the sketches, or wish permission to reuse the images, please contact us. This exhibition is also available on flickr.