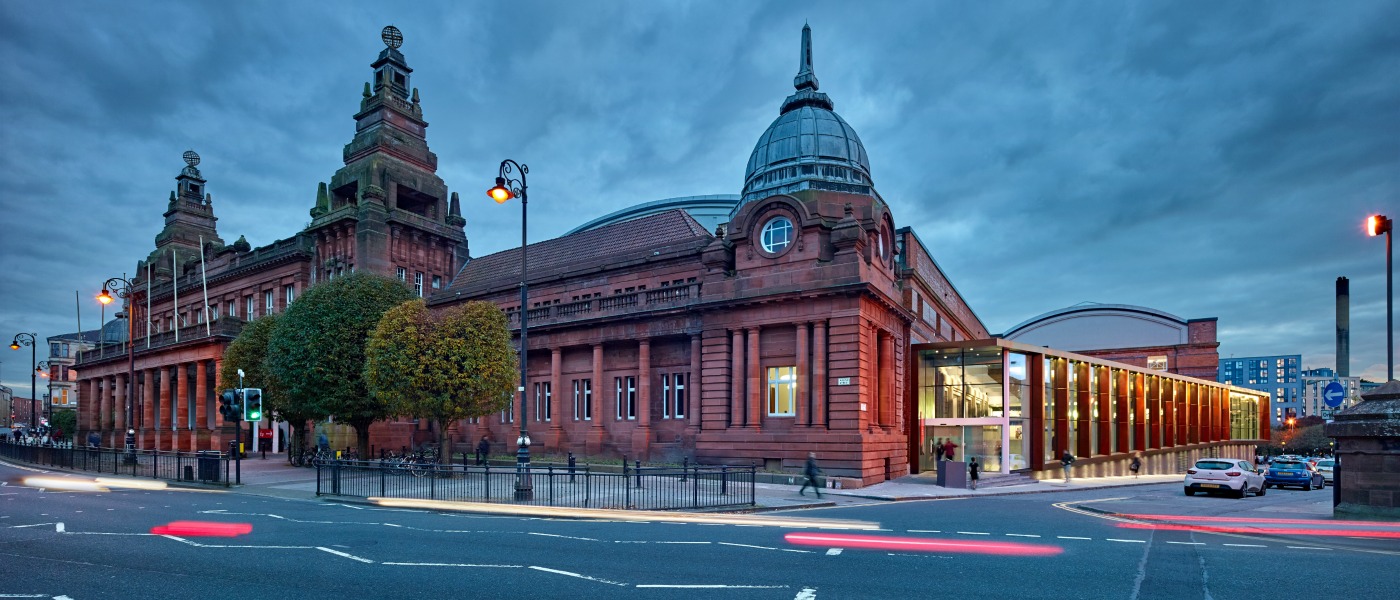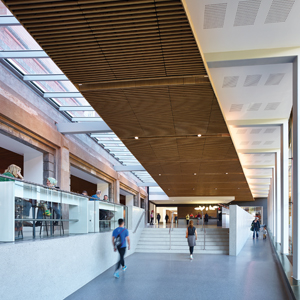 Transforming Kelvin Hall
Kelvin Hall is a much-loved and iconic building in Glasgow's West End. It has had a variety of purposes over its lifetime, from exhibition hall to factory to sports arena to museum. Together with Glasgow Life (the city's culture & sports charity) and the National Library of Scotland, we have transformed the landmark building. It is now a new centre of excellence for research, teaching, public engagement and health and wellbeing.
It is a truly unique building which will create a lasting legacy of opportunity for Glasgow and Scotland.
A unique collaboration to create a unique space
The development of Kelvin Hall was an extensive collaborative effort, utilising resources from across Glasgow and nationally to create an unparalleled, multi-use space; a combination of museum, gallery, tourist centre and learning space in one location.
It is a pioneering development as the first Higher Education, city and national institution shared space.
Attracting over 650,000 visitors each year, Kelvin Hall is one of the largest exhibition centres in the UK.
It has made Glasgow home to national institutions, making materials accessible outside Edinburgh for the first time.
"Our national collections are mostly housed in Edinburgh, so joining Kelvin Hall was a great opportunity to extend our reach to the most populous city in Scotland. Kelvin Hall is the home of our moving image, sound and digital collections, and we are continually finding new ways to take our collections to the people of Glasgow." Dr John Scally, National Librarian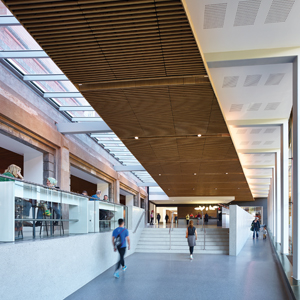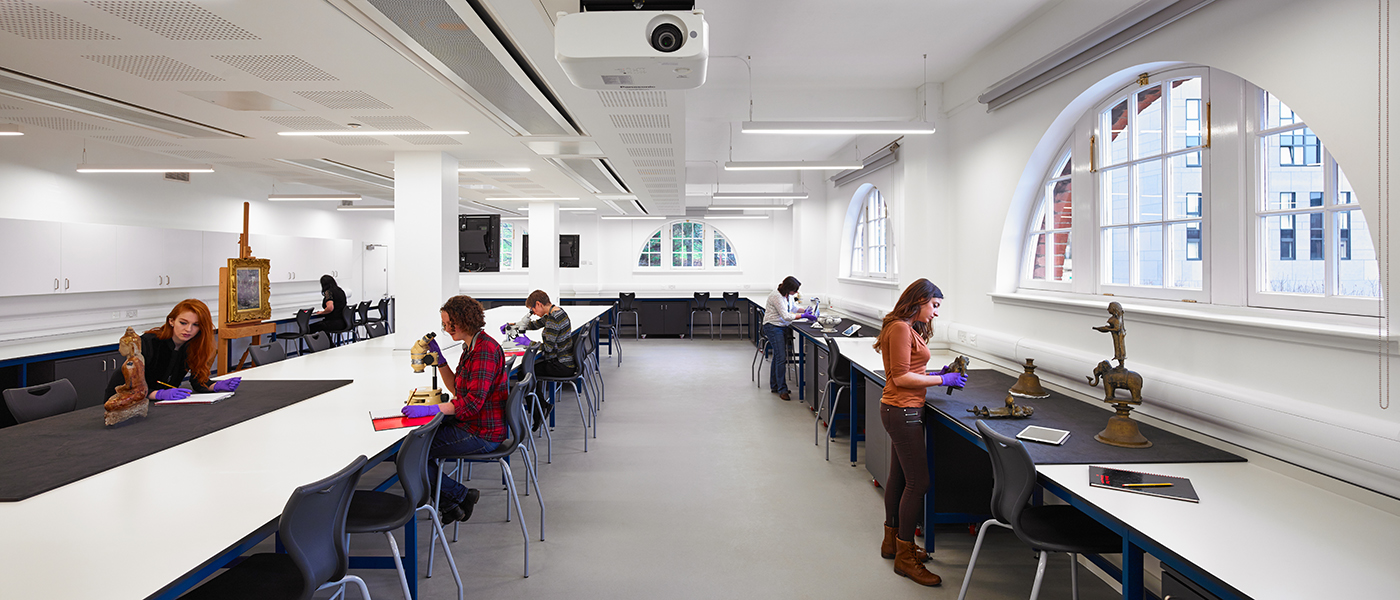 The Hunterian Collections Study Centre
The Hunterian at Kelvin Hall
The Hunterian is one of the world's leading university museums. While the Hunterian's public galleries remain on the University of Glasgow campus, around 1.5 million items have been relocated to purpose-designed study and storage facilities at Kelvin Hall.
By having a presence in Kelvin Hall the Hunterian is more visible to the citizens of Glasgow and to visitors to the city. Encouraging them to visit the museum and experience one of Scotland's greatest cultural assets.
At Kelvin Hall, the University has created The Hunterian Collections Study Centre which offers a state-of-the-art environment for research, teaching and training. These unique facilities allow the University to build on its international reputation for collections and object-based learning, offering much greater access to the collections while forging new academic and educational practice.
Kelvin Hall has allowed the University to increase its post-graduate student intake and attracted research funding.
Over 10,000 students have benefited from the new facilities and the postgraduate programmes. Built on theory, practice and knowledge of the cultural sector, the new facilities provide an enriched student experience.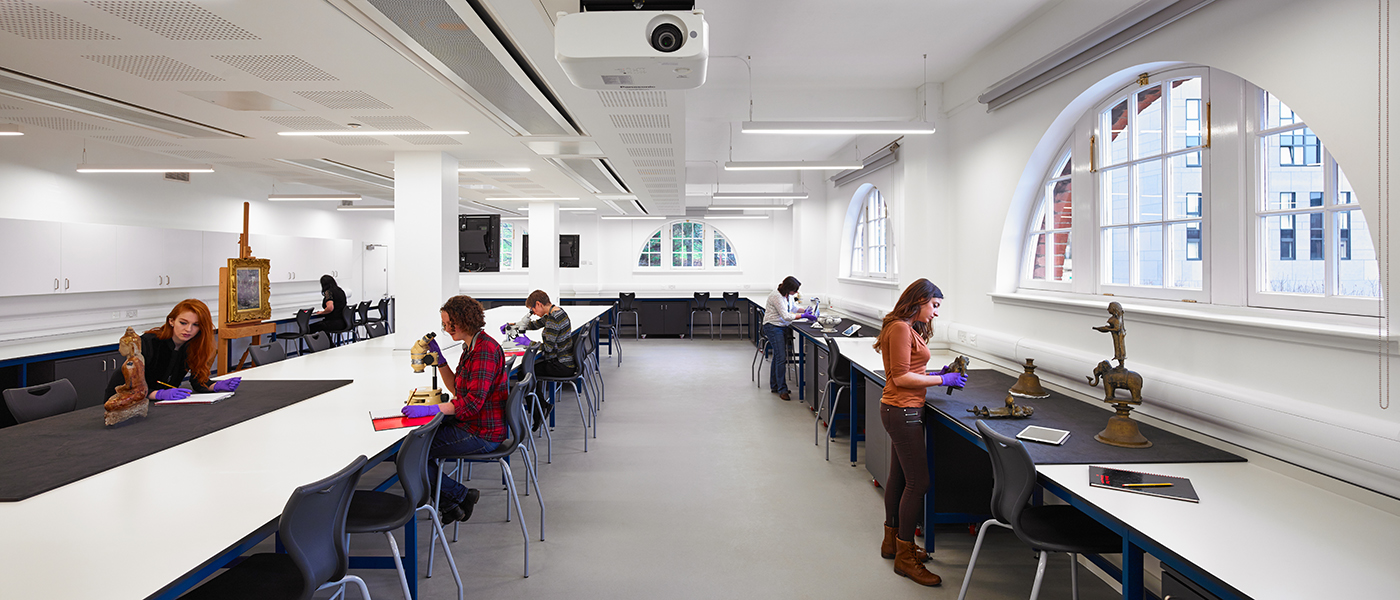 The Hunterian Collections Study Centre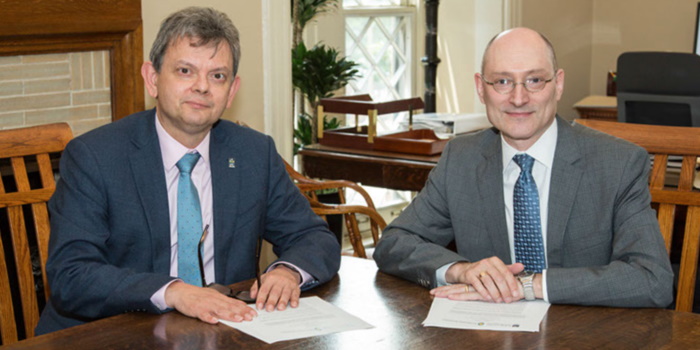 Professor Sir Anton Muscatelli and Provost Dr John Davis sign the new strategic partnership between UofG and the Smithsonian © Michael Barnes
Collections & Connections
Co-location of University, civic and national cultural heritage partners at Kelvin Hall has forged new practices and opportunities for those in the arts and heritage sector.
The University is now a central part of Glasgow's tourism strategy, providing a strategic focus for Mackintosh collections which are one of the City's key cultural tourism draws. Mackintosh attractions generate around half a million visits to Glasgow every year. A unified city and Mackintosh collection in the Kelvin Hall, including The Mackintosh House, draws tourists from around the world to Glasgow.
Internationally, Kelvin Hall is gaining reputation as an exciting research facility and has played a crucial role in developing international partnerships including the Smithsonian, the world's largest museum, education, and research complex.
The University of Glasgow and the Smithsonian Institution signed a Strategic Partnership agreement in June 2018.
Speaking about the partnership Professor Murray Pittock, Pro-Vice Principal and Senior Sponsor for the Kelvin Hall project, said: "Kelvin Hall has been central to strengthening our partnership with the Smithsonian. The space and facilities will play a pivotal role in developing further opportunities for academic, educational and cultural partnership. Looking to the future I really believe that this partnership will have positive implications for the citizens of Glasgow, and Scotland."
Creative economy
Kelvin Hall supports Glasgow's creative industry which is hugely important not only to the city's economy, but also its culture and national and international profile.
Plans have been recently announced to create a £11.9M television and film studio within Kelvin Hall which will attract big budget entertainment and drama productions. This new development will also develop Glasgow's creative industries skills base and the studio space will create significant social and economic benefits for Scotland.
Creative economies will be one of the key areas of research in the University's flagship research building – The ARC. The Advanced Research Centre will be located in close proximity to Kelvin Hall, facilitating greater collaboration between researchers, industry and the public.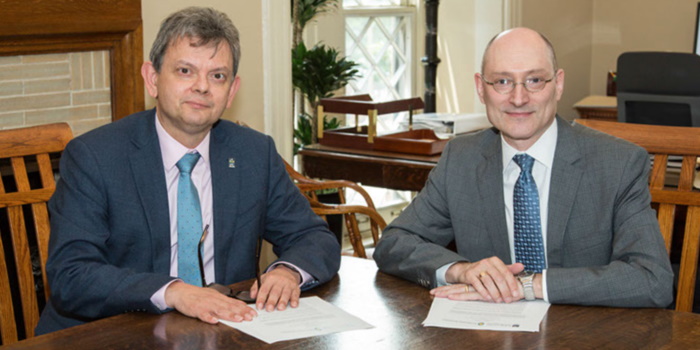 Professor Sir Anton Muscatelli and Provost Dr John Davis sign the new strategic partnership between UofG and the Smithsonian © Michael Barnes