PM Boris Johnson visits Glasgow Lighthouse Lab
The University of Glasgow today showcased the incredible work of the lab staff at the Glasgow Lighthouse Lab to Prime Minister Boris Johnson, recognising their vital part supporting the UK response to the COVID-19 pandemic.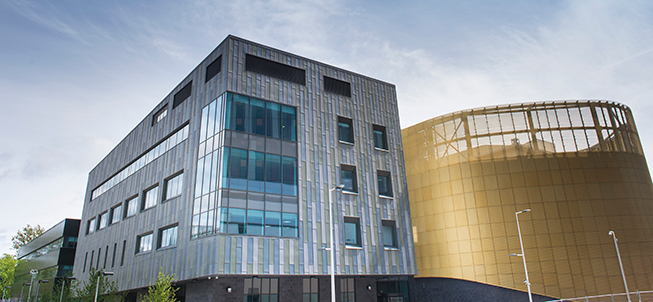 The Prime Minister was greeted by Dr Carol Clugston, COO of the University's College of Medical, Veterinary and Life Sciences, before he thanked staff, recognising their important efforts during the pandemic, and was shown around the Lighthouse Lab by lab director Harper Van Steenhouse.
The Glasgow Lighthouse Lab COVID-19 testing centre, hosted by the University, currently employs 650 people at its site within the University's Teaching & Learning Building on the Queen Elizabeth University Hospital (QEUH) campus in Govan where, since April 2020, it has played a pivotal part in the country's pandemic response, processing COVID-19 test samples from across the UK.
The lab is part of the University's wider strategy in Govan to create sustainable economic impact in the region, through job creation, skills development and its ongoing relationship with industry partners and the NHS. On the same site at the QEUH campus, the University is developing the Living Laboratory, a £91m project aimed at bringing healthcare innovation and economic regeneration to Govan, Glasgow and beyond, made possible with £38m funding from UKRI's Strength in Places fund.
Dr Carol Clugston said: "Since April 2020, our staff at the Lighthouse Lab have played a vital role in the UK response to the COVID-19 pandemic, so we were pleased to showcase the incredible work they do and appreciated the Prime Minister's recognition of the team's efforts.
"As well as continuing to respond to the pandemic, we are also proud that the Lighthouse Lab has also brought economic investment and job creation to Govan, which is part of the University's wider plans for economic development and healthcare innovation in this area of Glasgow. Working together with industry and NHS will continue to be hugely important as we move through this pandemic and look to the future."
---
First published: 28 January 2021