Heritage tourists sites need to prioritise the experience over emerging immersive technologies
Issued: Fri, 22 Mar 2019 08:00:00 GMT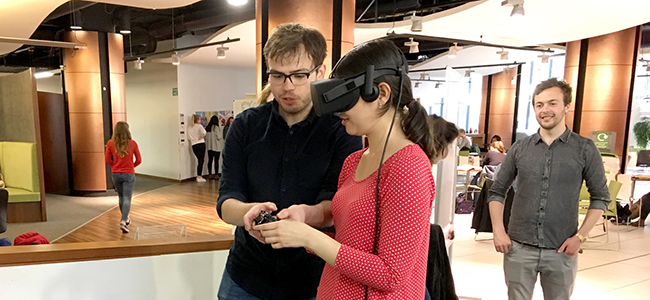 A Student navigating a Virtual Reality (VR) experience by using a VR headset
Heritage tourists say they would prefer emerging immersive technologies at major sites in Scotland keep strong story telling at their heart to future proof their offering, new research published today has found.
The findings are part of research by the Scottish Heritage Partnership (SHP) led by the University of Glasgow which looked at how the tourism industry can prepare to adapt and use emerging technologies such as virtual reality (VR), augmented reality (AR), and mixed reality (MR).
The research found that tourists were excited at the role that new technologies will play in helping them experience the past in thrilling new ways but to maintain interest, the experience had to be prioritised over the technology.
The majority said that they would like to have a visitor experience which blended the virtual and physical such as handling objects.
However this trend was bucked by the under 35s who were more open to an entirely VR experience. This group were also happy to engage remotely with Scottish sites from anywhere in the world via virtual visit packages if they were available to them.
The research looked at six of Scotland major visitor sites - which between them attract around three million visitors a year - Bannockburn near Stirling; the Burns Museum, Alloway; Culloden near Inverness; the Riverside Museum and Kelvingrove Art Gallery and Museum, Glasgow and the National Library of Scotland at Kelvin Hall, Glasgow.
For the research immersion experiences were set out as all forms of perceptual and interactive use of technologies and physical spaces to create a hybrid reality or sensory (audio-visual, olfactory (smell) or haptic (touch); challenge-based (interactive) and/or imaginative (storytelling and interpretation).‌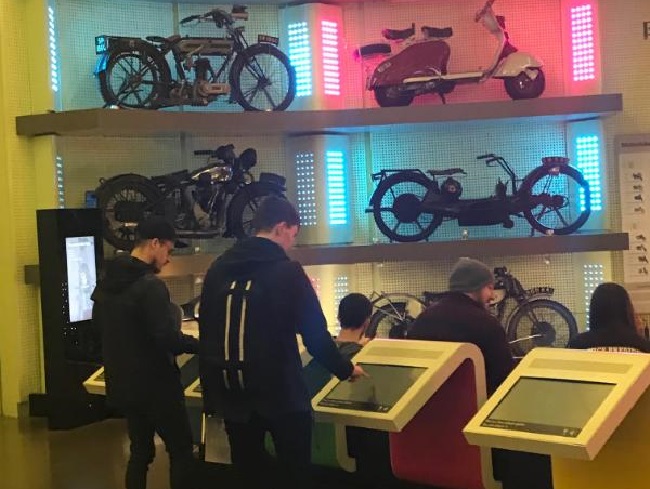 ‌Students using interactive panels at the Riverside Museum, Glasgow
‌Project leader Professor Murray Pittock of the University of Glasgow said: "Our research has found some fascinating outcomes. The key one being that while audiences like immersive visitor attractions, they particularly like‌ ones that combine virtual and physical experiences with a strong storyline. The battle experience at Bannockburn works well – the audience gets to replay the battle with other people and there's a member of staff to act as a guide through the experience.
"We are hopefully that these insights will help organisers in this industry to make decision about what to commission on their sites in future. The clear message is that you can achieve more with immersive experiences if you give people what they want.
"As virtual and augmented reality increasingly change how we think about these tourist attractions, this will become ever more important in years to come."
Professor Murray Pittock launching the Scottish Heritage Partnership Report at Scotland House, London
The key findings are:
While audiences like immersive visitor attractions, they particularly like ones that combine virtual and physical experience with a strong storyline. The design of such experience should prioritise the goals of the experience over the technology.
When the experience is purely a simulation, audiences like to be able to handle objects at the same time.
Over 55s, which are the core visitor demographic for heritage sites included in the survey, preferred the likes of reconstructed streets like at the Riverside Museum in Glasgow to fully digital simulations.
Under 35s are the most comfortable with a full digital and virtual reality simulations and also much more likely to want to experience them remotely. Additional digital experience to consumer at home and/or the creation of virtual visit package is recommended in order to engage with this demographic.
Digital simulations with VR/AR are good for getting visitors to stay longer in a smaller spaces.
With a more visual experiences, visitors wanted more narrative not less with visitors seeing information as important mode of delivery.
The data has been collated to help inform government, cultural and creative industries in Scotland and to create a road map of the kind of questions sites should be asking when upgrading their displays for a 21st heritage visitor experience.
---
The Scottish Heritage Partnership was funded by a joint Arts and Humanities Research Council (AHRC) - The Engineering and Physical Sciences Research Council (EPSRC) grant on Immersive Technologies as part of the Audiences of the Future strand in the UK Industrial Strategy.
The Scottish Heritage Partnership is led by the University of Glasgow and includes the National Trust for Scotland; Glasgow Museums; the National Library of Scotland with industry partner the Soluis Group, a major provider of cutting-edge immersive visualisation based in Glasgow.
The report's principal investigator was Professor Murray Pittock, co-investigators were Professor Lorna Hughes and Professor Maria Economou; adviser was Dr Neil McDonnell and report's staff were Agiati Benardou and Dr Leo Konstantelos.
The report was launched to an invited audience at Scotland House, London, it will be followed on Wednesday 27 March 2019 with a dissemination event at Holyrood sponsored by Joan McAlpine MSP.