Contact Us
The Particle Physics Theory Group is in the Theory Wing on Level 5. See below for an interior map of the Kelvin Building.
PPT Group Administrator: Miss Jill Borland.
Room 479 (level 4) Kelvin Building.
Tel: [+44] (0)141 330 4702
Fax: [+44] (0)141 330 5881
Email: phas-ppt@glasgow.ac.uk or Jill.Borland@glasgow.ac.uk
Postal Address
Particle Physics Theory (PPT) Group
School of Physics & Astronomy
Kelvin Building
University of Glasgow
Glasgow G12 8QQ
Scotland, United Kingdom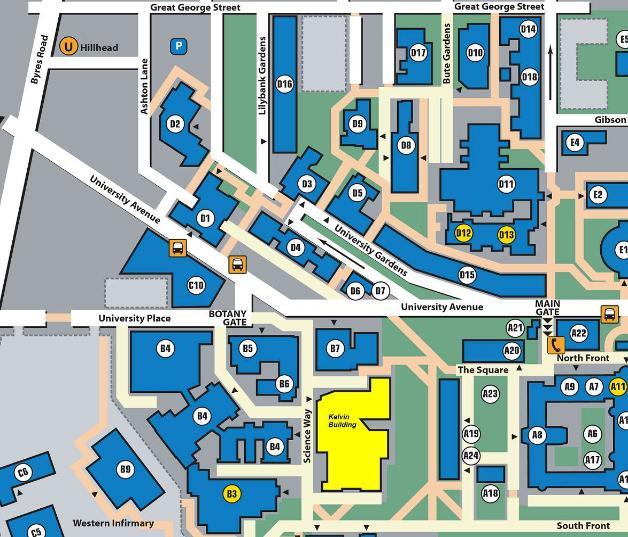 Getting Here
We can be found on level 5 of the Kelvin Building (marked in yellow on the map above). You can get to the Kelvin building by following these directions:
By train to Glasgow Central or Glasgow Queen Street: Walk to Buchanan Street underground station (coming from Glasgow Central, see this google map) and take the underground to Hillhead. The main University building is five minutes from Hillhead underground (see map above).
By plane to Glasgow Airport: We recommend that you take a taxi from the Airport to the University (and use the campus map above to find the Kelvin Building). This typically costs £25. If you insist on taking the bus, the Airport Express costs £7 and takes you to the City Centre. You can then take the subway to Hillhead underground.
By plane to Prestwick Airport: Take a train to Glasgow Central from the station just next to the terminal (they run every half hour, half-price if you produce your flight ticket), and proceed as above.
By car: Only come by car if you know of somewhere to park. Car Parking on campus is very limited and by permit only.
Interior of the Kelvin Building