Postgraduate Studies
Quick Links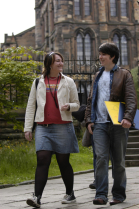 Information about
Postgraduate Studies
We are considering applications from UK and other EU students for our Ph.D. and M.Sc programmes. We also welcome applications from international students. For further information on these in Mathematics and Statistics postgraduate degrees and on scholarships available please visit the College of Science and Engineering graduate school.
Deadlines:
Shortlisting and review of applications for scholarships will begin on January 1st 2017 and will continue until all funded places have been awarded.
PhD research topics:
Information about the possibilities for your research project are available on our school research pages. You can also find information of the thesis topics of current Ph.D. students as well as examples of sample research topics aimed at giving an impression of the breadth of different topics available.
Project based PhDs and school scholarships:
Maclaurin Scholarship for Postgraduate Research and Teaching has been created to provide an opportunity for a talented student to undertake study for a PhD in the mathematical sciences while simultaneously gaining teaching experience by contributing to the School's extensive teaching programme. More details can be found here. Please indicate on your application form if you would like to be considered for the Maclauring Scholarship.
IAPETUS Doctoral Training Partnership PhD studentship.More details can be found here.
How to apply:
Full instructions on how to apply on-line to study on our Ph.D. and M.Sc programmes are found at College of Science and Engineering graduate school website, where you can also find information on English language requirements for the programmes.

If you have any questions about research in Mathematics and Statistics or you would like some advice, please do not hesitate to contact us.
Contact Persons:
Post:
The Director of Postgraduate Studies
School of Mathematics and Statistics
University Place
Glasgow, G12 8QQ
UK
Telephone: +44 (0)141 330 5176/5024
Fax: +44 (0)141 330 4111
Quick Links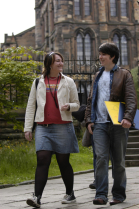 Information about