Mary Rachel Grigor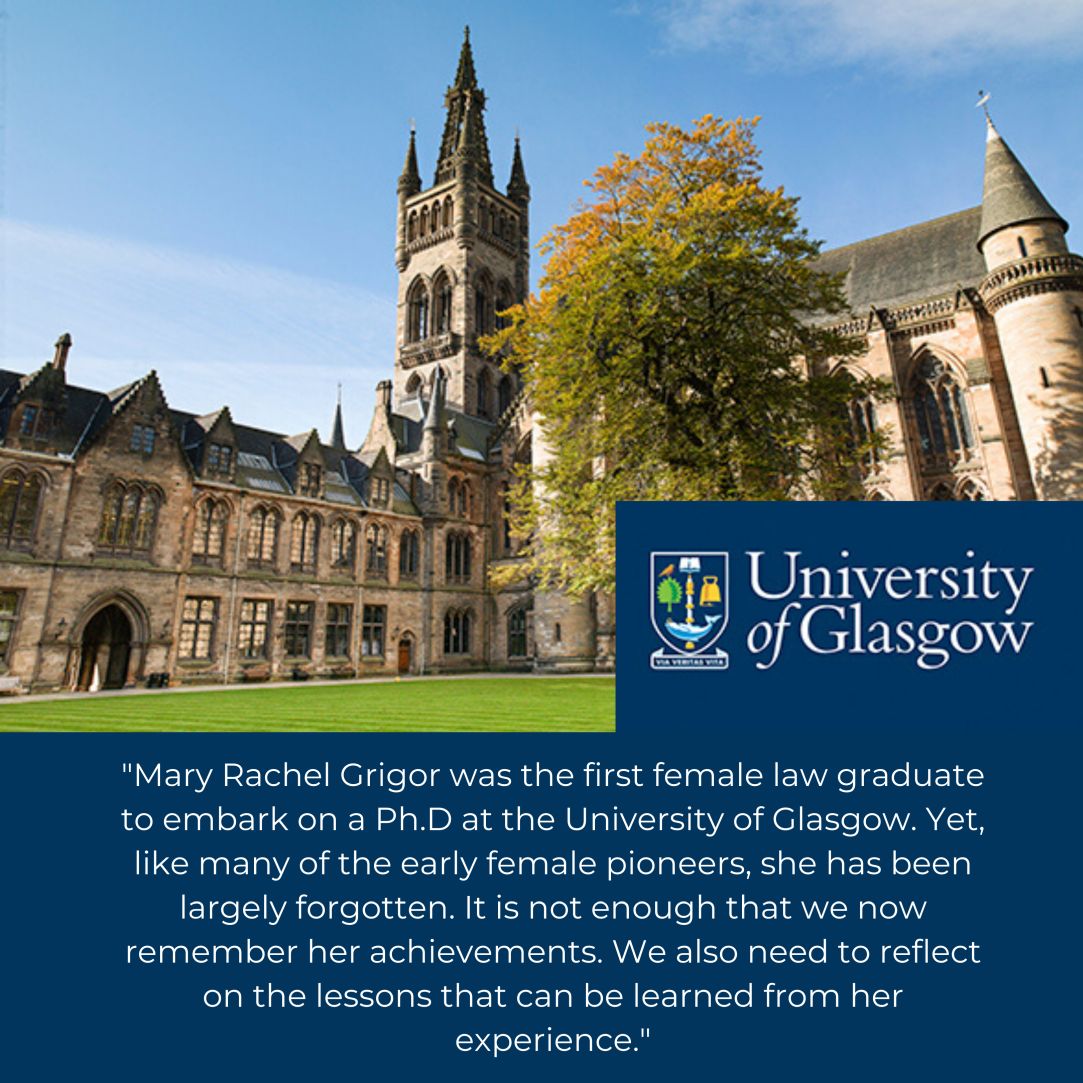 Mary Rachel Grigor was born in Partick on 24th April 1904 to James and Mary Jane Grigor. James was an Inspector of Schools with the Scotch Education Department and Mary Jane had been a public school teacher. The couple married in 1902, when Mary Jane was 35 and James was 37. Mary Jane was at the time of her marriage living in Juniper Green, a village just outside Edinburgh. However, in 1904 when Mary Rachel was born, the family were living at 296 Crow Road, Glasgow, within walking distance of the University's Gilmorehill campus.
Mary and James had two daughters born after Mary Rachel, Jean born in 1906 and Margaret born 1908. Tragically, both Jean and Margaret died as infants, Jean from measles and Margaret as a result of congenital defects present since birth. By the time of the 1911 census, the family of three were living in Clarence Drive, Hyndland.
Mary Rachel began her studies at the University of Glasgow in 1922. Her undergraduate record reveals wide interests – she studied Natural Philosophy, Chemistry and Botany in her first year. She completed an M.A. in 1924 and then began studying for her LL.B.
Mary Rachel was a good student and earned first class certificates in Civil Law. She also came near the top of her classes in Conveyancing, International Private Law, Scots Law, Jurisprudence, Public International Law and Evidence and Procedure. She graduated LL.B in 1927.
Perhaps unsurprisingly, given her parent's own professional lives, Mary Rachel was drawn both to Education and Law. She became a classroom teacher in 1927 and gained a Diploma in Education on 12th January 1930. Over the same period, beginning in 1928, she matriculated once again in the Law Faculty to undertake research studies for a Ph.D.
It is important to emphasise just how unusual this was at that time. In 1921 Lucy Agnes Carter had made history at Glasgow University by becoming the first woman to graduate Ph.D., for her research in Protozoology. Mary Rachel Grigor was, in fact, the first woman law graduate to begin studying for a Ph.D at the University of Glasgow.
Mary Rachel's interest in both law and education was possibly reflected in her choice of Ph.D topic – 'The State and the Child.' Her supervisor was the eminent John Glaister, Professor of Forensic Medicine. Professor Glaister was a medical doctor and police surgeon, who became Regius Professor of Forensic Medicine and Public Health, a role he would have held while supervising Mary Rachel. He was renowned for his work as an expert witness, including in the infamous Oscar Slater murder trial in 1909.
Mary Rachel initially balanced study with work, as she continued to teach during this time. However, this balance ultimately proved untenable. On 30th September 1930 she wrote to Professor Glaister to explain that illness, her father's and her own, had kept her away from her law studies. She assured him that she would 'accomplish a good deal in the coming winter' now that her health had improved and her tonsils had been removed. A year later, however, she wrote to the Clerk of Senate regretting that she would have to temporarily suspend her studies in Law. Mary never returned to her research. Remarkably, it was 1982 before the first woman, Rebecca Wallace, graduated Ph.D in Law from the University of Glasgow.
90 years have passed since Mary Rachel withdrew from her Ph.D studies and we have only the smallest of insights into the reasons behind this decision. As with many of the early female legal pioneers, records are limited and we are left to wonder to what extent her father's illness was a determining factor in her decision to abandon her studies.
In many ways, the circumstances which may have led to this withdrawal remain all too recognisable today. While Mary Rachel herself was an only child and living in an era where there was little State support available to help those with caring responsibilities, it remains true today that women are more likely to take on caring roles than men. Carers UK has reported that, of the 6.5 million unpaid carers in the UK 58% - 3.34 million - are women. Carers UK has calculated that the economic value of the unpaid care provided by women in the UK is estimated to be £77 billion per year. Women aged 45-54 are more than twice as likely than men to have given up work to care and over four times more likely to have reduced working hours due to caring responsibilities.
Similarly, research output declining as a result of caring responsibilities is an experience many female academics will be able to identify with. This appears only to have been exacerbated by the recent COVID-19 pandemic. It has been widely reported (see, for example The Guardian and Times Higher Education) that submissions from women to academic journals have declined during lockdown. The Guardian reports Dr Elizabeth Hannon, deputy editor of the British Journal for the Philosophy of Science, as being "worried that the additional lockdown childcare, as well as caring for older family members and an increase in chores such as cooking and cleaning, is slowing up female researchers far more than their male colleagues." In many ways, this struggle to balance caring responsibilities with research outputs is perhaps not so remote from that of Mary Rachel in 1930.
Little is known of Mary Rachel's later life. She remained an educator, moving from classroom teacher to be an Education Officer in Northumberland in the late 1930s. She then moved to Sierra Leone sometime in the 1950s.
Mary Rachel was the first female law graduate to embark on a Ph.D at the University of Glasgow. Yet, like many of the early female pioneers, she has been largely forgotten. It is not enough that we now remember her achievements. We also need to reflect on the lessons that can be learned from her experience. Her father's illness clearly had some impact on her studies. We must pause and ask ourselves whether we have made sufficient progress over the last 90 years in supporting legal researchers with caring responsibilities. Progress may have been made but much remains to be done. Mary Rachel's story reminds us of this.
This historical Voice is based on archival research conducted by Catriona Perry, Archives and Special Collections, and Pat Lucie, retired Law Lecturer and affiliate staff member, Archives and Special Collections at the University of Glasgow. This piece is written by Seonaid Stevenson-McCabe, Lecturer in Law at Glasgow Caledonian University and researcher on the 100 Voices for 100 Years Project.
For further information on the statistics referenced in this piece and the work of Carers UK please see: Carers UK (2016) 10 facts about women and caring on International Women's Day available at https://www.carersuk.org/news-and-campaigns/features/10-facts-about-women-and-caring-in-the-uk-on-international-women-s-day