Rebecca Wallace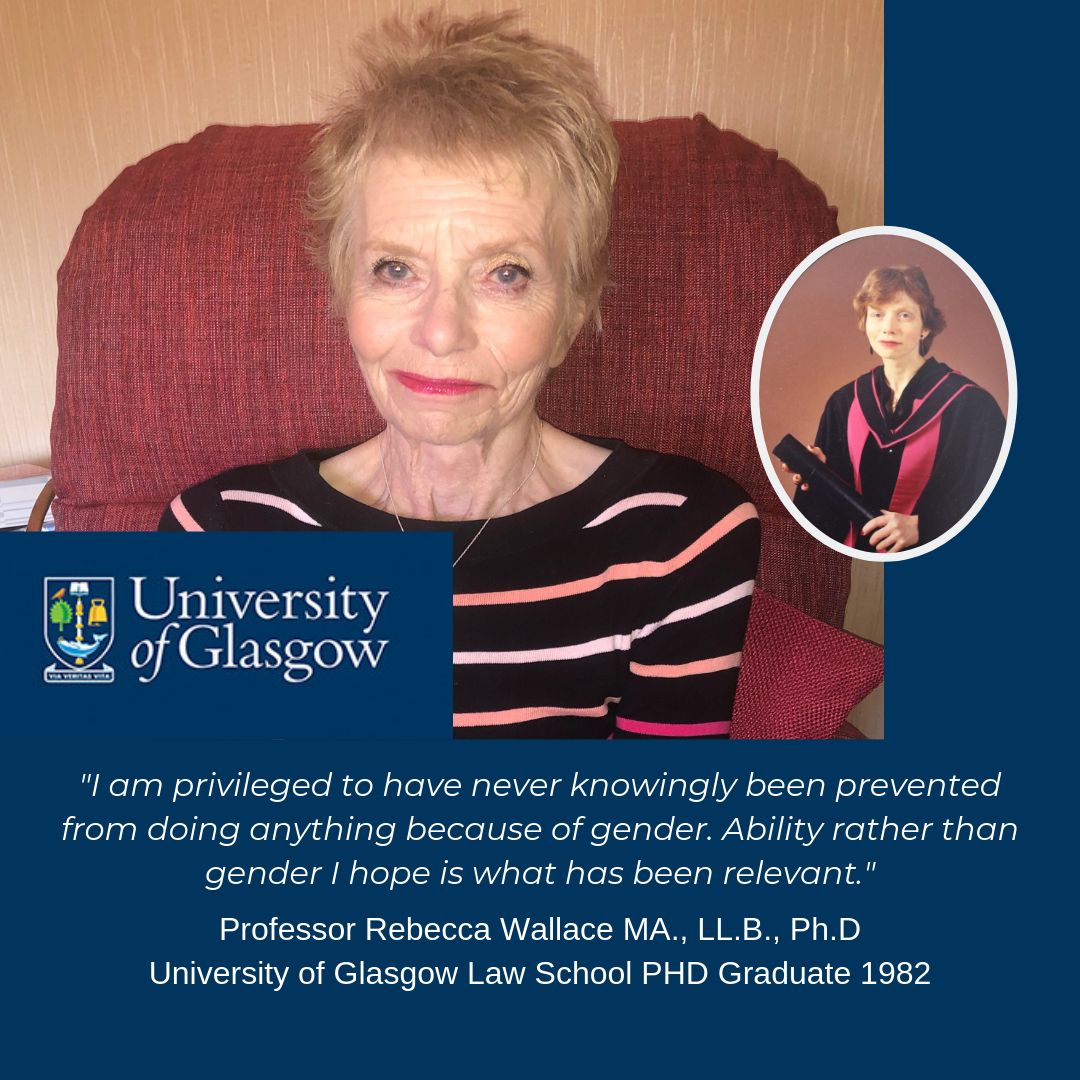 In spite of the Head of Department's concerns the Hull Law School did not even tremble when I entered into the lecture theatre.  What made that an occasion?   I had just delivered my first lecture.   My appointment the previous October marked the first appointment of a woman to the Law Faculty   Yes, surprising even in 1976.
How had I come to be at Hull? Four years previously I was staring at the University of Dundee prospectus. 'International Law' and 'European Economic Community Law', leapt from the page of immediately igniting my interest. Not because I knew anything about either subject nor was I harbouring any 'burning' crusading spirit. No, quite simply my one thought was "these subjects might let me travel". Such was the starting point of my journey into law.
I had no plan, no compass, no map and certainly no destination in mind. My journey into law may not have an auspicious beginning but yet fast forward and I look back on postgraduate study in Europe, a career in academia which has led me to Professor and en route a judicial appointment as a part-time immigration judge.  Yes, the travel came too along with the forging of many friendships professional and personal.
It has been almost fifty years since I embarked on that journey which has from the outset been a great adventure.  At the time I was turning the pages of that fateful prospectus, the UK was on the brink of membership of the European Economic Community as it was then.  I opted for Dundee and completed the two-year condensed law degree programme in a predominantly male class - I was one of eight women students. I was fortunate to have wonderful teachers and one in particular who kindled and set alight a lifelong passion for the teaching, research and study of international law.  How that subject has changed in scope and breadth!   
My law studies included comparative law and EEC law and these subjects precipitated my going to Amsterdam for postgraduate study of European Integration encompassing law, economics and politics. That year in Amsterdam in the 70s was 'magical' and the memories remain vivid. It is very salutary to see one's country through the lens of distance. 'When will the British make up their mind whether they want to be in the EEC? '   Familiar? Sadly, yes.  Then, however, that question was not disconcerting - we were young and caught up with enthusiasm, optimism and hope for the promise and the opportunities offered by the European communities. At a day to day level, friendships were forged many of which still exist today.  We were quite a mix – twenty-two participants representing sixteen nationalities.  
What next?  A living had to be sought. That is how I came to apply for a post in European and International law at the University of Hull – I applied and within three weeks later was offered a post. Hull, a city which I had only driven through briefly returning from the Netherlands became my home.  My first post, a flat of my own and an annual salary of £2,100!  
The two and a half very happy years in Hull were followed by nineteen years at the University of Strathclyde. During that time I learned, it seems by osmosis, skills and knowledge which have stood me in permanent good stead. A diverse range of skills and experiences managerial, and administrative, subject reviews and Research Excellence Frameworks all played their part. Along the way, I got my doctorate at the University of Glasgow.   
Travel was not abandoned!  There were spells as a Visiting Scholar at John Hopkins Institute of Advanced International Studies Washington DC, and the Ariel Sallows Professor of Human Rights at the University of Saskatchewan, Canada. In Canada, I spent six wonderful months and encountered the chilly experience of -41C which with wind chill felt like -67.   Yet whatever the climate threw at me was far outweighed by the warmth, love and friendship extended to me from all sectors of the community.  It was here I also developed an in-depth insight into gender persecution in the context of asylum claims. That prepared the way for my entry to refugee law and a recognition of the need for gender guidelines.  
Washington introduced me to the American Society of International Law and the Jessup International Law Moot Court competition - a competition in which students engage in presenting the case for both parties in a hypothetical international law problem. Thereupon started a relationship that spanned some twenty years and culminated with the UK trophy now bearing my name! More importantly through the Jessup, I met with young people, academics and practitioners from different jurisdictions, products of a variety of pedagogical methods.  
Academia has encouraged my indulgence in my favourite occupation, viz writing. 'International Law',  what is essentially a students' guide first appeared in 1986 and 2020 should see the appearance of the 9th edition. How the international legal system has changed in the intervening thirty-three years – both in content, scope and participants. Technology has also brought change– that initial manuscript was handwritten and then typed.  
Other positions came my way - one which turned out to be another first: the first professor of law and head of the Law School at the now Edinburgh Napier University, and from there to a research centre at the University of the Islands and Highlands. I now, finally, have come full circle to Aberdeen where I undertook my undergraduate degree. I was honoured to be appointed the Professor of International Human Rights and Justice in 2012 and in 2017 became the Emeritus Professor at Robert Gordon University.  
As highlighted my discipline is international law but increasingly there was a focus on international human rights law and the protection afforded to women, children and refugees. In 1999, I was appointed to the immigration judiciary.  The fifteen years on the Bench were humbling as well as a privilege. The tenacity of the human spirit to survive against all odds knows no bound.
On the Bench, I witnessed the cross-fertilisation of research and practice. Through working within the perimeters of the law and applying that law the course of another's life can be changed forever. I was no longer a passive spectator but a participant in determining the course of the appellant's life.  
Adopting a gender-sensitive approach to the Refugee Convention was no longer an issue of research but rather was mine to apply.  Women's rights frequently come before the UK Immigration and Asylum Tribunal in several guises. Persecution in the conventional sense does not always correspond with the experiences of women asylum applicants.  This has been to the disadvantage of women who have been denied the protection such persecution warrants. I was confronted with instances of sexual violence, societal and legal discrimination, forced prostitution, trafficking, forced marriage, sterilisation, female genital mutilation and domestic abuse.  Male claims may also demand a gender perspective but such a perspective is generally more relevant in claims brought by women. 
Assessing the evidence and crafting the decision was something at which I was good and the intellectual process of writing the determination was enjoyable. There were the lighter moments represented by the appellant who anticipating the denial of his appeal  waved as he left court saying 'see you next year.' What is important is not that the decision given is necessarily the one the individual concerned wants but rather that the individual is assured that the decision has been made justly and in accordance with the appropriate procedures.  
Other interests have spawned including approaching health delivery from a human rights perspective which gave rise to a project on the promotion of respectful maternal care in Malawi, heading up the team commissioned to look at the nature and extent of child trafficking in Scotland and a project on the perceptions of young people to bereavement.  
Who would have dreamt that a spontaneous decision (premised on an ambition to travel) to study law and in particular international law would have led me to where I am now!  What a kaleidoscope of memories and experiences so aptly summed up in two words – privilege and privileged. A privilege indeed to have been involved through teaching young people at a very formative period of their life and to witness dreams crystallise to realities often beyond their wildest dreams  Privileged to navigate the law and apply it.  Privileged to have had choices which could be exercised, to forge a career by seizing opportunities and to have never knowingly been prevented from doing anything because of gender. Ability rather than gender I hope is what has been relevant.  
Yes, it has been a journey which was not planned but it has been and continues to be rewarding, fulfilling and fun.