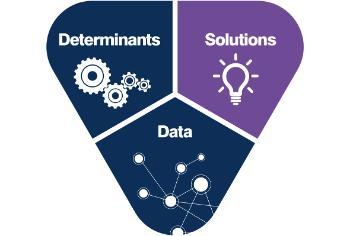 Solutions focused research
Impacting global health
Reducing global inequalities in health

Main contact
Prof Alastair Leyland (MRC/CSO Social and Public Health Sciences Unit)
School of Health and Wellbeing research theme
Related University of Glasgow beacon
The challenge
Health inequalities exist within, as well as between, countries and as such are a priority for global health research. Strategies to reduce inequalities typically look "upstream" (through policy) rather than "downstream" (through individual behaviour change). The policies that affect health are not necessarily health policies; many factors influence health including income and housing. The evaluation of the impact of policies on health inequalities is often hampered by difficulties obtaining high quality health data and data on socioeconomic position.
The research
We have been working with researchers in Brazil through an NIHR-funded Global Health Research Group on Social Policy and Health Inequalities. Our research has built on an existing resource – the Cohort of 100 Million Brazilians – which brings together social security data (payments for welfare and other government support) with health outcomes focusing on infectious diseases for 114 million people. We have linked further data to enable research on the social determinants of health (the conditions in which people are born, grow, live, work and age) and to investigate the increasing problem of non-communicable diseases (e.g. heart disease and stroke) in Brazil.
The results
We have created the first small area deprivation index covering the whole of Brazil (IBP: Indice Brasileiro de Privação). We were able to geocode around 80% of data (with some variation between datasets) meaning that we could break down analyses by area deprivation and in this manner focus on inequalities. We expanded the 100 Million Cohort by adding hospitalisation data and data relating to particular welfare programmes.
We are currently evaluating the impact of two major welfare programmes on health. Bolsa Familia is the world's largest conditional cash transfer programme, designed to provide additional money for the poorest in society. Minha Casa, Minha Vida is a massive housebuilding programme providing subsidised housing across the country. Both have the potential to impact on health and we are considering how they affect a range of outcomes including cardiovascular disease, leprosy and diabetes.
The impact
Improving the health of the poorest people in a country is not just about social justice, it is also key to improving the health of the whole population. "Leave no one behind" is the key focus of the Sustainable Development Goals (SDGs), and monitoring progress towards these goals needs accurate data. We have expanded the research potential of the 100 million cohort by adding further data.
A major achievement has been the creation of the IBP. This will allow a range of users to measure and monitor inequalities in health across Brazil using a consistent measure at the small area level. The IBP can help monitor progress to SDG targets by demonstrating that social policies and health systems are reaching all groups of the population.
We are still writing up the results of our policy evaluations, and will continue to engage stakeholders to discuss our results, including those from the public agencies responsible for the policies.
Related publications
Related URLs
Contact for further information
Prof Alastair Leyland
Alastair.Leyland@glasgow.ac.uk