Why is World AIDS Day important?
01 December 2020 was World AIDS Day and IHW's Athena Swan LGBTQ+ working group would like to take the opportunity to raise awareness of this important global health day, and its underlying aims.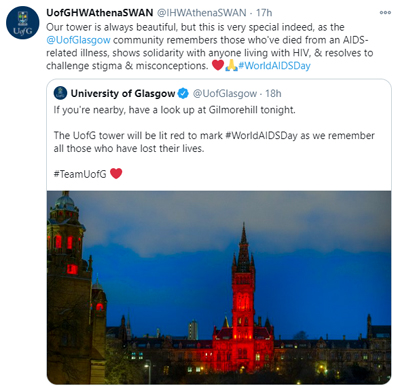 Founded in 1988, World AIDS Day was the first ever global health day, and takes place on 01 December each year. It is an opportunity for people worldwide to join together in the fight against HIV, to show support for those living with HIV, and to remember those who have died from an AIDS-related illness.

In the UK, over 100,000 people are living with HIV and globally an estimated 38 million people have the virus. More than 35 million people have died of HIV or AIDS, making it one of the most deadly of all pandemics.
Scientific advances have been made in treatment, laws now protect people living with HIV, and we understand a great deal more about the condition. However, each year in the UK over 4,000 people are diagnosed with HIV, there remains a lack of awareness of how to protect ourselves and others, and stigma and discrimination are ongoing.
World AIDS Day reminds us all that HIV is still with us and that there is still a need to raise awareness, increase understanding and combat prejudice.
This information was taken directly from https://www.worldaidsday.org/about/
---
First published: 1 December 2020