LGBT+ Network for staff and postgraduate students
This group is for all University of Glasgow staff and postgraduate students who identify as lesbian, gay, bisexual or transgender (LGBT).
Our + sign represents gender identities and sexual orientations not included in the term LGBT and ensures we will always be inclusive of everyone in our community.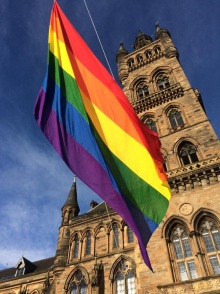 The LGBT+ Network was founded in 2007 and was one of the first in Higher Education in Scotland. We aim to provide a welcoming environment in which members can:
Meet regularly for networking and social events
Support one another within the institution by providing a safe space for the discussion of LGBT+ issues
Inform University management with respect to LGBT+ Equality & Diversity
Distribute information about relevant LGBT+ events within and outwith the University
Not a member but need support?
Even if you are not a member of the Network and wish to speak to someone confidentially and receive support/advice about any LGBT+ issues (this may include any experiences of homophobic, biphobic and transphobic bullying and harassment) please do make contact.
For contact details and information on the Network's Facebook page, see Contact Us.
Undergraduate Student at Glasgow?
Undergraduate students at the University of Glasgow should contact the GULGBTQ+ student association which is affiliated with the University's Students' Representative Council and won Student Group of the Year in the Scottish LGBTI Awards in 2015.
Homophobic, biphobic and transphobic bullying and harassment - in addition to the Network, support is also available from the University's Respect Advisers Network (a number of which have received LGBT+ Allies training).