Dr Rair Macedo
Leverhulme Early Career Research Fellow; Lecturer in Electrodynamics and Spin Electronics

(Electronic & Nanoscale Engineering)
telephone: 01413305892
email: Rair.Macedo@glasgow.ac.uk

Electronics & Nanoscale Engineering Division, Room 524, Rankine Building, University of Glasgow, G12 8QQ
https://orcid.org/0000-0003-3358-798X
Research interests
Biography
I started pursuing research when I was 16 as a part of my BSc studies in the area of novel optical effects in natural dielectric media. In that work it was shown how quartz crystals could be a natural source for negative refraction, a pioneering research in the area of natural hyperbolic materials for optical applications.
My PhD work at the University of Glasgow was undertaken in order to pursue a similar area, but at an advanced theoretical level, by modelling electromagnetic properties of magnetic structures. During this time I was the first to suggest possibilities for focusing through transmission using simple antiferromagnetic slabs which could be tuned by externally applied fields.
After my PhD, as a research assistant, I worked on models for artificial multifunctional magnets. These structures are nanomagnetic islands artificially structured to display new physical.
I am currently a Research Fellow working with novel optical effects in condensed matter, advanced structured materials, and devices. In particular, I explore novel properties and materials that can control and manipulate electromagnetic waves. For this, I have obtained funding from the Leverhulme Trust (just under £90k) and the Lord Kelvin Adam Smith initiative of The University of Glasgow (£100k).
Current Research
I study magnetism and electromagnetic properties of matter. My current research interests include:
Cavity Magnon-polariton quasiparticles (hybridisation between magnons and photons);
Magnetic media for signal processing devices;
Magnons-polaritons and optical properties of magnets;
Anisotropy in condensed matter as route to hyperbolic media; and
Novel optical effects including: Negative refraction, focusing by flat lenses, Goos-Hanchen shifts and nonreciprocity.
I am also currently working on ordering processes in a new class of frustrated and disordered systems called 'artificial spin ice', these include:
Macro-ferromagnetism in 'pinwheel' spin ice systems;
Wall and domain formation.
I am a member of the Quantum Circuits Laboratory.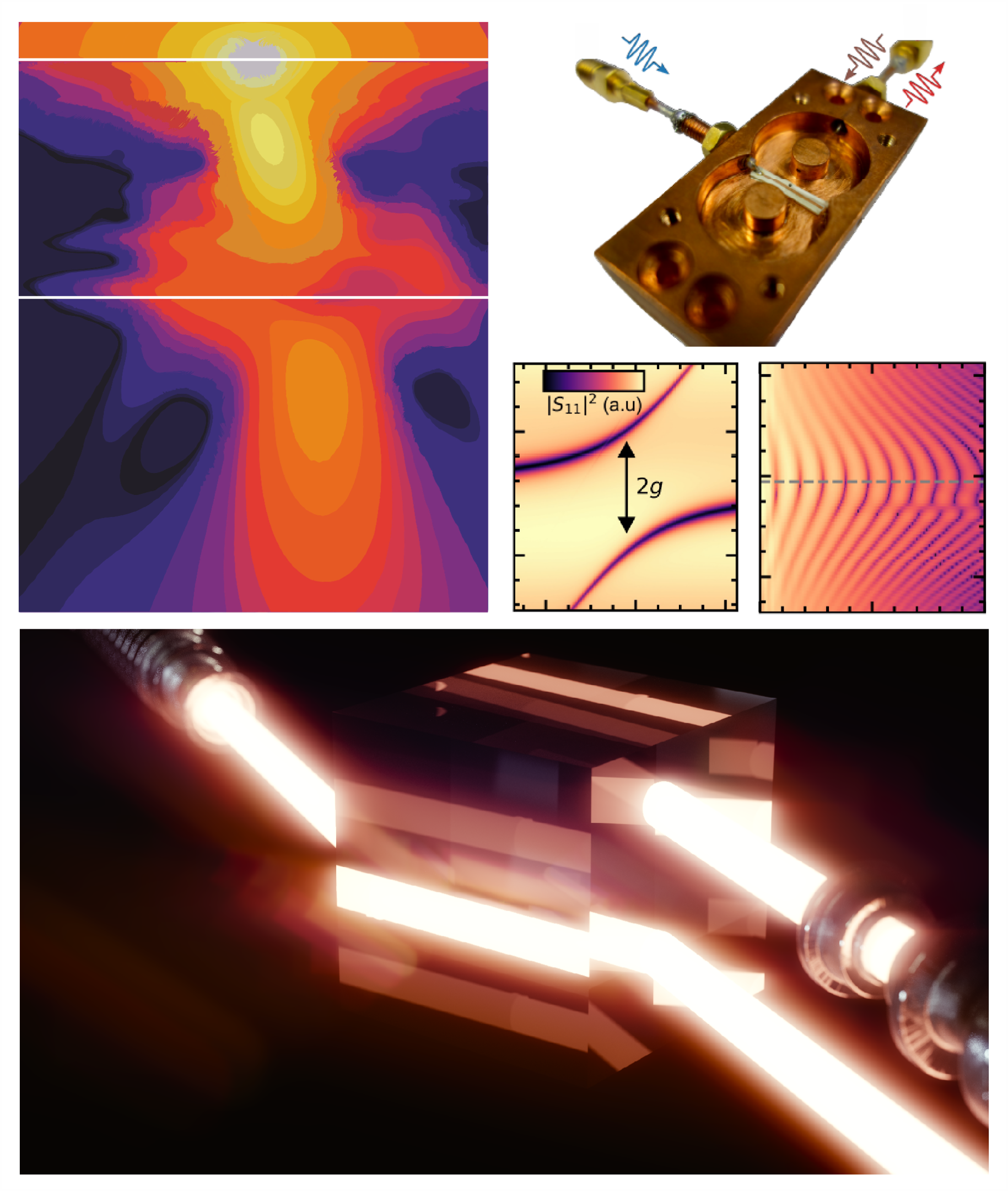 Publication Highlights
Wolz, T., Stehli, A., Schneider, A., Boventer, I., Macêdo, R. , Ustinov, A. V., Kläui, M. and Weides, M. (2020) Introducing coherent time control to cavity magnon-polariton modes. Communications Physics, 3, 3. (doi:10.1038/s42005-019-0266-x)
Wu, X., McEleney, C. A., González-Jiménez, M. and Macêdo, R. (2019) Emergent asymmetries and enhancement in the absorption of natural hyperbolic crystals. Optica, 6(12), pp. 1478-1483. (doi:10.1364/OPTICA.6.001478)
Macêdo, R. , Livesey, K. L. and Camley, R. E. (2018) Using magnetic hyperbolic metamaterials as high frequency tunable filters. Applied Physics Letters, 113(12), 121104. (doi:10.1063/1.5049602)
Macêdo, R. , Dumelow, T., Camley, R. E. and Stamps, R. L. (2018) Oriented asymmetric wave propagation and refraction bending in hyperbolic media. ACS Photonics, 5(12), pp. 5086-5094. (doi:10.1021/acsphotonics.8b01402)
Grants
Current Research Funding:
Advanced magnetic media for next generation THz multifunctional devices

Principal Investigator: Dr. Rair Macedo

Funding Source: The Leverhulme Trust (300947-01) and The University of Glasgow (LKAS - 200584-01)

Award: £189,881

Start date: 01/03/18; End date: 28/02/2021
Recently Completed Grants:
Erasmus+

Principal Investigator: Dr. Rair Macedo

End date: 2019

Vacation Scholarship

Principal Investigator: Dr. Rair Macedo; Student Investigator: Cameron McEleney

Funding Source: The Carnegie Trust for the Universities of Scotland (308264-00)

End date: 2019

Vacation Internship: Study of Light Interactions with Magnetic Systems

Principal Investigator: Dr. Rair Macedo; Student Investigator: Rory Holland

Funding Source: Engineering and Physical Sciences Research Council (EPSRC)

End date: 2019

Postdoctoral and Early Career Research Exchange Program

Principal Investigator: Dr. Rair Macedo

Funding Source: Scottish Universities Physics Alliance – SUPA

End date: 2018

Lord Kelvin Postgraduate Scholarship

Principal Investigator: Dr. Rair Macedo

Funding Source: University of Glasgow

Start date: 2015; End date: 2016
Supervision
Researchers:
Dr. Gary Paterson - Research Associate
Dr. Luke McLellan - Research Associate
Rory Holland - Project Assistant
Adam Lafferty - Project Assistant
Ph.D. Students:
BS.c. Students:
M.Eng./M.Sc. Students:
Nicholas Tzanetos-Alevras (MEng)
Weichong Ding (MSc)
Chen Zhang (MSc)
Former Students:
Additional information
Public Engagement (advancing diversity, equity, and inclusion):
In order to help bridge the gap between science and disadvantaged groups, not only social and financial, but also racial, sexual orientation, gender and any other minority group, I developed a series of high school activities, including seminars and demonstrations, which I delivered to schools in rural and remote areas of South America this last summer.
These activities target children at an early age when they are just starting to study scientific subjects such as physics, chemistry and biology. My main focus was to motivate children from an underprivileged background to get into STEM and I worked with over 150 children.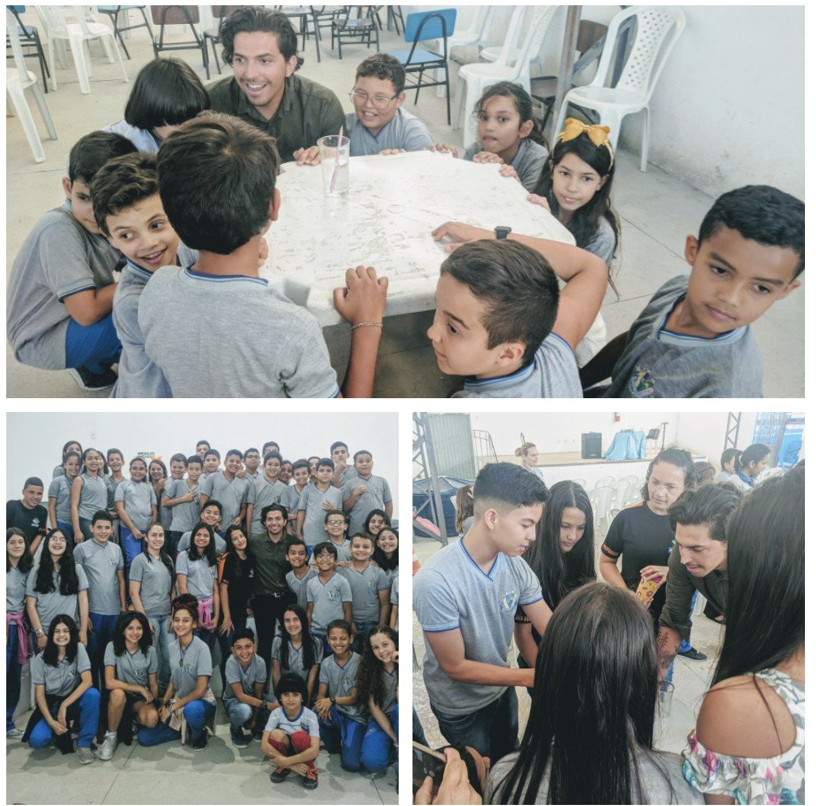 The overarching goal of these initiatives was to help reduce barriers in education or research in science for underrepresented and/or economically disadvantaged groups.
I am now working on incorporating these ideas at the University of Glasgow as outreach activities for the greater Glasgow area community.