Our vision
The School of Education is committed to social justice in education and to education research and practice of the highest quality.
We aspire to be a world leader in addressing the contemporary educational issues of our times and to making a difference for society's most vulnerable and educationally disadvantaged.
We are growing our 'world leading, world changing' team and we are delighted to invite applications from exceptional individuals to join us in strengthening our research and teaching portfolios and build on our recent REF 2022 success.
The School brings together researchers with expertise across all sectors of education: formal and non-formal, pre-school through to higher, adult and community education. In the recent UK Research Excellence Framework (REF), the panel judged that 90% of our work was either world leading or internationally excellent; 82.6% of our research outputs were assessed as either world leading (37.6%) or internationally excellent (45%); the panel assessed 75% of our impact on society as world leading and 25% internationally excellent and we achieved the maximum score of 100% world leading in the assessment of the environment that we have established to support research.
We are organised into four Research and Teaching Groups (RTGs): Culture, Literacies, Inclusion & Pedagogy (CLIP), Educational Leadership & Policy (ELP), Pedagogy, Praxis & Faith (PPF); and People, Place & Social Change (PPSC). The research of RTGs currently crosses five thematic areas: Migration and Refugee Education; Collaborative Schooling for Change; Ethics, Religion and Values in Education; Urban and Place-based learning; and Adult Learning and Youth Transitions. Each highlights aspects of our commitment to social justice in education. The School maintains a teaching portfolio of programmes at undergraduate level and in initial teacher education (https://www.gla.ac.uk/schools/education/study/undergraduate/) as well as a diverse range of post-graduate programmes (https://www.gla.ac.uk/schools/education/postgraduate/).
We invite applications from suitably qualified individuals with expertise and experience allied to our thematic areas, and those of the College of Social Sciences (CoSS): Addressing Inequalities; Challenges in Changing Cities; Digital Society and Economy; Justice, Insecurity and Fair Decision Making; and Sustainable Development.
Applications are invited for posts at all levels: Professorial (Grade 10); Senior Lecturer (Grade 9) and Lecturer (Grades 7 & 8). We kindly ask candidates to articulate in a cover letter how they envisage contributing to the School in terms of research and teaching. We welcome applications from exceptional candidates from any field of expertise that is relevant to the School and would particularly welcome applications from individuals with expertise in the following areas:
Data Analysis/Data Science in Education
Digital Pedagogies and Innovation
Educational Inequalities and Equity
TESOL
Teacher Learning and Educational Change
Initial Teacher Education
We encompass a broad range of programmes from undergraduate, postgraduate and initial teacher education, reflecting the dynamic ambition at the School of Education.
Academic Applicant Guide
Here you will find essential information to guide you through the application process.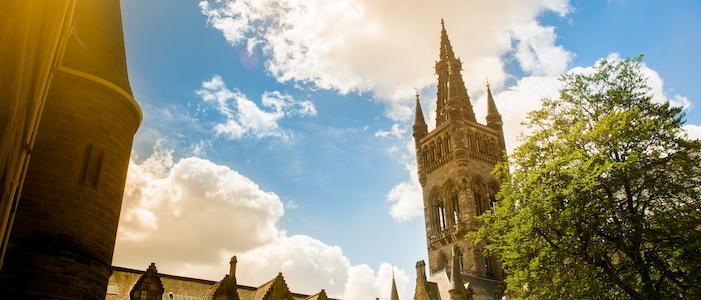 Relocating to Glasgow
Information for overseas applicants and International Staff including Visas & Immigration information, our Relocation Policy and links to our section on Global Mobility which includes information for staff engaged in international initiatives, international staff working in Glasgow and staff working overseas.