Robert Burns...in the Words of Others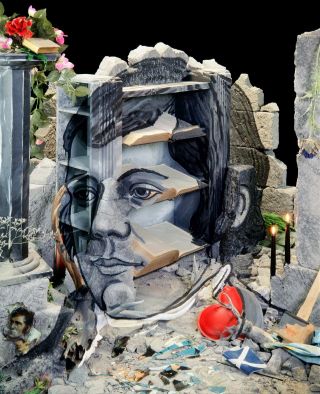 Portrait of Robert Burns (after Archibald Skirving)' Calum Colvin 2001
The first Burns based artwork I made was in 2001 for an exhibition in the Scottish National Portrait Gallery. This was a portrait 'after' the famous 1796 drawing by Archibald Skirving. I usually create a small edition (10) of large-scale prints, which are sold through galleries and artist agents. I would normally expect to sell this edition over a period of years before it runs out. The Burns image sold out within months, and could have sold many more. It has since been reproduced in magazines, books, newspapers and online countless times. This experience led me to believe there was a huge interest in The Bard and I have made numerous exhibitions, artworks, conference presentations, public talks, artefacts and a book of contemporary poetry ('Burnsiana' with Rab Wilson, Luath Press 2013) on the theme of Burns, his poetry, his extraordinary fame and other aspects of his life.
For ten years now, a large part of my focus has been on contemporary visual art interpretations of Burns's work. Throughout this time I have never ceased to be amazed by how inspired the artists have been by Burns and the depth and range of the work they produced. Significantly the responses of the audience would suggest that these contemporary interpretations helped them to gain new insights into Burns's work. With the intent of exploring whether this concept could work for other art disciplines, I was supported by Creative Scotland and EventScotland to create a pilot for Burns Unbroke, the first Burns inspired contemporary arts festival, in Edinburgh, in January 2018. All indications were that this was a great success and that, as expressed by both local and overseas visitors, there is an appetite for more multi-disciplinary contemporary interpretations.
Sheilagh Tennant, Director of artruist ltd and Founding Director of Burns Unbroke
The word haggis is synonymous with Scotland but more importantly Robert Burns and for the last 65 years, Macsween Of Edinburgh has been delivering the growing demand for haggis each Burns Night but more importantly the growth of haggis consumption in the other eleven months of the year. In 1996 my father John Macsween believed he could create a demand for haggis all year round and looking back he was right. He took Macsween of Edinburgh from being a small high street butcher's shop and created a world-famous haggis brand that ships haggis around the world from Singapore to Vancouver. I believe, that without the fame that Burns brought to the humble haggis, it would still be consumed today but not to the scale and worldwide appreciation it so rightly deserves.