Conferences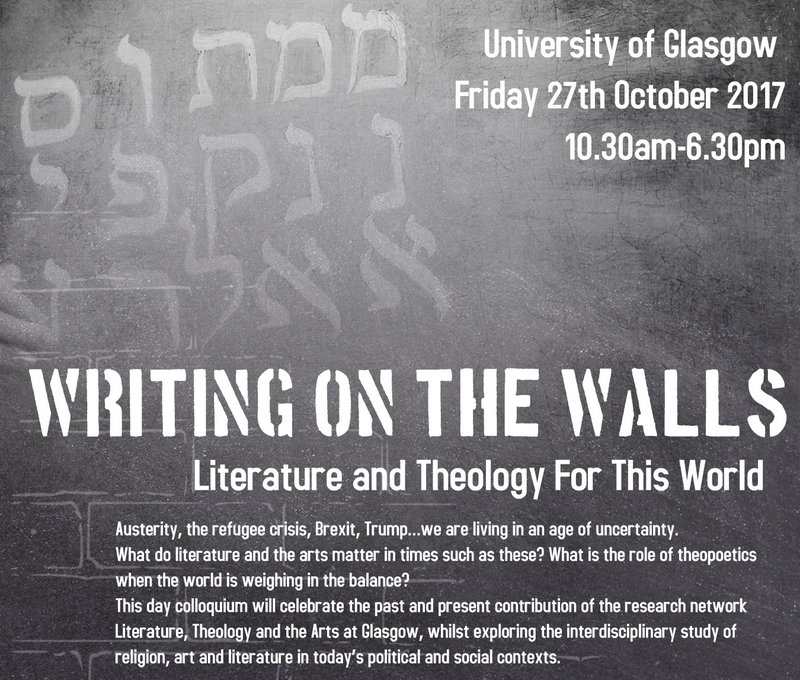 Writing on the Walls: Literature and Theology For This World
Friday 27th October 2017, University of Glasgow, 10.30am-6.30pm
Austerity, the refugee crisis, Brexit, Trump…We are living in an age of uncertainty. What do literature and the arts matter in times such as these? What is the role of theopoetics when the world is weighing in the balance?
This day colloquium will celebrate the past and present contribution of the research network Literature, Theology and the Arts at Glasgow, while exploring the role of the interdisciplinary study of religion, art and literature in today's political and social contexts.
Plenary lectures will be given by Professor David Jasper and Professor Heather Walton. David's lecture will mark his official retirement from the University of Glasgow, and Heather's will be her inaugural lecture as Professor in Theology and Creative Practice. The day will end with a drinks reception celebrating David's phenomenal contribution to the interdisciplinary field of literature, theology and the arts.
The colloquium is free of charge, but please register your attendance by emailing anna.fisk@glasgow.ac.uk by Thursday 19th October.
Writing on the Walls Programme
Schedule
10.30 – Registration (4 The Square)
10.45 – Paper Session One ['Dystopian Bodies', 'Prophecy' 'Politics']
12.15 – Lunch [not provided – please make own arrangements]
13.00 – Keynote lecture by Professor David Jasper (University of Glasgow Chapel)
14.15 – Break
14.30 – Paper Session Two ['Poetry', 'Women Writers', 'Transformation']
16.00 – Inaugural lecture of Professor Heather Walton (University of Glasgow Chapel)
17.30 – Drinks reception (University of Glasgow Chapel)
18.30 – Close
Parallel Papers
Dystopian Bodies, 10.45-12.15, Ground Floor Lecture Room, 4 The Square
Alana M. Vincent, 'Your Dystopian Fiction Won't Save You Now: Holocaust Memory, Fallen Nature, and the Dangers of Living in a World Where the Worst Has Already Happened'
Steve Fountain, 'Eradication and Assimilation: Elie Metchnikoff's Walls Against Death and Decay'
Vicky Gunn and Taylor Driggers 'Ambivalent Binaries: Reinscribing the Limits of the Desert Harlots? Mary, Pelagia, and Angela Carter's Tristessa'
Prophecy, 10.45-12.15, Room 251, Gilbert Scott Building
Elizabeth Dodd, 'John Clare, The Poetics of Testimony and the Prophetic Potential of the Lyric "I"'
Jim Harold and Sue Brind 'Art: Enactment, Presence and Prophecy'
Deryl Davis, 'Poetry, Prophecy, and the End of Days: Lyric Theodicy and Robert Pollok's The Course of Time'
Politics, 10.45-12.15, Trinity Room, 4 The Square
Scott Robertson, 'Walls and Dust: The Literary and Theological Subversion of Security'
Clare Radford, 'Writing on Job Centre Walls: Feminist Theopoetics and Austerity Assessments'
Rachel Kent, 'Cape Reinga, Whanganui River, and Theology's Potentials for Rebirthing American Environmental Politics'
Transformation, 14.30-16.00, Ground Floor Lecture Room, 4 The Square
Mark Godin, 'Strategies for Repair: The Possibilities and Pitfalls of Using Literature and Theology to Support Religious Transformation'
Nicola James and Ruth Dunster, 'Not Just Another Brick in the Wall: The Heuristic Process of Education in Our Research and Writing Ministry'
Alison Jasper, 'Reading the Writing on the Wall: Feminist Theology in China'
Women Writers, 14.30-16.00, Room 251, Gilbert Scott Building
Elisabeth Jay, 'Jane Eyre and the Nineteenth-Century Crisis of Biblical Authority'
Elizabeth Anderson, 'Virginia Woolf, Domestic Space and Material Mysticism'
Hannah Marije Altorf, 'Revisiting The Fire and the Sun, or How Iris Murdoch Reads Plato for this World'
Poetry, 14.30-16.00, Trinity Room, 4 The Square
Romola Parish, 'New Avenues for the Spirit: Rising to R.S. Thomas' Challenge'
Kathryn Wills, 'The Finitude and Fracture of Self as Magus: Yves Bonnefoy, Cultural Narcissism, and the Re-Sanctification of the Image'
Hester Jones, 'Donald Davie, Ezra Pound and "the Deeps in Him"'
Lines in Sand: Borders, Conflicts and Transitions
On 9th-11th September 2016, Literature, Theology and the Arts at Glagsow hosted the 18th Biennial Conference of the International Society for Religion, Literature and Culture, with the theme 'Lines in Sand: Borders, Conflicts and Transitions'. More about the conference and its theme can be read on the dedicated Lines in Sand website.
The brilliant conference keynotes, Tim Ingold and Catherine Keller, were filmed and are available to view below.
Tim Ingold (University of Aberdeen), Friday 9th September 2016
'Lines of Correspondence'
Catherine Keller (Drew University), Saturday 10th September 2016,
'Lines in the Innumerable: Enmity, Exceptionalism and Entanglement'
Past LTA Conferences
Mysticism in Comparative Perspective
LTA's George Pattison and Louise Nelstrop hosted the The Mystical Theology Network's Annual Conference in December 2016. Speakers included Rob Faesen (Leuven), William Franke (Vanderbilt), Bernard McGinn (Chicago), Ada Rapoport-Albert (UCL), Jane Shaw (Stanford), and our own George Pattison and Mia Spiro (Glasgow).
Sorrow in Literature, Theology and the Arts
In March 2016, scholars from the University of Gothenburg, Sweden, and the research network Literature, Theology and the Arts at Glasgow joined together for an all-day colloquium to share research on the theme of "Sorrow".
Paul Tillich (1886-1965): Philosophy, Mystery, Love
A one day conference marking the 50th anniversary of the death of Paul Tillich in September 2015. Speakers were John D. Caputo, Daniel Whistler, George Pattison and Russell Re Manning.
Kierkegaard on Love
May 2014 symposium with George Pattison, Sharon Krishek, John Lippit, and Steven Shakespeare.
Faith and the Search for Certitude
Jean-Luc Marion was hosted by Prof David Jasper along with the School of Languages, for a 2012 symposium discussing the religious aspect of his work.
Sacred Topographies: Pilgrimage and Place
One-day public event as part of the AHRC Religion and Society funded project 'Christian Pilgrimage, Landscape and Heritage: Journeying to the Sacred', taking place at Govan Old Church in November 2011.
The Sacrifical Contours of Law, Liturgy and Landscape
This Leverhulme-funded project brought together an international and interdisciplinary group of scholars who worked together at the University of Glasgow between January and October 2010, exploring the different ways, in religion, law and art, in which the sacrificial existence of humanity only seems able to 'invoke the sacred by destroying it'. The outcome of the research included an exhibition by visual artist Sari Lievonen and a one-day seminar, open to the public, of research presentations in April 2011.
Gianni Vattimo, Gifford Lecture Series, 'The End of Reality'
LTA's David Jasper organised the 2010 Gifford Lecture series at the University of Glasgow, given by Italian philosopher Gianni Vattimo, arguing for a historically, socially and culturally situated and pragmatic vision of truth.
Re-Writing the Bible
In June 2010 LTA hosted a symposium in which poets, writers, and scholars engaged with interdisciplinary questions surrounding the phenomena of retellings or revisions of Bible in creative writing. The keynote panelists were Michael Schmidt, Michael Symmons-Roberts, Kei Miller, Sara Maitland and Michelene Wandor.
Paul, Political Fidelity and the Philosophy of Alain Badiou: a Discussion of Incident at Antioch
A conference in February 2009, marking the new English translation of Alain Badiou's Incident at Antioch, exploring the play alongside themes within Badiou's larger work about the emergence of new political forms and that fidelity without which new forms do not come to be. As well as Badiou himself and the translator Susan Spitzer, participants included John Barclay (University of Durham), Ward Blanton (then University of Glasgow), Patrick Lyons (University of Glasgow), and Kenneth Reinhard (UCLA).
Art, Religion, Identity
In conjunction with a September 2008 art exhibition at Glasgow University Chapel celebrating the 100th anniversary of the birth of Glasgow Jewish artist Hannah Frank, LTA hosted a two-day symposium on art, religion, and identity. Questions about the role of identity in art abound, and these questions only increase when the artist is associated with a particular social group, be it religious, gendered, or ethnic, through their own self-presentation or the efforts of outside scholars or critics. The keynote speakers were Professor Melissa Raphael-Levine (University of Gloucestershire, Professor Shulamit Reinharz (Brandeis University), and Dr. Laura Levitt (Temple University)
Memory, Mourning and Landscape
The AHRC-funded symposium Memory, Mourning and Landscape was held on 9 June 2008. The symposium included a number of panel and plenary sessions and concluded with a public lecture by Professor Jay Winter. A selection of expanded papers from the conference is forthcoming from Rodopi.
Sexing the Text
LTA co-hosted the Sexing the Text conference with the University of Stirling in December 2007. In addition to several plenary and panel sessions the conference also launched two books by Heather Walton: Literature, Theology and Feminism and Imagining Theology: Women, Writing and God.
Sacred Space (ISRLC)
LTA co-hosted with the University of Stirling the 13th biennial conference of the International Society for Religion, Literature and Culture, entitled 'Sacred Space' – held in the University of Stirling and Stirling Castle, October, 2007. Main speakers included T.J.J. Altizer, Philip Sheldrake, Nina Danino and Richard Holloway. The jazz trio 'Acoustic Triangle' were commissioned to perform a new suite in the Chapel Royal of Stirling Castle.
Vocabularies Relating to the Views of Life and Religion
Members of the Centre have participated in the project 'Vocabularies Relating to the Views of Life and Religion', run by NOSTER in the Netherlands—based primarily around two colloquia at the University of Glasgow (2003) and the University of Amsterdam (2004). The first publication resulting from this collaboration is Sanctified Aggression: Legacies of Biblical and post-Biblical Vocabularies of Violence, ed Jonneke Bekkenkamp and Yvonne Sherwood (Continuum: 2004). The second volume is to follow.
Colloquium with University of Mainz
The proceedings of a colloquium with colleagues at the University of Mainz (2001-2002) have been published as Bodies in Question: Gender, Religion, Text, ed. Darlene Bird and Yvonne Sherwood (Ashgate: 2005). Darlene Bird is a former postgraduate of the Centre.
Other Testaments: Derrida and Religion
Yvonne Sherwood organised and chaired the conference session Other Testaments: Derrida and Religion, Toronto, 2002, in which several members of the Centre participated.
See Sherwood (ed.), Derrida's Bible (Palgrave Macmillan: 2004) and Sherwood and Kevin Hart (eds.), Derrida and Religion: Other Testaments (Routledge: 2004), for publications related to this event.
Retreats and Study Days
As well as seminars and conferences, the communal work of the LTA also takes place through more informal retreats and study days, in which we discuss readings and our individual research.
Day Retreat, Centre for Ignatian Spirituality, June 2016, 'Writing as Re-Vision'
Day Retreat, Centre for Ignatian Spirituality, October 2015, 'Inspiration'
Study Day, Glasgow, June 2015 – 'Research as Creative Practice'
College of the Holy Spirit, Cumbrae, May 2014 – 'Theory'
College of the Holy Spirit, Cumbrae, May 2013 - 'Poesis and Theopoetics'
College of the Holy Spirit, Cumbrae, April 2011 - 'Voice'
Scottish Churches House, Dunblane, April 2010 – 'Scholars and their Books'
College of the Holy Spirit, Cumbrae, May 2009 - 'Research Journeys'