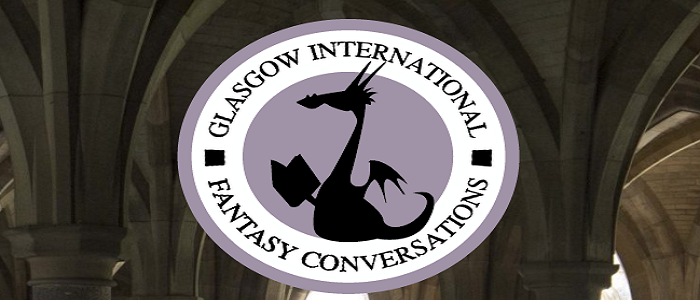 Glasgow International Fantasy Conversations
Fantasy is everywhere in the twenty-first century: in novels, comics, TV series, paintings, movies, GIFs and games. But what exactly is fantasy, and why do so many people seek refuge in it? A narrative set in a world not our own, where magic works? A story of strange events that can be transferred with ease from one medium to another, yet remains recognisable in all its manifestations – that is, a form of myth? An escape route from social and political responsibility into a riot of self-indulgent daydreams? Most people seem to agree that fantasy concerns itself with the impossible: with things that could never have happened and never can happen, now or in the future, except in our imaginations, awake or asleep. Why, then, do so many of us spend so much of our time indulging it, when we could be addressing ourselves to the far more important business of living in the here and now?
These are some of the questions we have dedicated ourselves to addressing. The answers to them will depend on many things: on who you are, on where and when you are alive, on your gender, sexuality, culture, political persuasion, class, and the innumerable criteria that differentiate one person or community from another. What draws us together in conversation, here at the Centre for Fantasy and the Fantastic at Glasgow, is a common conviction that it's worth thinking about what draws us to the impossible, the magical, the absurd, the strange. Each GIFCon is a new attempt to come at these questions from a different angle – or rather from a range of different angles, each refracted by the prisms of our minds.
In this, GIFCon owes both its existence and its philosophy to the project that led to its foundation: the Fantasy Masters programme at the University of Glasgow, and the Centre for Fantasy and the Fantastic which that programme spawned. Like the MLitt and the Centre, Glasgow International Fantasy Conversations is a meeting-place for academics, creative writers, and other fantasy-minded folks (we call them fantasts) to come together and discuss fantastical works in a supportive setting. They are Conversations because we talk to one another as equals and friends in fantasy. They are International because we ourselves are international; in its time the MLitt and the Centre have welcomed students, staff and speakers from Australia, Canada, China, Germany, Greece, India, Italy, Japan, the Netherlands, Norway, Pakistan, the Philippines, Spain, Thailand, the United States, and many more. And they are in Glasgow because – well, because Glasgow, like all cities, is a fantasy. It has been home to writers and artists from Alasdair Gray to Julie Bertagna and Julia Donaldson, and to magical places from the Curlers Rest to the Òran Mór, from the Botanic Gardens to the Kelvingrove Art Museum, from Sharmanka Kinetic Theatre to the University of Glasgow itself, which looks something like a castle and something like a cloister, yet is partly constructed round a frame of massive iron girders, redolent of the industrial urban cityscape it overlooks. It could be home to you.
Come along and join our conversations. We want to hear from you.