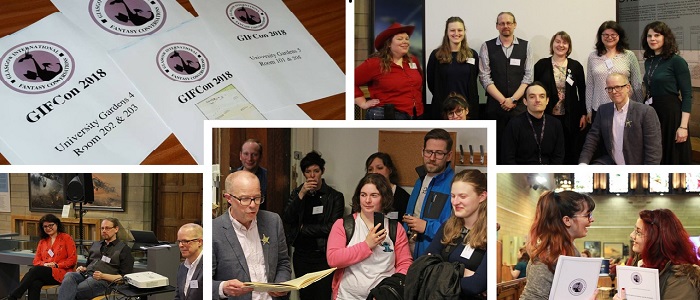 Theme and CFP
Escaping Escapism in Fantasy and the Fantastic
26th – 27th April 2018
The second Glasgow International Fantasy Conversations welcomes proposals for papers on the theme of escapism in fantasy. What is the role of fantasy and the fantastic? Why—and perhaps more crucially, how—does the genre matter? Fantasy theorists frequently define the genre in opposition to what is possible and real: Kathryn Hume, for instance, sums it up in Fantasy and Mimesis as "departures from consensus reality". Critics often scrutinize this departure as a negative, and disparage representations of the fantastic either due to their failure to depict real world issues or their presumed attempts at "escapism." This perceived link between fantasy and escapism is so strong that dictionaries like the Oxford English Dictionary define escapism as "engaging in fantasy".
Despite this association, a growing body of evidence asserts both that escapism can be healthy and that the fantastic can influence how its consumers perceive real world issues even when their representations are deemed problematic. For example, though readers and scholars have criticized the portrayal of minority groups in J. K. Rowling's Harry Potter series, studies suggest that people who read the series are more accepting of stigmatised groups and more likely to vote for political candidates whose policies support these groups. And while some critics view the creation of fictional Secondary Worlds as a troubling detachment from reality, creativity scholars have drawn links between creating imaginary worlds as a child and high achievement in artistic and scientific fields later in life. Escapism is perhaps not as escapist as it was previously perceived to be, and even when it is, it can have a positive impact. The "escapism accusation" is being flipped on its head, with texts as disparate as Diana Wynne Jones's Fire and Hemlock and Buffy the Vampire Slayer's "Normal Again" presenting the rejection of the fantastic in favour of "reality" as the dangerous escapist behaviour. The traditional dynamic between escapism and the fantastic is constantly being changed and renegotiated.
This two-day symposium seeks to examine and honour the relationship between escapism and the fantastic. We welcome proposals for papers on this theme from researchers and practitioners working in the field of fantasy and the fantastic across all media, whether within the academy or beyond it. We are particularly interested in submissions from postgraduate and early career researchers.
We will offer workshops in creative writing for those interested in exploring the creative process.
We ask for 300-word abstracts for 20-minute papers, as well as creative presentations that go beyond the traditional academic paper.
Suggested topics include, but are not limited to, the following:
Intersections and interplays between fantasy and reality.
Metatextual responses to escapism in fantastic texts and media.
Theoretical and/or critical discussions of escapism in relation to fantasy and the fantastic, broadly defined.
Relationships between Secondary Worlds and the Primary World; relationships between world and characters.
Reading, writing, and engaging with fantasy as a political act; the depiction of real world issues, or lack thereof, in fantastical settings and contexts.
Representations of the fantastic in media associated with escapism, such as live-action role-playing, board games, tabletop role-playing games, television, etc.
Please submit a 300-word abstract and a 100-word biography in separate editable documents (not PDF) to the GIFCon e-mail address by Wednesday, the 31st of January 2018.
Abstracts
Lena Abraham:
Poetics of Pending in F. Hernández's 'The Balcony'
Enchanted castles, winding corridors, hidden passages—intricate and intriguing architectures hold a firm place in fantastic narratives. More often than not, they even lay the foundations for the fantastic events to unfold. Since the rise of the Gothic novel, however, literary descriptions of spaces and buildings are not limited to sketching a setting: they mirror the hero(ine)'s state of mind (e.g. Isabella's disorientation on her flight from the castle of Otranto), create atmospheres (Edgar Allan Poe's gloomy halls and sombre chambers as harbingers of the uncanny), or even symbolise the specific order of a fictional world (the inaccessible core of power in Franz Kafka's The Castle). In this latter sense of a structuring device, architectonic depictions—far from merely engaging in escapist reverie—enhance the genre's potency to question the idea of a plain reality and an unambiguous perception. Since architecture is an artificial construction, the order it represents can only be a non-natural one. Therefore, it is hardly surprising that writers of the fantastic in particular explore the potential of architectonic devices in order to de-automatise the reader's way of encountering the world.
Such is the case of Uruguayan writer Felisberto Hernández whose (neo-)fantastic short story 'The Balcony' (1945) I will discuss in my paper. I argue that the central architectonic element, a suicidal balcony, illustrates Hernández's 'poetics of pending' consecrated to an eternal in-between: the balcony's position between the inside and the outside, the vagueness of the tale's detailed description speckled with strange spots of indeterminacy, the indecision between what is imagined and what is real. This air of fantastic indecisiveness—the committed non-commitment—does not represent an evasion of reality, but provides a means to display its multiple and often unknowable layers.
Lena Abraham studied Spanish Language and Literatures, Comparative Literature, and Psychology in Mexico City, Buenos Aires, and Berlin, as well as Translation at the University of Córdoba (Spain). Currently, she explores the effects of the spatial unsettling of houses 'coming alive' in German, Spanish, French, and English narratives with regard to the relationship between subject and world. She joined the Emmy Noether Research Group 'Bauformen der Imagination: Literature and Architecture in Modernity' at FU Berlin in April 2015. She is a doctoral fellow at ZfL Berlin with the research project 'Living Houses: Literary 'Biotectures' of the 20th and 21st Centuries'.

Sonia García de Alba Lobeira:
Through the Looking Glass: Worlds within Worlds in Michael Ende and Lewis Carroll
The mirror as a gateway that offers passage into another reality has long been present in the realm of fantasy writing. Michael Ende's The Mirror in the Mirror and Lewis Carroll's Through the Looking Glass make use of the idea of projected reflections to create a Secondary World—or several worlds, in the case of Ende—that echo what is posited as the Primary World in their narrations. Both authors make use of several layers of world-building to submerge the readers deeper into a surrealist landscape, where the boundaries between what we conceive of as Primary and Secondary Worlds are challenged and broken down. I will argue that both Ende and Carroll conceive of fantasy in their writing as a heightening of reality and thus construct a Primary World within their texts that echoes our own, only to expand it and break apart its foundational structure in the mirrored Secondary World. Through this process of subcreation within an already fictitious setting, Ende and Carroll deconstruct social principles and binding realities that are present in their artificial Primary Worlds and that are meant to resonate with the reader's own. In this way, the reader's Primary World is inevitably drawn into the game of mirrors; it becomes one more reflection or facet of the infinitely complex Secondary Worlds that both authors establish. The effect is a blending of both worlds that effectively presents readers with their own reality mirrored back at them from a different, heightened perspective that invites critical approaches and a further submersion into the world of fantasy.
Sonia García de Alba Lobeira completed her undergraduate studies at Tecnológico de Monterrey in Mexico and is now an MSc student in the Medieval Literatures and Cultures programme at the University of Edinburgh. Her research interests include the influence of myth and folklore in medieval narratives, particularly in terms of how the Otherworld and the supernatural are portrayed in these texts. She is also an avid reader of fantasy and would like to go on to study the adaptation of medieval tropes in modern fantasy writing.

Kira Apple:
Stories that Resonate: Sympathy and Other Transformative Affects in Fantasy Fiction Podcasts
In the new media landscape, alternative forms of storytelling are becoming increasingly popular, with podcasts—especially fantasy ones—being a notable development. Certain strains of meaning tend to dominate these stories; themes of community, camaraderie, and collaboration are frequently present, indicating a growing audience desire to escape into worlds where such connections can be found and celebrated.
This paper argues that fantasy podcasts are viable spaces to reconsider how and why stories move audiences in the present day, due to stories' increased narrative focus on resonance and sympathy—concepts that showcase the social, connected nature of affects. Utilising work on the affects by Teresa Brennan and Brian Massumi, research into sympathy during the Renaissance by Michel Foucault, and the fantasy theories of J.R.R. Tolkien, Brian Attebery, and T. E. Apter, this paper argues that older understandings of the sympathies are seeing a resurgence in new media, with ideas of connectivity, interdependency, and transformative resemblance featured in specific works of media. This paper culminates with a close reading of The Adventure Zone, a comedic actual-play Dungeons & Dragons podcast that features rich fantasy storytelling and focuses thematically on human bonds, sympathies, and stories that resonate.
Rather than severing our ties to reality, fantasy can be a way of engaging with and appreciating the real world. Fantasy can be both a response to reality and a way of coping with the difficulty of that reality from within. As they make use of once-obsolete understandings of resemblance, stories told within the burgeoning medium of podcasts have a vested interest in examining humanity's potential through the fantastic, as they consider the boundaries and bonds of sympathy and our resonant capacity to truly connect.
Kira Apple is a PhD candidate in Comparative Studies at Florida Atlantic University, located in Boca Raton, Florida. She holds an MA and a BA from Kutztown University in Pennsylvania, where her thesis focused on contemporary fantasy literature. Currently, her research interests include fantasy storytelling in new media, audience reception, and affect theory. She has attended the International Conference on the Fantastic in the Arts numerous times, presenting on everything from video games to Tennyson. She is also the Editorial Assistant, under Dr William L. Leap, for the international Journal of Language and Sexuality.

Marita Arvaniti:
Near, Far, Wherever She's Not: Gendered Escapism through Metatextual Faerie
The traditional British fairy-ballads have offered inspiration to generations of fantasy authors who turned to them for a glimpse into the realm of Faerie, and its wonders and enchantments. However, 'escaping' into Faerie seems to be a gendered pursuit; indeed, a staggering number of modern retellings are female-centric stories, written by women. This paper seeks to examine three key retellings of 'Tam Lin', perhaps the most famous fairy ballad, that have been written over the past forty years. Pamela Dean's Tam Lin, Kat Howard's Roses and Rot, and Diana Wynne Jones's Fire and Hemlock are very different novels, but all authors choose to approach the realm of Faerie in a metatextual, self-referential way that brings the question of escapism to the foreground of literary analysis of their stories. In all three retellings, the existence of Faerie and the fantastic is hinted at, suggested, but never clearly stated until late into the story. Instead, the three heroines interact with the world of fantasy by reading, using fairy tales and the fantasy literary canon as a means of escaping from the confines of constricting, suffocating, or simply mundane realities. It is their understanding of genre and their positions in it as women that allows them to break the rules, redefine what it means to be a hero, and escape the confines of living a life steeped in fantasies and ideas of escapism. By discussing escapist literature in-universe, the three authors create visions of Faerie in worlds that prioritise the experience of the reader, and through that examine and subvert traditional criticisms against escapism in the fantastic canon.
Marita Arvaniti is a Fantasy MLitt student at the University of Glasgow with a bachelor's degree in Theatre Studies from the University of Athens. Because of an unsupervised childhood and parents in showbiz, she has a lot of unmarketable skills like being a very fast reader and having a good memory for quotations, so she is trying to stay a student for as long as possible. She sometimes works as a social media manager, a translator, or a stage manager, depending on the day.

Alix Beaumont:
Escaping from Myth into Fantasy, and from Fantasy to Myth: How the Blurring of Mythology with the Conventions of Fantasy Allows World-Building and Engagement in the God of War Video Game Series
The God of War video game series are adaptations of Greek myths that blur traditional mythical elements with the conventions of fantasy in multiple ways. Through the adoption of fantasy tropes, they shape the world that the player-character finds him or herself in. They combine the characteristics of Greek heroes—who are often not especially heroic by our standards—with the tropes of fantasy, creating a unique space in which the player can inhabit a character that allows him or her to indulge in progressively darker fantasies of both violence and sex that, through the nature of the texts as video games, absolve the player of any moral penalties. Thus, they present opportunities for moral escapism, while simultaneously creating a unique space that is part-fantasy, part-myth, and part-game.
Through a combination of close reading, textual analysis, and consideration of production contexts, this paper examines the way that fantasy, mythology, and medium-specific features of video games come together in the God of War series to create a possibility space that escapes the confines of myth, fantasy, and morality. It considers how these factors shape both the game world and the player's avatar (Kratos), and how, through a moral escapism where the game insulates the player from moral consequences, the player is enabled and encouraged to engage with dark fantasies of sex and violence. It argues that the games take original Greek myths and, by enveloping them in the conventions of fantasy, build a world that is both distinct from other interpretations of Greek myth and intertextually connected to them, a feature of what I term in my research as 'mythodiegesis'. It also shows how, at the same time, the games utilise the darker aspects of Greek myth to escape from fantasy conventions that might limit the enactment of dark fantasies through the avatar Kratos.
Alix Beaumont is a third-year PhD student at the Department of Theatre, Film and Television at the University of York with an MA in Contemporary Television and Cinema from the University of York and an MA in Ancient History from University College London. He has had a lifelong passion for Greek mythology in particular, and fantasy and science fiction in general. Alix is studying the depiction of Greek mythology in modern cinema, television, and video games, and the intertextual relationships between different depictions, which he terms 'mythodiegesis'.

Laurie Beckoff:
Sword Versus Sorcery: The Medieval(ist) Juxtaposition of Magic and Might in Harry Potter
In modern media, the fantasy genre tends to carry an expectation of action-packed adventure including epic battles, booming explosions, swinging swords, and sometimes gore. This association often lies in the medieval imagery evoked by fantasy and the understanding of the Middle Ages as a period characterised by the omnipresence of war, leading to gratuitous violence being considered more realistic. Knights in battle are an essential component of much chivalric romance, as is the presence of magic, resulting in a modern conflation of sword and sorcery. However, connecting to its medieval roots in Arthurian tradition, the magic in J.K. Rowling's Harry Potter series serves primarily as a vehicle not of violence but of inquiry, introspection, self-discovery, and creative problem solving. Through an examination of the juxtaposition between knights and the supernatural in Arthurian literature, this paper will argue that the distinction between violence and magic in Harry Potter is tied to the medieval portrayal of these concepts as discrete and even at odds with each other. Arthur's knights have their wills and worthiness, rather than their military prowess, tested by their interactions with magic. Rowling makes the knight and the wizard a single figure while simultaneously extricating sword and sorcery from each other, thus moving from escapism into a more relatable social setting, where students, teachers, and families are thrust into tournaments, duels, and battlefields. Encounters with Boggarts, Dementors, and Unforgivable Curses do not merely provide entertainment and suspense, but opportunities for Rowling's characters, as well as her readers, to consider their own fears, values, and personalities. By portraying an environment in which violence is not glorified but is a corruption of magic intruding upon otherwise benign and reflective pursuits, Rowling uses magic itself as a manifestation of the psyche and a source of allegory, not just as an escapist world-building technique.
Laurie Beckoff is pursuing an MSc in Medieval Literatures and Cultures at the University of Edinburgh, where she also serves as Events Secretary for the Late Antique and Medieval Postgraduate Society. Originally from New York City, she received her BA in English from the University of Chicago. She presented her thesis, 'All the Difference in the World: Action, Circumstance, and Genre in Harry Potter and Le Morte D'Arthur', at the 5th Annual Harry Potter Conference at Chestnut Hill College in Philadelphia. Her research interests focus on medieval magic and medievalism in modern fantasy literature, particularly Arthurian influence in Harry Potter.

Ruth Booth:
Growing-up in the Time of No-Face: Escapism, Illusion, and Identity in Spirited Away
Children's fantasy is often accused of dangerous escapism, when such works 'should' teach the child about the reality she inhabits. In 'The Child and the Shadow' (1979), Ursula Le Guin counters this, stating that not only is fantasy the 'universal and essential faculty of the mind', but realist stories risk simplistic moralisation of evil, or sensationalising situations that children are not yet mature enough to face. Moving into fantasy allows the child to confront these issues more easily by addressing those conflicts within herself, which can then be applied upon her return to reality.
Consequently, many fantasies involve children coming to fundamental realisations about their capabilities, the dangers that surround them, and their own vulnerabilities to powers that, until now, childhood has protected them against. They often must learn to see the world anew to recognise and combat these dangers. Upon returning to their families, they must reconcile their identities as children with the more mature people they have become and their revised vision of the 'real' world—one that may show reality as containing its own escapist tendencies.
This paper will consider how this exchange of realities is negotiated in Hayao Miyazaki's Spirited Away (2001). Using Miyazaki's exploration of how modern living impacts the spirit world that Chihiro and her parents invade, I will show how her identities as Sen and as Chihiro reflect the artificiality of the division between the fantasy and the real world, and how the recognition of illusion and consequence in both worlds is tied to Chihiro's quest for reconciliation with her own identity, and the identities of others. I will explore the valuable necessity of this kind of fantasy for children today, where the control of narratives delineating 'true' and 'fake' impacts our day-to-day lives.
Ruth Booth is an academic and writer based in Glasgow, Scotland. She has presented at Worldcon 75 in Helsinki and last year's GIFCon. Her research interests include liminality and boundaries, landscape and navigation in fantasy, the monstrous feminine in MMORPGs, and the works of Neil Gaiman. As an author of science fiction, fantasy, and horror, Ruth received the British Science Fiction Association Award for Best Short Fiction in 2015. She is a member of the Glasgow SF Writers Circle and a columnist for Shoreline of Infinity. Ruth is currently studying for an MLitt in Fantasy at the University of Glasgow.

Miguel Cesar:
Death, Loss, and the Fantastic in Japanese Contemporary Media
In Japan, the fantastic does not function as a substitute for the ordinary. On the contrary, fantasy is a complex dimension that relates to the everyday world in a multitude of ways, intermingling with and blending both planes. But the fantastic goes even beyond that function, dealing with the most basic human dread: fear of conceptual chaos. Building on that, Susanne Langer considers in Philosophy in a New Key that humans 'can adapt … to anything [their] imagination can cope with; but [they] cannot deal with Chaos … , [their] greatest fright is to meet what [they] cannot construe'. Fantastic literature aims to arrange that chaos, making it symbolically interpretable and reachable by humans' hermeneutical capabilities.
From that hermeneutic approach, this paper proposes a study of three main cultural manifestations of Japan's Second Lost Decade (2000-2010): the manga Fullmetal Alchemist, the anime Journey to Agartha, and the computer game Shadow of the Colossus. Each represents a different medium engaging with the same theme: the Transgression of Life and Death Boundaries. For all of them, the journey to the world of the dead stands as the central tension guiding both story and action.
In this paper I argue that the permeation of the theme through these media utilises the same logic as other ontological and existential interrogations of the turn of the millennium in Japan. In a semiotic landscape where everything solid melts into air, the need to cease that chaos leads to the construction of fantasy manifestations to create a new stable bedrock from which to develop a new existential project. I then discuss how each medium's language has constructed these fantasy worlds and their relationship to the Japanese context which they originated from and continue to influence.
Miguel Cesar is a PhD student in the Department of Asian Studies at the University of Edinburgh. He completed his degree in History at the Complutense University of Madrid in 2013 and his MSc in American Anthropology the following year. In 2015, he completed an MSc in Japanese Society and Culture at the University of Edinburgh. Since 2013, he has worked with the Association for Amerindian Studies and the Department of American Anthropology at the Complutense University to conduct a series of workshops and talks about representations through new media such as cinema and computer games.

Gabrielle Cohen:
The Instability of Knowledge: Three Types of Fear in the Works of H.P. Lovecraft
By its very existence, fantasy literature hints at the fantastic impulses that pervade human consciousness. Writers such as Andrew M. Butler and Ursula K. Le Guin have revealed the utility of fantasy literature both as a means to understand and to demonstrate psychoanalytic theory. Psychoanalytic critiques of fantasy texts reveal their symbology, not as escapist, but as overdetermined with meaning in a similar fashion to Freud's conceptualisation of the language of dreams. When read in tandem with psychoanalytic theory and criticism, fantasy literature can reveal insights into the perpetually unstable relationship of humanity to itself as a fragmented collection of subjects. This instability is rooted in insatiable curiosity that results from the impossible desire to accumulate and categorise all knowledge.
The works of H.P Lovecraft can be read as a reflection on the psychoanalytic theories of his contemporaries Freud and Jung, and their contributions to the dislocation of the human subject from the centre of its consciousness. This paper takes a psychoanalytic approach to the analysis of Lovecraft's works (including 'The Call of Cthulhu', 'The Dunwich Horror,' and 'Pickman's Model') to present three types of fear caused by the instability of knowledge: fear of the self, fear of the other, and cosmic fear. Lovecraft's artists function as uncanny doubles of the author: their channelling of cosmic knowledge from the eldritch pantheon looming over humankind locates the role of the artist, and the fantastic works they produce, as symbolising all that we simultaneously wish to know and cannot comprehend.
This psychoanalytic critique poses that reading fantasy literature is not as escapist as it may have been previously perceived to be, as stories such as Lovecraft's allow the reader to engage with horrors repressed within the human psyche.
Gabrielle Cohen is a writer and qualified teacher with a first-class degree in English and Comparative Literary Studies from the University of Warwick. She has work published in Ink Magazine, UnPublished Literary Journal, Level 4 Magazine, Hexjam, and Career Camel. She has performed her creative writing at Squeezebox Folk, nEW wRITINGS sHOWCASE, and Ship Full of Bombs alternative radio. Gabrielle is currently editing her arcanepunk novel and studying fantasy literature at the University of Glasgow.

Callie Coogle:
Chasing Your Demons: How Fantasy is Filling the Spiritual Void and Becoming the New Religion
Over the last two decades, a well-documented shift has occurred in America's religious landscape, especially amongst the Millennial generation. Alan Cooperman, director of a Pew Research Center survey, found that 'The country is becoming less religious as a whole'. Concurrent with this turn away from traditional religion is an explosive rise in the popularity and proliferation of fantasy. I argue that, as people move away from systems of faith, they seek to fill the void left by the absence of religion. Like traditional religions, fantasy provides a sense of hope and a renewal of faith in the world; more importantly to an individualist society, it also evokes a sense of agency. Fantasy has the power to instil the feeling that change is possible and anyone can wield it, overcoming their own trials and taking control of their lives. Rather than offering an excuse to run from our demons, fantasy gives us the means to turn and face them head on.
This paper will explore Ursula K. Le Guin's A Wizard of Earthsea, Philip Pullman's The Subtle Knife, and J.K. Rowling's Harry Potter and the Prisoner of Azkaban, examining in each a creature (the Shadow, the Spectres, and the Dementors, respectively) that embodies psychological states and emotions, such as fear, loss, and depression, in physical form—representing both our inner demons and the external stressors we face in life. What these creatures share most intensely is a connection to real human suffering, and in each series, the protagonists learn how to fight these creatures—not simply escaping them, but conquering them. In doing so, these texts offer a way of addressing spiritual bereavement. They take up the mantle of religion, depicting a confrontation with the abyss and offering a means of finding renewal and healing. Fantasy becomes a refuge from hardship, a balm for suffering, and a source of guidance through life's myriad challenges.
Callie Coogle has travelled far and wide, hoping to discover fantastic places. She received a BA in Psychology from the University of California, Davis, but her real love is reading, watching, writing, and studying fantasy. When she discovered she could get a degree in it, she ran off to Scotland to pursue an MLitt in Fantasy at the University of Glasgow. Her research interests include the changing religious landscape in America and abroad, specifically the millennial generation's shift into a non-religious or alternative spirituality majority, and its connection with the rising force of fantasy in popular culture.

Alicia Copeland & Natalie Finlayson:
Words as Our Most Inexhaustible Source of Magic: Exploring the Language of the Fantastic through Corpus Linguistics
In this age of transmedial storytelling, fantasy is becoming increasingly accessible, attracting interest from a multitude of backgrounds. While this boom in popularity is often attributed to a desire for escape from the pressures of modern life, research on the specialised language of the fantastic suggests that more complex factors are at play. Here, we present two corpus-based projects that investigate the language of video games and fantasy literature (media traditionally associated with escapism) and explore the idea that there is more to the role of the language of the fantastic than creating a departure from reality.
Recognising that previous research on the language of fantasy role-playing games has positioned video games as textual objects using an intuitive-based approach, Alicia Copeland proposes an empirical model of analysis—corpus stylistics—as an alternative for analysing the textual aspects of games. Alicia will examine the role of language in creating immersive worlds using a specialised corpus of transcripts from Dragon Age: Origins, examining how aspects of language provide a unique storytelling experience, while others, such as discourse surrounding gender, mimic the Primary World.
Natalie Finlayson will present a combined approach, using parallel corpora of fantasy and general literature, and empirical methods borrowed from cognitive psychology, to examine language trends in translated and non-translated fantasy novels. With reference to results from pilot studies on readers and writers of various kinds of literary fiction, she will examine the extent to which readers and writers of fantasy perceive certain aspects of language differently to those of other genres, and discuss what this means for Secondary Worlds.
We conclude that the role of language in fantasy is twofold: it has the power to provide an escape from our own world while also having the ability to create linguistic links that project aspects of the Primary World onto Secondary Worlds.
Alicia Copeland is a PhD student at the University of Glasgow. After receiving her master's degree in Linguistics, Alicia decided to apply her love and knowledge to another major interest of hers: video games. Since then, Alicia has been researching how to apply linguistic analysis techniques formerly reserved for older media, such as literature and film, to the study of games.
Natalie Finlayson is currently a Lecturer in Modern Languages at the University of Glasgow, where she is also pursuing a PhD in Translation Studies. Natalie's research interests include translation theory and methodology, literary translation, second language acquisition, and English, French, and German language and linguistics. She specialises in corpus and cognitive methodologies.

Taylor Driggers:
Escaping (into) the Past?: Nostalgia and Radical Theological Imagination in Star Wars: The Last Jedi
To say that the critical discourse surrounding Rian Johnson's eighth chapter in the Star Wars saga has been divisive is an understatement. Among the most controversial aspects of the film is Luke Skywalker's decision to end the Jedi religion by setting fire to the sacred Jedi texts, which seems to parallel antagonist Kylo Ren's desire to '[l]et the past die. Kill it, if you have to'. While the ending of the film reveals that Luke's would-be apprentice Rey has in fact preserved the sacred texts, Luke's actions nonetheless signal that The Last Jedi (2017) seeks a fundamentally different relationship with the fantastic archaism and mythic romanticism that until this point have underpinned the series.
This paper will argue that The Last Jedi's complicated relationship both to its own past and that of its fictional theology proves instructive for the development of radical theological imaginations in science fiction and fantasy. While fantasy's relationship to theology has largely been understood as a nostalgic one that seeks to re-establish pre-existing orders and master narratives, the creation of Secondary Worlds also allows for heterodox theological articulations that speak to the experiences of people who, in Marcella Althaus-Reid's words, find themselves 'outside the closure and boundaries of theo-social systems.' Viewed through this lens, Rey's decision to carry on the ways of the Force becomes a radically re-inventive act that resists the nihilism of Luke and Kylo Ren and is of a piece with many other subversive elements in the film: the rejection of a 'Chosen One' narrative, the democratisation of the Force, and the portrayal of women and characters of colour forging counter-intuitive routes of resistance through failure.
Taylor Driggers is a PhD student in English Literature at the University of Glasgow. His thesis, Faith, Fairies, and Floozies, focuses on how fantasy texts provide a narrative ground on which women and LGBTQ+ people can contend with and even reclaim religious traditions that have historically marginalized, silenced, or abused them. Taylor is also a tea enthusiast, a blogger, an occasional poet, and a music lover. His work has been published in the Journal of Inklings Studies and in the collection The Inklings and King Arthur edited by Sørina Higgins.

Meghanne Flynn:
Fantasies of Escape: Feminism and the Modern Romance Novel
More than almost any other series in recent memory, Stephenie Meyer's Twilight Saga elicited intense criticism in both popular and academic media. While fantasy has long inspired critical derision, in this instance it derives not from the elements of the fantastic, but those of the romance genre.
Critics of the genre, such as Joanna Russ and Kay Mussell, view romance as a fantasy genre whether or not it involves the intrusion of supernatural elements or a Secondary World. This is due to what they view as the inherent 'wish fulfilment' or 'escapism' of romance, in which, they believe, little realism exists even without the intrusion of the supernatural. Russ notes that, typically, the literature of the romance genre takes place in a heightened atmosphere of melodrama, in which every glance and conversation is noted and given due significance and meaning by the characters. According to critics like Darryl Jones and Milly Williamson, melodrama is frequently a mode of expression for the oppressed. Primarily written by women for women, romance represents an almost unique form of escape.
Using a literary-cultural approach, I look at an array of romance novels, including young adult, contemporary, and historical, in order to examine how the genre may operate as a feminist escape. I will discuss whether the fantasy of the romance novel is a product of women 'cherishing their bondage', like Germaine Greer contends, or if, as Tolkien suggests, the critics are confounding 'the escape of the prisoner with the flight of the deserter'. I argue that romance presents an incredible fantasy in a continuing patriarchal society: that the lives of women matter. If romance provides a space of fantastic escape, it is one in which women are shown to be able to negotiate a position of power in the face of social oppressions.
Meghanne Flynn is a PhD student with the Children's Literature Research Centre at the University of Cambridge. She is currently researching Gothic monsters in young adult supernatural romance novels. Her background and research interests include theories of popular literature, fairy tale adaptions, romance genre novels, and portrayals of dead bodies.

Elaine Gallagher:
Escaping Straitjackets of Identity: Representation of Gender Variance in Science Fiction and Fantasy
Science fiction and fantasy (SFF) allow for experimentation in considering situations and circumstances that do not hold in present-day or historical milieux. Such thought experiments can include representing people from marginalised or abjected backgrounds and identities in social roles from which they are excluded by present society and in realist literature and reportage. Being represented in this way can have an important effect on the reader or viewer, as illustrated by Whoopi Goldberg's and Dr Martin Luther King Jr's reported reactions to Nichelle Nichols, a person of colour, playing a bridge officer character in Star Trek.
SFF thought experiments also include the use of technology or magic, or the social roles of alternate societies, to explore the implications of gender variance and transgender identities, as in works such as The Left Hand of Darkness by Ursula K. Le Guin or I Will Fear No Evil by Robert A. Heinlein. Such variations have historically been the vehicles for political, social, or scientific speculation, but are now becoming themselves essays in representation for transgender and gender-variant people, as in The Bone Palace by Amanda Downum, Pantomime by Laura Lam, or The Ruin of Angels by Max Gladstone.
In this paper I will examine thought-experiment fictions including The Left Hand of Darkness and I Will Fear No Evil, and compare their overt speculative purpose with their potential for being read as representative texts by people of gender-variant identities. I will examine these in the context of social acceptance of transgender and gender-variant people at the time of publication, and show that, in addition to their authors' speculative intent, they provided escapist literature for transgender people in depicting societies and social situations in which gender variance was accepted rather than abjected.
Elaine Gallagher is studying the MLitt in Creative Writing part-time at the University of Glasgow. She is a member of the Glasgow SF Writers' Circle, co-edited the GSFWC anthology Thirty Years of Rain, and has written reviews and editorials for Interzone magazine. Her short film High Heels Aren't Compulsory won Best Scottish Short at the Scottish Queer International Film Festival 2015 and was shortlisted for the Iris Prize.

Karen Gardiner:
Escaping Justice in Wonderland
Alice does not ask to go to Wonderland. Her curiosity leads her there, and she finds, once in this alternative world, that it is at least as unjust as the one that she has left behind, with apparently senseless rules and despotic leaders. Wonderland is not an escape. It is, in the end, a place she must make her escape from, if she is not to be unjustly sentenced.
Between the completion of Alice's Adventures Underground (the story told to children on the river) and the much expanded Alice's Adventures in Wonderland (which would eventually be published), the Jowett case hit the headlines in the British press. A trial was brought against Benjamin Jowett (Regius Professor of Greek at Oxford) by Edward Pusey (Carroll's sponsor at Oxford) and others on the grounds of heresy. This produced, Carroll writes in his diary, 'a flurry of letters to the Times', leading to Carroll's correspondence about the concept of justice itself with his close acquaintance, theologian F. D. Maurice. The 1863 letters from Carroll to Maurice have unfortunately been lost, but the lengthy replies from Maurice remain in the Dodgson family collection and had only been partially deciphered until now.
This paper will reflect on what the Maurice letters can tell us about Carroll's shifting perspective on the justice of the Jowett case, including looking at his poem 'The Majesty of Justice', which references both the Jowett case and the Wonderland story. It will argue that Wonderland's justice system may not be so fantastic after all. Nor may it be so easy to escape, since its genesis is in Carroll's everyday world.
Karen Gardiner has an MA in the Psychology of Religion and a Postgraduate Certificate in Theology, Imagination and Culture. She is currently studying for a PhD in Theology and Literature at the University of Nottingham, focusing on the relationship between F. D. Maurice and Lewis Carroll and the influence that the theologian had on the writer. Having presented 'Alice's Apocalypse' at the Theology and Popular Culture conference last year, she is now on the steering group for the network. Karen is a Priest in the Church of England and is currently based in the Vale of York.

Colin Gibson:
Race and Fugitive Freedom in N. K. Jemisin's Broken Earth Trilogy
Political theorist Neil Roberts argues in Freedom as Marronage (2015) that fugitives from oppression have developed important 'alternative visions of freedom'. He asserts, contra to the Western tradition, that freedom is not a static decontextualised ideal but rather a 'relational condition', subject to constant negotiation in the 'liminal and transitional spaces of slave escape'. N. K. Jemisin's fantasy Broken Earth trilogy (2015-17), heavily inflected by the neo-slave narrative genre, narrates just such fugitive lives in its radical reformulation of the possibilities of the fantasy genre. As well as celebrating and delineating the kinds of freedom that can be developed in flight, these novels also ask what happens when marronage is no longer possible and agents of an oppressive hegemonic system close in. The trilogy's answer is that the communities and technologies developed in marronage can provide the resources to resist and even transform (or annihilate, as one character prefers) that system. The Broken Earth's orogenes, an oppressed and racially marked group with the ability to harness the power of the earth, develop new epistemologies and repurpose their orogeny, previously exploited as a technology of oppression, to claim freedom. Moreover, the trilogy's orogenes are able (to some extent, and with difficulty) to repurpose their racial designation as orogenes as a political tool. In doing so, Jemisin's trilogy engages contemporary debates around race as technology between scholars such as Beth Coleman, Wendy Chun, and Poe Johnson, which are closely linked to discussions of the political ontology of race among scholars such as Michael Rabinder James and David Kline. Jemisin's fantasy trilogy, radical not only in its politics but also its aesthetics, asks its readers to re-imagine how those who are dehumanised and abused use their limited agency as fugitives to begin the work of creating the conditions for freedom.
Colin Gibson is a first-year PhD researcher in the University of York Department of English and Related Literature. His research focuses on African American speculative fiction, especially the interaction of race and technology in science fiction and fantasy neo-slave narratives, and how these texts work to weaken oppressive discourses and imagine alternative futures. He has a BA in English from the University of Oxford and an MA in English from the University of York.

Hanna Greenblott:
Broomsticks and Bathhouses: Modes of Connection in Hayao Miyazaki's Kiki's Delivery Service and Spirited Away'
The name Hayao Miyazaki is by now synonymous with many things: gorgeous animation, fantastic adventures, and more often than not, flying. Throughout his film career, Miyazaki has incorporated these elements into narratives of self-discovery. Despite the perhaps individualistic theme one might expect from a film about a specific character's journey of self-discovery, Miyazaki's films manage to transform stories about an individual into stories of interconnection with the protagonists' wider worlds. For Miyazaki, these wider worlds include communities of people, animals, and nature. This paper will first touch on the relationship between animation and fantasy to reveal the subversive restructuring of conventions that both forms enact. The paper will then analyse how this relationship intersects with Miyazaki's ultimate aim of deconstructing communal and ecological hierarchies by examining the self-discovery journeys of the protagonists of Kiki's Delivery Service and Spirited Away. Specifically, this paper will address the relationships between the protagonists and the elements of water and air. With Kiki working as a flying delivery girl and Chihiro working in a bath house, these elements are constantly present and become active agents in the girls' lives. Through the mode of animated fantasy, the protagonists' journeys of self-empowerment are exhibited through visual moments ranging from the mundane and the clumsy to the supernatural, ultimately culminating in wondrous flying sequences. Through its analysis of the relationships between animation, fantasy, nature, and self-discovery, this paper claims that Miyazaki's films argue for a mode of living governed by recognition and belief not only in oneself but also in the extensive communities in which we live.
Hanna Greenblott is a current Fantasy MLitt student at the University of Glasgow. She received her bachelor's degree in English Literature with a minor in Japanese from the University of Maryland. When she's not guarding the electric outlet in her neighbourhood café, you can find Hanna making friends with every dog in the park.

Rachael Grew:
The Fantastical Costumes of Leonor Fini
The artist and designer Leonor Fini (1907-1996) is known for her surrealist paintings, peopled by a cast of fantastical characters: from witches and priestesses to sphinxes and harpies. However, her engagement with the fantastic goes beyond the canvas and intertwines with Fini's 'real' life. She rejected the idea of a single, fixed self in favour of a multiple, fluid conception of identity, which she frequently expressed through the fantastical costumes she wore in both public and private settings.
For Fini, the act of dressing up had a transformative power, enabling the costumed person to, as she put it, 'change dimension, species, space … to become animal'. She used costumes to project a series of different personae, some only semi-human and others that overlapped with figures appearing in her painting and design work. This begs the question: who is the 'real' Fini out of these fantastical selves, or is the notion of a real self the true fantasy?
This paper will investigate Fini's interplay between fantasy and reality by exploring her use of costume in three contexts: her fashion choices generally, what she wore when visitors called at her studio, and her fancy-dress outfits and their intersection with her art and design. Ultimately, I will argue that this is a careful and deliberate blurring of fantasy and reality, distinct from the surrealist ethos of combining the dream and the real, which highlights the potential of the fantastic to affect transformation and defy traditional 'realistic' notions of self.
Rachael Grew is a Lecturer in Art History and Visual Culture at Loughborough University, specialising in concepts of gender and identity within French and British art and design circa 1850-1950, with a particular focus on women surrealists. Following the award of her PhD in 2010, Rachael has taught at a number of institutions in the UK, and published a series of articles and essays on debates around gender and subjectivity within surrealist art and design. Her current projects focus on issues of identity in surrealist costume and theatrical design, notably those of Leonor Fini.

Alexandra Gushurst-Moore:
Escape to the Country: Examining the Role of Natural Imagery in Late Nineteenth-Century British Fantasy Art
Prior to evolving the genre of modern fantasy literature, William Morris's (1834-1896) enormously influential career as an engraver and designer saw the emergence of a style embellished with motifs associated with English rural life. Contemporaneous with the likes of (the widely regarded) originator of the modern fantasy genre, George MacDonald (1824-1905), painters and decorators such as Morris, Dante Gabriel Rossetti (1828-1882), and Edward Burne-Jones (1833-1898) were creating worlds of their own, charged with the supernatural, yet composed with familiar wildlife that marked the settings of their work with a distinctly English flavour. This paper will examine how these painters were able to create visual fantasies despite the use of familiar flora and fauna. It will engage directly with the nature of the fantastic, arguing for the view, as set out by Tzvetan Todorov in The Fantastic: A Structural Approach to a Literary Genre (1973), that it is a vision that hovers between the real and the unreal. Engaging with historical texts such as Morris's socialist writings, this paper will examine the connection between natural representation in the supernatural art of this period and the wider socio-political concerns of late Victorian England, such as fears surrounding industrialisation and modernity, social organisation, and changing attitudes around belief. This paper will be led by research questions such as: how do artists working in a medium other than literature prompt or introduce the fantastic? How was the supernatural art of late nineteenth-century England distinctive and novel in its treatment of otherworldly themes? And finally, to what extent can we determine whether this fantasy art evolved as a kind of personal escapism, as fashionable decorative art for sale in a closed market, or as an attempt to convey a message to a wider or public audience?
Alexandra Gushurst-Moore is a PhD candidate at the University of York, where her project, 'The Making of Modern Fantasy in the Visual Arts of Late Nineteenth-Century Britain', is being supervised by Professor Elizabeth Prettejohn. Her past research has focused on fantasy art and literature, fairy tales and folklore, the application of literary methodologies to art historical study, and cultural and intellectual history. She lives in Oxford and writes fantasy and science fiction in her spare time.

Lucinda Holdsworth:
'Weak as Women's Magic': The Domesticity of Women's Magic
Fantasy has long been seen as the literature of escapism, yet it has not gone unnoticed that this genre, as is the case with the majority of genre fiction, has been overwhelmingly dominated by male authors—arguably the group that needs escapism the least. Where does this leave the rest of the gender spectrum, when the literature of escapism will not allow them to escape the prejudices and expectations that are already placed on them in real life? Due to the abject lack of non-binary representation in fantasy literature, I will pay particular attention in this paper to the ways in which gendered expectations of women are expressed through magic. In texts such as Terry Pratchett's Discworld series or Ursula K. Le Guin's Earthsea cycle, there is a clear divide between male and female magic—while men may seek the secrets of the universe, women's magic is closer to community nursing. Both Pratchett and Le Guin clearly demonstrate throughout their works that this caring, domestic magic of selfless service is the more heroic path, yet by presenting the act of caregiving as a kind of magic unique to women, such texts still present the idea that this is a burden that must be borne only by women due to their very nature. In this paper I will ask why women are denied an escape from traditional gender roles even in escapist fiction, and why, when magic is gendered, women's magic is so invariably shown as the magic of healing and caregiving (or even in Robert Jordan's case, as the magic of submission) and whether the celebration of traditionally feminine roles in these texts outweighs their more problematic elements. Furthermore, I will ask why we find it so hard to celebrate the feminine without trapping the female in the domestic sphere.
Lucinda Holdsworth earned her bachelor's degree in English from the University of Nottingham, where she was published in the University's journal Innervate and awarded the runner-up Bond Prize for Outstanding Literary Achievement for her work on Scots Poetry. This year, she graduated from the University of Glasgow's Fantasy MLitt programme with distinction. Her research interests include religious fantasy, the works of Neil Gaiman and Mike Carey, and representations of gender in fantasy literature.

Justine Houyaux:
Fantastic Feasts: Reflections on Two Famous Intersemiotic Transpositions of the Mad Tea-Party in Alice's Adventures in Wonderland
This paper addresses the understudied interplay between the real world, the diegetic realm of Wonderland (in both the source text and the original illustrations by John Tenniel), and two of its intersemiotic transpositions (the 1951 film by Clyde Geronomi and the 2010 film by Tim Burton) through their representations of the tea-party, with a particular focus on food and food-related attitudes. From table manners to stuffing a dormouse into a teapot, this paper aims at examining how the two very different adaptations engage with escapism in their representations of the very mundane teatime, from Victorian Oxford to Burton's gloomy Wonderland—and back.
Crucially, with food and food-related attitudes being of primary significance in children's literature as well as in fantasy, they will be examined as parodies of a parody of the real world. Their hermeneutic function is not limited to the text but also applies to zeitgeistic visions of the Primary World, which in turn, gradually metamorphoses into a sort of fantastic universe in the imagination of twenty-first century viewers.
Taking into account the distinctive target audiences and production circumstances and technologies, studying two very different intersemiotic transpositions created by the same studio (Disney) with a sixty-year gap and comparing them to both Lewis Carroll's and John Tenniel's visions makes it possible to highlight the dramatic turns in the storytelling of the same source text. This paper will argue that the two films are not only two different takes on fantasy, but also two radically different interpretations of the reality behind Lewis Carroll's Alice's Adventures in Wonderland.
Justine Houyaux is a PhD candidate at the Faculty of Translation and Interpretation of the Université de Mons, where she has taught English for the past seven years. Her PhD focuses on the strategies of transfer of realia (culture-bound items) in the French translations of Alice's Adventures in Wonderland by Lewis Carroll. She has participated in the Alice in a World of Wonderland project (published in 2015) as a researcher, translator, and editor, and has been a member of the Lewis Carroll Society since 2011.

Bettina Juszak:
The Hopeful Cynicism of the Discworld: Fantasy as a Focusing Mirror of Reality
Of the great variety of types of Secondary World, Terry Pratchett's Discworld is a clear example of one that resembles our Primary World to the degree that social commentary of some form is all but a given. Vocal on both reality being rather stranger than anything the imagination can generate and using real world references as inspiration for his writing, Pratchett utilises his fantasy world to shed light on many different real-world issues, from racism to war to the human condition in general. The question is not whether there is social commentary in his books, but rather how he utilises fantasy and the fantastical setting to make his points—and whether some of it can, in fact, only be done in such a setting. In this paper I use Pratchett's work to investigate what kind of world-building possibilities a writer of fantasy is offered that a realist writer is not, and how this shapes the way that real-world issues are presented to the audience. Examples from Jingo, the twenty-first Discworld novel, and Thud!, the thirty-fourth Discworld novel, show how racism, xenophobia, and war can be discussed in a fantastic context, while retaining meaningful parallels to the real world that readers are likely to notice, either consciously or subconsciously. I conclude that Secondary Worlds need not be a hindrance to communicating real world issues to readers. On the contrary, they represent a unique opportunity to set up plot points to highlight such issues without being constrained by what is 'possible' or 'realistic'. Using the 'impossible' has the capacity to show more about the 'possible' than rigidly staying within the frameworks of reality.
Bettina Juszak studied linguistics at the University of Cambridge and wrote her bachelor's dissertation on the accents of antagonists in science fiction films. She then moved on to do an MLitt in Fantasy Literature at the University of Glasgow. She graduated last year with a dissertation on the connection between magical music, nature, and harmony in fantasy literature, and plans to do a PhD in this field. A long-time fan of Terry Pratchett's work, she has written on his use and subversion of narrative tropes, and on the difficulty of translating his word play.

Anna Köhler:
Wayward Women as Wicked Witches: Negotiating Gender Roles Through Fantasy
Witches have long been a staple of fantasy and fantastic literature, and their portrayal—from wicked crone to courageous heroine—is one way in which fantasy reflects and engages with real world issues, specifically with regard to gender roles. In this paper, I argue that literary witch figures are not—and have never been—simply the result of an overactive imagination, but can be read as a fantastic expression of very real fears. From the Renaissance, which gave rise to the stereotype of the malevolent, broomstick-riding, potion-brewing witch, to today, witches in literature and film have functioned as a reflection of contemporary anxieties about women who reject motherhood and wield power outside of the domestic sphere.
In order to explore how literary witches contribute to the negotiation of gender roles, I will first discuss the influences of folk belief and theological writing during the Renaissance and how they are reflected in Shakespeare's Macbeth. I will then trace the development that witch figures underwent in the twentieth century, when a fundamental shift occurred away from the wicked witch of fairy tales and towards the numerous varied depictions of witches in contemporary fantasy literature—a shift that mirrors the changing role of women in real life. This will include a closer look at feminist revisions of canonical texts that embrace witches as powerful women who refuse to be contained within the roles assigned to them by the patriarchy, as well as postmodern texts that question the wicked witch stereotype through parody. Finally, I will discuss the part that Hollywood films (especially those by Walt Disney Studios) have played in shaping the iconography of witchcraft and how these films have acted as a major conservative influence that has kept the wicked hag-witch alive up to this day even as literary portrayals increasingly reject her.
Anna Köhler is a first-year PhD student of British Literature at RWTH Aachen University in Germany. Her master's thesis covered the development of the witch in fantastic literature and constitutes the basis for her PhD project, which explores the way in which cultural models of gender are reflected, challenged, and negotiated in contemporary fantasy literature through magic and magic users. Her research interests beyond the fantastic include feminist approaches to literature, cognitive literary studies, worldbuilding, contemporary film, and all things Terry Pratchett.

Beatrice Kunkel:
'What's real, what's not real and what's the difference': Pratchett's Fantastic Metafiction and the Möbius-Strip of Reality and Fantasy
A flat world resting on the back of elephants that in turn stand on the back of a space-turtle, where believing things can make them come true and Death loves cats—Terry Pratchett's Discworld is clearly an impossible one. It may seem easy to dismiss Pratchett's novels—and fantasy in general—as mere escapism, as something disconnected from reality and with no bearing on it. There is, however, a long-standing tradition within fantasy to engage with the relationship between fiction and reality by writing self-conscious and self-referential 'books about books' (as Michael Levy and Farah Mendlesohn put it), or metafiction. Examples include Michael Ende's Neverending Story and Cornelia Funke's Inkworld trilogy, but even J.R.R. Tolkien's works have their moments of metafiction. Pratchett's novels represent a distinct example of the tradition, with their continued exploration of how stories and reality interact and the differences between the two, and the Discworld setting in a universe that is, as Daniel Lüthi describes it, 'literally driven by stories'.
In this paper, I explore Pratchett's Witches series as an example of Fantastic metafiction and trace the consequences of the novels' engagement with their own fictionality to their relationship to escapism. In particular, my focus will be on Wyrd Sisters, Witches Abroad and Lords and Ladies, as these novels show great emphasis on questions of narrative construction and the relationship between stories and reality. Ultimately, I argue that Fantastic metafiction forces readers to consistently confront the constructedness of the story, and therefore makes an easy escape from reality impossible. Consequently, Fantastic metafiction only allows escapism if readers question the boundaries between fiction and reality, and the constructedness of reality itself—turning the relationship between these seemingly opposite poles into a Möbius-strip of fantasy and reality.
Beatrice Kunkel earned her BA in English and German Philology at the University of Heidelberg in 2016, and her MLitt in Fantasy with Distinction here at the University of Glasgow as a member of the 2016-17 Fantasy Phoenixes. Her research interests include Fantastic children's literature and Fantastic metafiction, and in relation to that, questions of power and control through stories and storytelling. She currently lives in Southern Germany and has spent the last months organising a book fair project at a kindergarten in hopes of recruiting a new generation of fantasy readers.

Christopher Lynch:
Off the Map: Spatial Revolution in Terry Pratchett's Discworld
Terry Pratchett's Discworld, with its dwarfs, trolls, witches, and cod medieval setting, began as an affectionate satire on the genre itself. The series then developed through a variety of cultural and technological revolutions, including the invention of the steam engine and the battle for sexual emancipation within dwarfdom. Recent scholarship on Pratchett's work, however, has still concentrated mainly on the author's satire and wordplay.
In this paper, I will instead examine the Discworld from a spatial perspective, close reading two maps from later Discworld novels (Night Watch, 2002, and Raising Steam, 2013) to explore Pratchett's depiction of the relationship between the country and the city through history. Night Watch's map depicts tangled city streets upon which political upheaval is occurring. In Raising Steam, the railway is invented, and its map shows a steel line cutting across an entire landscape. Throughout this paper, a focus on the technological and spatial revolution in Pratchett's later Discworld novels through the lens of neo-Victorian, cartographical, and ecocritical studies will elucidate the critical importance of these texts to our own world. Change is vital to Pratchett's Discworld, as the city of Ankh-Morpork constantly expands, welcoming new species and adapting to radical technological shifts.
By focusing on the local and global perspectives of these maps, I will interrogate the ambivalence surrounding modernity in Pratchett's Discworld: from the liberation of women and non-human species forged in the city, to the environmental concerns and the spectre of colonialism and cultural homogenisation that the train carries with it. Pratchett's Discworld novels firmly reject the 'escapist' tag. Instead, through fantasy, they allow a new perspective on our own world, grappling with issues of technology and identity familiar to readers of both nineteenth-century technophobia and twenty-first century urban dwellers.
Chris Lynch is a PhD student at the University of Glasgow. He has an MA in English Literature and an MLitt in Fantasy, both also from the University of Glasgow. In September 2015 he received the Thomas Reid Bursary, awarded by the University of Glasgow's College of Arts to students of outstanding merit. His current research centres on Terry Pratchett's Discworld series, specifically how it interacts with neo-Victorian fiction and ecocriticism. He was the co-editor of the literary journal From Glasgow to Saturn from 2015 to 2016, and the co-founder of the inaugural Glasgow International Fantasy Conversations 2017.

Anna Mackenzie & Patricia Flores:
Locating the Secondary World of Harry Potter within the Primary Landscape: A New Digital Humanities Approach
In the past decade, more attention has been paid to the geographies and cartographies of literary texts due to the core role that place plays in narrative and storytelling. The emergence of computational techniques and mapping technologies like Google Earth makes the study of place in large corpora possible, but one of the most overlooked challenges in Spatial Humanities remains the narratives featuring 'unmappable' places, which are geographically vague or imaginary, or coalesce with/in real-world locations. The Harry Potter series is a solid exemplar.
A project between the Universities of Chester and Lancaster explores the intersection of fantasy literary research and the evolution of Digital Humanities methodologies to explore spatiality and what this means in literature. Utilising digital techniques and applying real-world-correlation tags through new computational technologies, this project interrogates how places and spaces are constructed in Harry Potter. This corpus generates four distinct possibilities for real-world-correlation analysis: real (King's Cross), imaginary (Hogwarts), combination (Diagon Alley), and vague (the hut-on-the-rock) locations. We additionally explore, through geographic collocation analysis, how these locations further the plot and the emotional development of the characters. How are the interplays between the Primary and Secondary Worlds constructed? How do actions within places relate to their surroundings? How can Digital Humanities advance the study of place/space in fantasy literature?
This paper presents our initial findings, focusing on the first two Harry Potter books. We demonstrate how the two worlds are constructed, and how Digital Humanities provides the tools to interrogate these texts and explore the significance of balancing these two worlds in fantasy literature.
Dr Anna Mackenzie is a postdoctoral researcher in Digital Humanities at the University of Chester. Anna has published on Shakespeare and Harry Potter, and is Co-Investigator on the 'Mapping Intangible Places: Towards the analysis of vague and imaginary space in literary fiction with spatial and digital technologies' project. As an interdisciplinary researcher, Anna is keenly interested in the benefits of literature and media on health and wellbeing. An avid Whovian and Potterhead, she enjoys combining these passions with research projects.
Dr Patricia Murrieta-Flores is the Co-Director of the Digital Humanities Hub at Lancaster University. Her primary research area is the Spatial Humanities, and her main focus is the investigation of space, place, and time using a range of technologies. She is a principal investigator, collaborator, and co-investigator on multiple projects funded by the AHRC, ESRC, and the Paul Mellon Centre, among others. She has edited and contributed to multiple books, and she has published multiple articles exploring theories and methodologies related to space and place.

Laura Martin:
Experiencing the Fairy Tale in Therapeutic Practice: 'The Golden Bird' by the Brothers Grimm
Every time we sleep, we enter a world where pigs fly and the dead come back to life. We enter the world of fantasy: we firmly believe the impossible, sometimes to the extent that we awaken in sorrow or fright. When we read literature or watch a film, we also experience visceral effects from something we 'know' is not true and cannot be true—and yet we experience in our very bodies as true and real.
Psychologists and sleep researchers ponder the usefulness of dreams, and literary scholars likewise debate the merits of 'escapist' fictions. However, many working psychotherapists know from clinical experience the 'uses of enchantment', as Bruno Bettelheim so cogently put it. We are 'hard-wired' to fantasise, and, indeed, it is so essential to our mental health that dream-deprivation can lead to severe mental distress. We reformulate our physical and emotional experiences into fragments of narrative in dreams, and every culture on Earth likewise formulates tales of wonder.
This paper will discuss 'The Golden Bird', a Märchen collected/written by the Brothers Grimm, to explore the therapeutic uses of the experience and interpretation of a fairy tale. Exploding the 'myths' that fairy tales merely expound socialising moral messages or re-enact childhood sexual trauma, it will show how a light-touch, open engagement with what the tale may mean to a particular person now mediates a connection to the possible that once seemed impossible, to other ways of being, and to other ways of perceiving our 'real' experience. Underpinning this work will be the psychological theory and therapeutic practice of Jung and Jungians, child psychologists (Alison Gopnik), dream researchers (Ann Faraday), and researchers of the (im)possible, Jeffrey Kripal and Patrick Harpur. Far from being irresponsible escapism, real engagement with fantasy can be a moral and ethical choice to imagine a healthier way of being.
Dr Laura Martin is Senior Lecturer in Comparative Literature at the University of Glasgow and is training to be a Jungian psychotherapist. She has published on German, American, and British literature of the eighteenth, nineteenth, and twentieth centuries. Currently, Laura is developing an interdisciplinary research project on 'magical narratives'—those that mingle inner and outer worlds—across a wide expanse of cultures and millennia, which will incorporate into her work on literature insights gained from work by and with therapists working in narrative therapy, dreamwork and psychotherapy. Eco-criticism and the challenges of the Anthropocene are increasingly becoming her concerns.

Ana Gabriela Méndez Gutiérrez:
Digital Characters
Conceived as a digital platform to 'share ideas and information instantly', Twitter has become a part of everyday online culture. Numerous literary experiments and transmedia narratives have made use of the platform, but few have managed to blend into the timeline as seamlessly as the fictional accounts linked to literary-inspired web series.
These re-imaginings of classic books make use of Youtube videos and social media accounts to bring their characters into the twenty-first century. Live updates on Twitter that intermingle the character's fictional storyline with real-world events and fan interactions have contributed to the verisimilitude surrounding such online performances, while also raising questions: how do these shared codes and conducts help fiction seep into our reality? Does our personal experience as digital performers contribute to a suspension of disbelief?
When it comes to digital spaces, fictional characters and stories interact on a similar level with other performances of an online persona. Does this mean that fiction has found a way to perfectly mask itself as 'real' or are we slowly creating an in-between space where references to our reality merely serve as backdrop to our fictional personifications of self?
Ana Gabriela Méndez Gutiérrez: Mexican, Ravenclaw, eager dreamer, and professional bookworm. She graduated with a BA in Literature from the Universidad de Monterrey, recently completed a master's degree in Books and Literature for Children and Young People from the Universitat Autònoma de Barcelona, and is currently studying an MLitt in Comparative Literature at the University of Glasgow. She has published short stories, and hopefully one day will actually finish longer ones. Fascinated by adaptations, transmedia storytelling, and fan culture, she intends to study them while waiting for the Mexican football team to win the World Cup.

Anna Milon:
The Inescapable: Does the Author's Personal Experience Dictate the Fantasy Narrative?
Readers of escapist fiction often regard it as a direct metaphor for the author's life experience, treating it as an extension of the real world that they inhabit. Using J.R.R. Tolkien's self-professed identification of The Lord of the Rings as 'a fundamentally religious and Catholic work' and the seemingly irreconcilable use of pagan themes in the narrative, this paper will discuss why readers seek to explain fantasy through the author's real experience.
The Call for Papers for the 2018 Tolkien Society Seminar asking for non-Christian spiritual readings of Tolkien's work instigated a backlash, which rode on the claim that Tolkien was a Catholic, The Lord of the Rings is a Catholic work, and, therefore, that no other reading was possible. Rather than being based on textual evidence, this argument referred to Tolkien's letters, failing to acknowledge that the views expressed in them are often contradictory.
Reading the world of Middle-earth solely through the experiential lens of its author's faith is counterintuitive to the nature of escapism and suggests that readers from alternative spiritual backgrounds are unable to access Tolkien's writing on the same level as those who share his religion. This is part of a larger problem of enforcing real-world stigmas and segregation on fantasy narratives that this paper seeks to criticise.
Anna Milon is the Education Secretary of The Tolkien Society and the chair of The Tolkien Society Seminar. With a BA in English Literature from Royal Holloway, University of London, and an MA in Medieval Literatures from the University of York, Anna is hoping to begin a PhD on myth and fantasy literature in the coming September. In her free time, she stares at a blank Word document, willing a novel into being.

Siobhán Morrissey:
Escaping into War: The Fantasy Works of Enid Blyton
This paper is a study of the critical reception of Enid Blyton's fantasy works The Magic Faraway Tree series (1939-1946) and The Wishing-Chair series (1937-1950). An overview of the discourse and critical theories surrounding the study of Blyton's fantasy fiction and British children's fantasy fiction of the mid-twentieth century is included. The paper challenges the critical perception of Blyton's fantasy works as escapist, and presents the argument that the fantasy works are a reflection of, rather than a distraction from, reality. It argues for a reading of Blyton's fantasy narratives as works of war literature, which have been overlooked as contributions to the literary response to the Second World War.
While other Blyton series, such as The Famous Five, have been analysed in relation to their historical context, the fantasy texts are considered merely escapist, with no meaningful connection to reality or the socio-political context in which they were produced. The misreading of Blyton's texts as escapist is partly due to the wider theories surrounding children's fantasy fiction of the mid-twentieth century: the prevalence of Secondary Worlds in fiction of this period is attributed to wartime children's purported need for consolatory literature that distracted from a tumultuous reality.
The paper also explores the implications of the perception of Blyton as a childlike, or childish, author in relation to critical understanding of her fantasy work. The fantasy texts are considered childish wish-fulfilment stories, which provided Blyton with a temporary escape from reality. Through the genre of fantasy, Blyton could create a more perfect, idyllic world. The paper argues that while the imagined, fantastical worlds of Blyton's fantasy series do offer readers solace and adventure, a literary-historical analysis of the texts reveals how Blyton's work engaged with the political climate of mid-twentieth century Britain.
Siobhán Morrissey is a first-year PhD student in the School of Humanities at the National University of Ireland, Galway. Her research focuses on the fantasy works of the children's writer Enid Blyton, and is a continuation of and expansion on the research she conducted on the author during her MPhil in Popular Literature at Trinity College Dublin. The PhD thesis approaches Blyton's fantasy works from a literary-historical perspective, and seeks to reposition her fantasy narratives within the genre traditions of war literature and conflict narrative.

Thomas Moules:
Escapism as a Weapon: An Exploration of N. K. Jemisin's Broken Earth Trilogy
Fantasy is an excellent device for taking a somewhat abstracted approach to real-world issues and teaching people how to escape them. N. K. Jemisin's Broken Earth trilogy is a series that is devoted to exploring the lives of the marginalised, the ways in which marginalised people can be extremely powerful, and the ways in which different forms of marginalisation interact. If we consider fantasy as a tool for escapism from the so-called 'real world', it may seem odd to many people for a work of escapism to have so much to say about topics such as racism, transphobia, and disability. I will argue that escapism is inherently rooted in the real world, and confronting this through the escapist nature of fantasy and the remove at which it places these issues, relative to the forms that these issues may take in real life, allows Jemisin to present her readers with the weapons to confront these issues in their lives. The use of second person narration throughout the trilogy is a somewhat unusual stylistic choice that acts as another powerful tool that forces the reader to experience some of what the main protagonist experiences, and explores her thought processes as she experiences these issues. In particular, I will explore the way that the protagonist is forced to confront her own increasing disability throughout the trilogy. Jemisin's professed interest in disrupting the status quo comes through very clearly in a series that begins with someone so frustrated with the status quo that they destroy the world in order to escape it. Escapist fiction allows us to explore these sorts of upheavals in a way that can be extremely powerful and positive, and this paper aims to explore the power of escapism through a deeper analysis of its use as a weapon in these novels.
Author of several unfinished novels and a large quantity of distinctly Vogon-esque poetry, Thomas Moules is an early-career researcher interested in structuralism, Mediaeval literature, and dragons. They gained an undergraduate degree in Literature at Anglia Ruskin University, and are currently in the process of completing an MLitt in Fantasy at the University of Glasgow.

Katarina O'Dette:
Hanging Lampshades on Emotional Vampires: Anti-Escapist Techniques of American Fantasy Television
Television and fantasy have an uncomfortable relationship. Fantasy was slow to proliferate onto American television screens because the industry historically viewed the genre as too niche and too detached from reality to appeal to a broad audience. In spite of this, fantasy programmes have enjoyed a rapidly growing presence and profile over the past twenty-five years. Examining how these series have been deliberately constructed to address the industry's concerns about fantasy's niche appeal and reputation for escapism is crucial to understanding this phenomenon.
By analysing series like Buffy the Vampire Slayer (1997-2003), Pushing Daisies (2007-2009), and Once Upon a Time (2011-present), as well as the discourses of television writers, critics and viewers, this paper examines two seemingly contradictory techniques utilised by American fantasy television programmes: emotional realism and 'lampshading'. Emotional realism is a technique in which writers deliberately craft the fantasy elements of a series into metaphors for common real-world emotional experiences. Lampshading is a screenwriting technique where characters point out the seemingly implausible aspects of a series in order to (theoretically) minimise viewers' ability to criticise their implausibility. Emotional realism and lampshading work in tandem against accusations of escapism, as emotional realism grounds the fantasy elements of a series in reality and lampshading pre-emptively makes fun of any elements that cannot be grounded in order to make them more palatable.
These techniques have been utilised by fantasy television writers like Joss Whedon and Bryan Fuller and then emulated by writers they have worked with, whose influence can be seen in current fantasy programmes like Once Upon a Time and The Good Place (2016-present). This paper examines the prevalence and effectiveness of these techniques in order to explore how fantasy television has constructed a distinct identity for itself in the process of defending itself against its escapist reputation in the television industry.
Katarina O'Dette is a writer and scholar whose research interests include worldbuilding, narratology, and fantasy literature and television. She received a BFA in screenwriting with a minor in folklore from the University of Southern California, and an MLitt in Fantasy from the University of Glasgow. In addition to earning responsible degrees, she has led a research station on Harry Potter at the Hunterian Museum, co-led seminars on fantasy television at the University of Glasgow, and presented a paper on the transmedial Wizarding World at the inaugural GIFCon. Her work can be found in From Glasgow to Saturn and Fantastika Journal.

Siddharth Pandey:
Distant Estrangement or Deep Engagement? Countering Fantastical Escapism through Materialist Making in British Fantasy
This paper develops the principle idea of my soon-to-be-concluded doctoral thesis, which explores the significance of making and crafting materiality as a persistent theme and concept within the fantasy genre. In this paper, I argue that it is through the incessant, multivalent depiction of craftsmanship and made things that fantasy has been regularly escaping as well as expanding the meaning of escapism, right from the inception of the British fantasy novel in the late nineteenth century. Taking the master fantasist Philip Pullman's latest work La Belle Sauvage (2017) as my launch pad and focal point, I draw attention to the value of studying the philosophy of making within the discourse of fantasy. While the concept of world-building has also drawn attention to the making of alternate worlds and has gained significant currency in fantasy criticism, its understanding of making remains incomplete in both philosophical and processual terms. I address this gap by seeking inspiration from contemporary anthropology, sociology, and philosophy, particularly the works of leading thinkers Richard Sennett and Tim Ingold, which have laid out a fascinating and complex field of ideas on the concept of making. Their principle elaborations on 'deep engagement', sustained immersion, and the significance of studying handwork undergird my analysis of fantasy, which, as I will show, thrives with a proliferation of these very ideas to create a sense of depth and participation. It is this sense that actually counteracts the distancing effect of escapism. Along with La Belle Sauvage, I illustrate my argument by visiting other significant fantasists, from William Morris in the nineteenth century to William Horwood in the twenty-first, all of whom are united in their interest for showing fine work and workmanship, to account for what Brian Attebery calls 'wonder', the quality that is 'key to fantasy's impact'.
Siddharth Pandey hails from the Himalayas of North India and is a final-year doctoral candidate researching fantasy literature and material culture at the University of Cambridge. His research interests include colonial travel literature, architecture, the visual arts, education research, and nature writing. An avid landscape photographer and curator, he has displayed his works in India and England, including the Victoria and Albert Museum. He is the recipient of the 2014-17 Cambridge International Scholarship, the 2012-13 Cambridge Commonwealth Scholarship, and the 2012 Charles Wallace India Trust Award. He serves on the Final Panel Jury of the Queen's Commonwealth Essay Writing Competition.

Elena Pasquini:
Monsters: Patron Saints of Children
This paper will look at the relationship between monsters and children in the film Pan's Labyrinth (2006) by Guillermo del Toro and the book A Monster Calls by Patrick Ness. In both stories, the children Ofelia and Conor are dealing with traumatic events that leave them powerless, passive witnesses to the reality they live in. Fantastic creatures appear to the children and challenge them in different ways. Reality and fantasy become blurred in both stories, with the fantasy elements seemingly having an impact on reality, and thus intruding upon the reality of the children.
Fantasy, then, is not just a form of escapism, but a way of coping with important events shaping the children's existences. While the adults try to stop the children from blurring the lines between the two worlds, the children need the monsters to be able to understand themselves and the adults around them. The fantastic worlds are no less scary and horrific than the reality; however, the monsters' examples seem to allow the children to become active agents and not just viewers of the situations they are forced into. Fantasy is not just a form of escapism but a way of finding a voice, dealing with the challenges of life, and finding a purpose.
For the paper, I will use Freud's theories on the uncanny and dreams to understand why the children have a need for the monsters. I will also use Nietzsche's views on the interaction between the ordered Apollonian and the chaotic Dionysian to help to understand the liminal space between reality and fantasy. I will demonstrate how fantasy can be both a temporary escapism and a long-term coping device that helps both the children and the adult audience.
Elena Pasquini started her study in Italy, earning a BA from the University of Florence. She also achieved a MA in English and Literature in a World Context at the University of Aberdeen, and just completed her MLitt in Fantasy at the University of Glasgow in 2017. During her studies, she has always found herself interested in the figures of monsters and how their relationship with humans shapes our concept of humanity. She plans to continue her study on this subject with a future PhD.

Laura Poladian:
Fantasies of Portal Escapes: Inter-dimensional Experiences of the Mundane in the Magicians Trilogy and Rick and Morty
The Magicians trilogy by Lev Grossman and the animated television programme Rick and Morty (2013-present) participate in a particular kind of portal fiction, in which the fantasy and sci-fi portals of childhood worlds are reimagined through adult protagonists. Both evoke and at times explicitly reference the escapist narratives of childhood, including Harry Potter, The Chronicles of Narnia, and Back to the Future. Quentin Coldwater and Rick Sanchez, the respective main characters of these adult portal fictions, are considered geniuses in their own worlds, with special capabilities to manipulate inter-dimensional portals and special awareness of their ability to use these portals to attempt but often fail to escape their realities. Quentin's and Rick's texts frame escapism as a childhood fantasy that is complicated by the adult reality, and in doing so provide arguments about the reader's own experiences of escapism in childhood fantasy fictions.
Ultimately, Quentin's and Rick's portals do not offer the escape their special access seems to promise. The portals do not reconcile these characters' brilliance and boredom, anticipation and actuality, or their ability to imagine worlds and the effects of having total access to the local landscapes of those worlds. Within this tension, the portals become non-events. By applying literary and political sociological theories of the mundane, I argue that the texts not only use portals to comment on a reality in which the distinction between the sensational and the routine is obscured, but also to comment on the fantasy of portal escapes as bridging and warping those ideas.
Laura Poladian is a Rhetorical Arts Fellow at Loyola Marymount University in Los Angeles, California. Her other recent teaching assignments have included children's literature, poetry, drama, religious identity in literature, and composition. In addition to LMU, she has worked in the California Community College system and in educational equity programs to help underprivileged secondary school students prepare for college. Her current research interests include publishing phenomena and the role of empathy in children's and YA literature. She has contributed a chapter on violence in YA literature to a collection of essays and recently presented work on emotion in children's literature.

Maayan Priel:
Adventures Away From the Table: Social Escapism in Actual Play Podcasts
Actual play (AP) podcasts—in which a number of people record themselves playing tabletop role-playing games (RPGs)—have become massively popular in the last few years. On iTunes, one of the major podcasting platforms, AP podcasts have been among the most popular in the category of Games and Hobbies, and some have thousands of listeners.
Dungeons & Dragons and other tabletop RPGs have long been understood as forms of escapism. The games allow for joint creation of a fantastical narrative, using game systems and dice while encouraging role play and combat. Considering how crucial social interaction is to such games, how does one reconcile the rising popularity of AP podcasts, which remove the listener from active participation? And, incidentally, why are so many fans of these shows queer?
I will focus on two popular, currently running AP podcasts: Friends at the Table and The Adventure Zone. Because both shows started in the same year (2014) and have an overlapping fan base and a similar genre (fantasy for both shows' first campaign), it is informative to see the different ways they engage their audiences. FatT relies on the mechanics of the game system to create an incomplete world that can be filled in, inviting the audience to listen and understand the communal world-building done by the cast. Meanwhile, TAZ incorporates fans into their fantasy world, naming characters after Twitter fans and using jokes that might not make sense in-game, but are relevant to the audience's perception of modern life.
While these two shows might reach out to their audience using different tools, they both create an environment of camaraderie based on either friendship (FatT) or family (TAZ), inviting their audience into a social escapism that they might not have access to, some because of identities that clash with the usual male, heteronormative nature of tabletop RPGs.
Maayan Priel is pursuing an MA in Queer History at Goldsmiths, University of London. Her master's dissertation is focused on the connection between queer history and 1970s gay erotic Star Trek fanzines, and her other research interests lie in the production of fandoms. She has contributed to various Hebrew-language webzines and websites, writing about topics ranging from anime to comics to video games. She has also given talks at a number of Israeli fantasy and sci-fi conventions, and gave a lecture about fanfiction at the Publishing Queer/Queer Publishing conference held by the Senate House Library in March 2018.

Akylina Printziou:
The Chimera of Escape: Entrapment and the Fantastic in Abe Kōbō's The Woman in the Dunes and Karagatsis M.'s The Lost Island
Most discussions regarding fantasy and the fantastic tend to revolve around Anglophone literary production, but what about other countries such as Japan or Greece? How do their authors treat the literary fantastic and how is it employed as a means of escape?
The Japanese The Woman in the Dunes (1962) by Abe Kōbō and the Greek The Lost Island (1943) by Karagatsis M. both describe the frantic endeavours of their protagonists to escape from the fantastic spaces of an enormous sandpit and a constantly moving island, respectively. It becomes evident that both authors employ fantastic settings and elements in order to foreground the characters' entrapment and psychological turmoil, as well as to critically comment on the socio-political situations of their countries during and after WWII.
Fantasy literature has been accused of offering false escape when facing reality seems to be a pressing matter. Its authors have been confronted with accusations of not living in the present and with occasional marginalisation in or exclusion from the canon, and this appears to occur in the case of Abe and Karagatsis too. However, as Yamamoto remarks, 'only when we are confronted with … fantasy in an exaggerated form do we as readers see the distortion and perversion of our milieu and the degraded human image within it'. And that is precisely why authors resort to the fantastic and its exaggerated depictions: to offer a different perspective on reality.
Thus, escape here acquires a double meaning: it not only involves the readers who escape from reality through reading fantastic narratives, but also the literary characters who find themselves in absurd and surreal situations, from which there is ostensibly no escape. But is escape, whether it concerns the reader or the characters, possible, or is it just a chimera, an illusion, a mere fantasy?
Akylina Printziou is a recent MSc graduate of the University of Edinburgh and a prospective PhD student aiming to research the Japanese fantastic. Her research interests include comparative literature, the fantastic, the Gothic, Japanese literature and visual culture, ecocriticism, identity, memory, and trauma as well as the (female) body and its depictions. While she loves the classic and established authors, she believes that studying and researching marginalised and less well-known authors is equally, if not more, important, and she aims to make those voices more widely known through her research.

Allan Rae:
'The Impossible Is True': Fantasy as Emancipatory Theory in the Work of China Miéville
This paper will argue that China Miéville conceives of fantasy as a genre that can work to uncover the ideological basis of late-capitalist twenty-first century life, rather than to obfuscate it via the production of fantastical and escapist narratives. His fiction (which encompasses fantasy, sci-fi, horror, noir, the Weird, and more) conceives of fantasy as a space that can produce a positive, differential alterity, one which critiques existing social organisation and structure.
The generic malleability of Miéville's fiction, combined with his focus on revolutionary political theory and action in his non-fiction, demonstrates a clear commitment to the exploration of alterity at a political, cultural, and social level. As Miéville says in his editorial introduction to the Marxism and Fantasy special issue of Historical Materialism: '"Real" life under capitalism is a fantasy: "realism", narrowly defined, is therefore a "realistic" depiction of "an absurdity which is true", but no less absurd for that. Narrow "realism" is as partial and ideological as "reality" itself'. Miéville's work interrogates, as he calls it, the 'fantasy' of life under capitalism.
By analysing a number of his texts, including the novella The Tain and the short stories 'Covehithe' and 'Polynia', this paper will demonstrate how Miéville produces a body of fantasy literature that directly confronts the notion that generic fantasy is in some sense less equipped to critique contemporary social and political issues than the realist literary novel. The paper will examine and explain Miéville's use of the term 'fantasy', including its notable resonance with Jacques Lacan's concept of the psychoanalytic 'subjective fantasy', in order to interrogate the radical emancipatory potential which Miéville contends is inherent to fantasy literature and which he suggests his own literary output attempts to embody.
Allan Rae is a teaching assistant at the University of Stirling, where he teaches various undergraduate modules in the Division of Literature and Languages. He received his PhD in Literature from the University of Stirling in November 2016. His thesis, 'The Age of the Screen: Subjectivity in Twenty-First Century Literature', explored the status of the screen as an object in twenty-first century literature through the lens of Lacanian psychoanalysis. His research investigates constructions of subjectivity and environment in contemporary twenty-first century literature, focusing on British and North American literature, ecocriticism, and psychoanalysis.

Oliver Rendle:
The Cthulhu Mythos: Lovecraft's Diseased Fancy
Is there more to the universe than science currently can explain? And would we regret finding out? This paper will align two literary genres that have until now been considered opposed: cosmic horror, as made popular by H.P Lovecraft, and fairy tales, which J.R.R. Tolkien considered to be 'one of the most obvious and (to some) outrageous forms of "escapist" literature'. The enduring popularity of Lovecraft's Cthulhu mythos stands as a testament to the timeless quality of an ontological anxiety, one that has become increasingly prominent in literature during the twentieth and twenty-first centuries. In these tales, faith in a benevolent religious entity is portrayed as naive escapism, desirable ignorance, and necessary, as knowledge of the true indifference of the universe leads to horror and madness. Settings and characters are replaced in the various additions to the mythos, but at the heart of them all is a revelation of humanity's cosmic insignificance, the focal point for the entire collection. And in the face of this crisis of self-worth, the human-centric bias of religion is a welcome escape. What Lovecraft leaves his readers asking is whether or not escaping this escapism is wise.
Indifference and insignificance are also themes of fairy stories as defined by Tolkien, who takes the multitudinous depictions of faerie into account in 'On Fairy-Stories', in which he also praises escapism. This paper argues that the characteristics that Tolkien identifies within fairy tales can also be recognised, albeit in a perverted way, within Lovecraft's horror fiction. The tales in Lovecraft's Cthulhu mythos corrupt elements of plot, setting, and theme in order to pervert the literary characteristics of the fairy tale tradition, thereby twisting religious hope into naive escapism, a preferential alternative to horrifying existential fear.
Oliver Rendle is a postgraduate student on the Fantasy MLitt course, currently midway through his fifth year studying literature at the University of Glasgow. At the moment, his primary areas of research are contemporary horror and young adult fiction, though he has also been interested in children's literature and Tolkien studies. Besides his academic goals, he is a keen photographer and enjoys travelling nationally and internationally in order to explore new photographic opportunities.

Gill Sampson:
Exploring the Role of Illustration in Picture Books at the Intersection between Fantasy, Imagination and Meaning
Martin Salisbury refers to the picture book as a key element of the cultural fabric of any society and the wealth of visual art now being offered through an expanding medium of increasingly complex picture books. Within a middle ground for audiences where books in a 'cross over' field appeal and communicate to both adults and younger age groups, the concept of 'dual' audience is an increasing phenomenon. In this paper, I will explore this concept and the function and potential of illustration practice in picture books to effectively challenge the conventional notion of genres and, as Maria Nikolajeva and Carole Scott put it, 'probe the counterpoint between fantasy and realism' at this creative intersection.
Through an appraisal of key contemporary picture book illustrations within this cross-over field, I will appraise fantasy and imagination as key factors in the growing relevance of the genre across age groups, exploring the potential of illustration to depict both the real and unreal.
By drawing on the work of illustrators such as Australian illustrator Shaun Tan, which tackles social, political, and historical subject matter in highly imaginative picture books, and Norwegian illustrator Stian Hole's rich book illustrations, which are referenced as having appeal for readers of all ages, I will explore how Illustrators as communicators naturally invent, realise, and fantasise through storytelling and methodological approaches mixed from memory, reference, and imagination, and the meanings communicated by the resulting imagery. The paper will explore how far such illustrators 'draw out' the potential relationship between the actual and imaginary worlds, appealing across age groups as a response to problems in the wider world today.
Gill Sampson is in the first year of a part-time Manchester Metropolitan University PhD titled 'A practice-based exploration of illustration and its potential to generate stories from archival objects'. She has been making and researching illustration practice since graduating from the Royal College of Art, combining award-winning freelance with a higher education teaching career in illustration. Gill is currently Acting Course Leader for the BA(Hons) in Contemporary Art and Illustration and full-time Illustration Senior Lecturer at the University of Huddersfield. Her external examiner posts include the University of Central Lancashire.

David Selfe:
An Apostrophe to Escapism: Linguistic Realities in Imaginary Worlds
When creating his Elvish tongues Sindarin and Quenya, J.R.R. Tolkien wrote that he designed them to convey 'pleasure in the articulate sound, and in the symbolic use of it'. E.S.C. Weiner and Jeremy Marshall noted that both Quenya and Sindarin primarily employ sinuous liquid nasals (e.g. Fanuilos, le linnathon) and vowel clusters (e.g. aearon), and often employ a poetic dactylic meter (e.g. Elbereth). Conversely, the Black Speech of Mordor, including its derivative Orkish, deploys those sounds 'which Tolkien considered ugly' such as 'guttural' palatal consonants (e.g. in ghâsh), and is without 'clear vowel '. Despite their immediate strangeness, Tolkien intended his languages, and their sound and spelling variants, to be sufficiently associated with popular sociolinguistic attitudes so as to allow readers to decode particular qualities about their speakers: their morality, cultural complexity, and aesthetic.
Since pioneering studies in the 1960s by linguists such as William Labov and Basil Bernstein, sociolinguistics has produced important research on the intersection between language and social factors such as age, gender, sexuality, and socio-economic status. Those few studies which have considered sociolinguistic elements in the fantastic have typically done so from a descriptive perspective, i.e., the particular social function of language in x speculative setting.
However, from the moral-tagging of dialects in Peter Jackson's adaptation of The Lord of the Rings (e.g. Elves speaking prestigious Received Pronunciation and Orcs speaking stigmatised regional varieties) and the use of punctuation in J.K. Rowling's Harry Potter to suggest an intrinsic relationship between speech and personality, to Lyra's code-switching between informal speech with her friends and formal speech with authority figures such as Lord Asriel in Philip Pullman's The Northern Lights, this paper will argue that fantasy media is not only inevitably informed by 'real-world' linguistic attitudes: it often advances them.
David W. Selfe is currently in the second year of his PhD in English and Scots philology at the University of Glasgow. With a particular focus on the romances, prophecies, and ballads that surround the story of Thomas the Rhymer, his research follows texts as they move through time, investigating how linguistic and paratextual changes made during their various transmissions between authors and scribes, and editors and printers provide evidence for the sociocultural landscapes in which they were received.

Philippa Semper:
'Tales of Peace … Cities too Good to be True': Fantasy and Escapism in the Wonder Tales of Lord Dunsany
Even before World War I, Lord Dunsany was publishing short stories that investigated the dangers of escaping too far into fantasy, often using irony to create distance between the text and reader. It was a theme he continued to explore. In 1916, stories in a further collection continued in this vein, yet were framed within an explicit acknowledgement of the reasons why such escape might be particularly desirable at the time. In this paper, I will argue that Dunsany's metatextual tales, published between 1912 and 1917, both emphasise the personal responsibilities of the fantasy reader and model that reader's potential responses, offering both positive and negative outcomes to an individual interaction with fantasy. Rather than justifying his own literary output, Dunsany explores the ways in which fantasy can both heal and harm the vulnerable mind, invoking fear as much as pleasure and suggesting that its relationship with dreaming is sometimes significant. The escape into fantasy within these stories tends, therefore, to be only as predictable as the mental state of the protagonist. In addition, it is frequently a sense of nostalgia for a lost, impossible past which drives the escape, and which is shown to be unsustainable when the character attempts to follow the attempt through. The possibility of considering death as the ultimate escape also appears. Overall, the texts are overshadowed with a sense of loss that cannot be resolved; both Dunsany and his readers are aware, or made aware, of the limitations of fantasy in equipping readers to continue to operate in the 'real' world, and of its simultaneous importance in making the experience of that world bearable, even if that relief is momentary and, ultimately, elusive.
Philippa Semper lectures on medieval texts and modern fantasy at the University of Birmingham, with a particular interest in the relationship between the two. She has published on modern Arthurian fantasy, including the BBC Merlin, and spoken at Hay Festival on the problems of immortality. She consulted with Wolverhampton Art Gallery on their Making of Mordor exhibition, and delivered the keynote lecture on ecocritical fantasy at their related symposium on Black Country landscape in literature. She is currently working on the fantasy of Lord Dunsany.

Jessica Seymour:
'… a fanciful, but sensible thing. Like a platypus': The Limitations of Magic in The Raven Cycle
The Raven Cycle by Maggie Stiefvater is a series of four young adult fantasy novels published between 2012 and 2016. The series follows a group of contemporary teenagers as they attempt to track down a sleeping medieval Welsh king and restore the magical potency of a series of ley lines that run under their town.
This paper explores how magic and the supernatural allows characters in The Raven Cycle to confront and mitigate problems in their real lives rather than escape from them. Importantly, the fantastic often does not act as the primary way that characters in the series deal with their issues; in the case of Adam Parrish, for example, the fantastic abilities he gains during the first book do not help him to leave his abusive home or escape from poverty. These are issues that he must face without magical aid. Similarly, the series represents some issues, such as sexual identity (through the characters Ronan Lynch and Blue Sargent), as being actively limited in their exploration thanks to magic and supernatural, and these characters must work around the fantastic elements of the narrative to achieve real-world results.
By allowing characters in the series to engage with and explore fantasy elements such as magic and the supernatural, The Raven Cycle creates a useful, ongoing metaphor through which readers can view the very real issues of poverty, neglect, and sexuality. The fantastic does not mitigate the severity of these issues; instead, it creates an opportunity for readers to recognise potential real-world avenues for understanding and working around problems, with the eventual conclusion being that fantasy cannot and should not be used to solve real-world problems.
Dr Jessica Seymour is an Australian early-career researcher and lecturer at HU University of Applied Sciences Utrecht. Her research interests include children's and YA literature, transmedia storytelling, and popular culture. She has contributed chapters to several essay collections, which range in topic from fan studies to Doctor Who to ecocriticism in the works of J.R.R. Tolkien. Her creative work can be found in Voiceworks, Needle In The Hay, and Meniscus Magazine.

Mohammed Sibahi:
'Quo Vadis?' The Carnivals: No-Man's Land and Entombment
During wars, every person is a participant in what I call a no-man's land carnival. The interrelation between fantasy and realism in Ghada Samman's Beirut Nightmares reveals a carnival's four characteristics: familiar and free interaction, eccentric behaviour, carnival-type misalliances, and even sacrilege (Bakhtin). People become estranged from human nature: they are unable to take a strategic position by individually contributing to the construction rather than the destruction of their land. A carnival provides an escape ticket from reality, but also excludes individuals from themselves, from others, and from their land.
Amin Maalouf's The First Century After Beatrice presents a more dangerous festival than that of war. Humans become participants in what I call an entombment carnival. Scientific advancement produces the 'scarab beans' that determine the gender of a baby. The worldwide appeal to use these beans risks human existence, as does war. This paper will focus on the realism and fantasy of war, and the scientific temptation to change the balance of nature due to social stereotyping. Maalouf describes three temptations: how fathers ruin the party to which they are not invited; the belief that egocentric thinking will return things to normal, and how this 'storm' could be the last move before extinction; and the illusion that humanity has reached an evolutionary step. Taking pills (scarab beans) is a state of belonging to the world of scientific advancement, rather than believing in the old formula of keeping a gender balance. War also creates a gender imbalance—it is men who usually go to war (except, for example, in China and Israel) and are killed, leaving women to deal with the aftermath. These temptations entomb girls before they are even born; the majority of women are left to deal with the aftermath of war. Both carnivals speak and decipher reality, but within a fantastic context: quo vadis after the carnival?
Mohammed Al Mohammed Al Sibahi holds a BA in English Literature and is pursuing an MA in Literary Studies at Damascus University. He has two years of experience in TEFL and in lecturing, having taught 'History of Modern Art' at the Faculty of Fine Arts, 'Introduction to Short Stories' at the Faculty of Arts and Letters, and 'Essay Writing' and 'Essay Reading Comprehension' at the Open Learning Center, Damascus University. He participated in many educational events as an instructor at Charter: New Horizons Center, including Word of the Day, an educational online show. He also edited Dani Healy's The Cursed One.

Gabriela Silva:
The Sword and the Cross: Reading and Colonisation in Diana Wynne Jones's The Dark Lord of Derkholm
It is said that the conquest of Latin America was carried out through the sword and the cross: violence opens the way for the imposition of culture, and the end of colonisation is not simply the pillage and looting of the native culture but the twisting of it into a resemblance of the colonisers' own.
Published in 1998, Diana Wynne Jones's The Dark Lord of Derkholm presents a Secondary World that, by the time the narrative starts, has been put through the sword and is now in the midst of a particular kind of colonisation. Instead of being twisted into a mirror of its attackers' culture, it is being made into the kind of world these attackers expect it to be: a traditional fantasy world for them to enjoy traditional fantasy experiences.
I contend that Jones both parodies the traditional expectations of fantasy (gender roles, relationship between humans and animals, heroism, absolute evil) and challenges the relationship that readers form with fantasy worlds. Readers, Jones seems to suggest, can be both conquerors and colonisers, forcing fantasy literature to conform to certain shape and stereotypes. In reading The Dark Lord of Derkholm (and its precursor, The Tough Guide to Fantasyland), we are forced to revise our role as readers and understand that the way we read and approach fantasy literature shapes this very literature.
Furthermore, I argue that readers are also invited to analyse how they might 'read' and approach unknown or foreign cultures within their own Primary World. Do we allow our expectations to shape reality, and by doing this, are we prolonging stereotypes and harming our very relation with our surroundings? Jones's works invite us to become nearly 'postcolonial' readers, able and willing to interrogate and destabilise the world around us both in fiction and in reality.
Gabriela Silva Rivero completed a BA in English Literature at the Universidad Nacional Autónoma de México, and an MA and PhD in Creative Writing at the University of Essex. Her thesis consists of The Head Knows What Lies Near the Heart, a collection of magical realism short stories, and a critical essay on the female body's representation in magical realism. Her research and writing interests, both thematically and aesthetically, are on the intersection of realism and the fantastic. She has published papers on The Lord of the Rings and Fables, and several short stories in various Mexican journals and magazines.

Danielle Simard:
Pan's Labyrinth and the Mythopoeic Voice
In this paper, I propose the idea of mythopoeic voice, a narrative technique most often found in fantasy literature and film. Keeping in mind the social fallout of the Spanish Civil War, a close reading of Guillermo del Toro's film Pan's Labyrinth (2006) shows the type of impact that mythopoeic voice can have.
In Pan's Labyrinth, a little girl named Ofelia finds herself in an intolerable situation, locked in the conflict of the Spanish Civil War in 1944. Faced with violent realities, Ofelia retreats into the world of fairy stories. She internalises these stories until they form a comprehensive reality in her mind. From this deep understanding of fantastic materials, Ofelia tells stories that become real for her: a mythic realm imperceptible to other human characters. Ofelia speaks the authorial language of narrative creation, a process that I call mythopoeic voice. Mythopoeic voice is a process through which realities and mythologies can be created and manipulated by a fictional character. Using language to control perception, a mythopoeic character can fabricate a new reality to navigate the boundaries of their ontological, social, and individual context. By engaging in mythopoeic voice, characters like Ofelia can collapse preconceived notions of reality in an attempt to construct a more accommodating world. This is markedly similar to the Pact of Forgetting, an unspoken agreement after the fall of Franco's regime to ignore the war in the hopes that Spain's shame would fall out of history. The result of this Pact is a deep silence around Spain's recent history. Now, to fill this silence, younger generations are creating memory-like stories to begin understanding their nation's past. Like them, Ofelia's mythopoeic voice overwrites her experiences and rationalises them within a mythological legacy, creating a safe vantage point from which to understand her own trauma.
Danielle Simard is a third-year doctoral student at the University of York, studying defiant fictions in post-1990s British and American film and literature. Her undergraduate honours thesis was completed at the University of Alberta in Canada in 2012. Her master's thesis on boundaries and voice in contemporary fantasy novels and film was completed in 2015 at the University of York. Danielle also works as a postgraduate tutor at the University of York.

Felix Taylor:
'No longer glades of silent turf': J.R.R. Tolkien, Algernon Blackwood, and the Ill Will of the Wood
In J.R.R. Tolkien's legendarium and the weird tales of Algernon Blackwood, forests, ancient woodlands, and individual trees are ascribed varying levels of sentience. Often, they display cruelty and aggressive behaviour, largely in reaction to the environmental threat of human industry and urbanisation.
This paper will argue that escapism offers a space in which the possibility of sentience, and even personhood, of the nonhuman environment can be explored, as evidenced by the continued importance of trees in the British landscape. Work has been done on Tolkien's representation of nature by Verlyn Flieger and Patrick Curry, but environmental readings of Blackwood's turn-of-the-century tales, such as 'The Willows' and 'Ancient Lights', and his later novellas are relatively scarce. Reading these authors together reveals two highly animistic views of nature. Both draw heavily on British folklore to create worlds in which the arboreal—oak coppices, willow banks, hornbeams and huorns—is given a voice.
If, as Kathryn Hume writes, fantasy marks a departure 'from consensus reality' and questions Primary World attitudes, then these kinds of ecological fantasies encourage new perspectives on our own natural surroundings and the current dualistic distinction between humankind and its environment. By considering trees as persons in these fantasy narratives using theories of animism and anthropomorphism, we can reflect on the longer-term effects of widespread deforestation both on trees and on ourselves.
Felix Taylor is a first-year English DPhil candidate at the University of Oxford who researches mythology and folklore in the landscapes of early twentieth-century British fiction. He is interested in ecocritical readings of weird fiction and fantasy literature, particularly J.R.R. Tolkien, John Cowper Powys, Alan Garner and Susan Cooper, as well as in nature writing, ecological horror, folk horror, and animal fiction.

Sarah Tytler:
Exeunt Stage Left, Pursued by the Patriarchy: Young Women Protagonists in Portal-Quest Fantasies
This presentation explores the gender expectations, roles, and performances of young women protagonists in young adult portal-quest fantasies, and how the change in environment from the Primary World to the Secondary World either subverts or upholds those gender constructs—even as the young women themselves try to escape them. Specifically, early fantasy works such as Lewis Carroll's Alice's Adventures in Wonderland, and modern works such as Neil Gaiman's Coraline are examined, along with non-European works such as Yuu Watase's Fushigi Yuugi and Fuyumi Ono's The Twelve Kingdoms. My comparative analysis of each Secondary World shows that the roles the young women protagonists are assigned, or choose for themselves, fall into similar colonial patterns of bringing all the benefit of their personal growth and experience to their home world, leaving the Secondary World behind. Although there are works that try to deconstruct this trope, such as Gaiman's, the majority of the literature discussed brings the same gender and racial constructs through the portal alongside or within the protagonist, limiting opportunities for a full exploration of what a world apart from our own might be like. As part of the presentation, I will discuss my own creative process and efforts towards writing a Secondary World not defined by the gender binary or many of the myriad systems of oppression operating in the world today. By observing those areas of other authors' Secondary Worlds that reproduce oppressive systems and rewriting the rules of my own imaginary land to eliminate the unconscious biases forming the substratum of my fiction, I will demonstrate the powerful impact on readers of being able to escape a system constrained by inequality.
Sarah Tytler is in the third year of her doctorate at the University of Glasgow. Her research and writing focuses on world-building in young adult fantasy literature, specifically the socio-political implications of who and what gets left out of authors' Secondary Worlds. Her most recent publications include '"TwitFic", Twine, and Student-Centred Learning: Combining Creativity and Coding in the Classroom' in Africa International Journal of Management, Education, and Governance, and 'After the Empress Burned Our Cities' in Spirit's Tincture magazine.

Monica Vazquez:
Virtual Reality and the Rules of Immersion: the Non-place that I Call Home
Taking a closer look at Marie-Laure Ryan's theories about Virtual Reality (VR) and her interpretation of immersive narrative, this paper will design a road for understanding how VR works and relates to traditional narratives of the fantastic. Is VR meant to feel like a dream, as in Lewis Carroll's Alice's Adventures in Wonderland? Or should it be a phenomenon of awareness, the solidification of a conscious set of decisions and processes, as in Michael Ende's The Neverending Story? Is Virtual Reality meant to be an escape mechanism, or is it the final frontier of narrative immersion in which we are forced to understand who we are and what a story is?
This paper will aim to analyse Virtual Reality as the art of building non-places and how, within its architectural design, the foundations for the basic rules for immersive narratives can be laid down in order to develop into a true experience of the fantastic. It will apply Farah Mendlesohn's and J.R.R. Tolkien's theories about immersion to the narrative specifications of VR and expand on concepts about the creation of non-places in fantasy novels and the relationships we build with them. It will look at what the traditional concept of immersion would mean when applied to VR and how it has effectively been translated into this new narrative form. This paper will delve into the issue of choice and suspension of disbelief, the emotional response to the fantastic when experiencing VR, and the fulfilment of the need to escape from reality.
Monica Vazquez is a journalist working on radio and, occasionally, a galvanized musician. She recently published her first book with Penguin Random House, a somewhat dark comedy that delves into the music industry called El Arte de Romperlo Todo [The Art of Breaking Everything], and still doesn't know how she feels about it. She released a debut album called 'To Life!', and has been part of the international organisation Global Shapers for five years. She is studying an MLitt in Fantasy at the University of Glasgow, and is still captivated by the idea of doing things for the first time.

Zoe Wible:
Creature Design: The Structure of Empathy in Fantasy and Science Fiction Films
One would think that authors would be completely free to imagine fantastical creatures, but empirical evidence shows the existence of strong cognitive templates regulating the design and narrative function of these creatures. A lot of creatures show strong morphological proximity to known species, be they human or animal. Among the creatures aligned with animals, categories such as prey, predator, or pet provide a conceptual framework that dictates our intended response to the creature in question.
This can be linked to their instrumental nature as characters: most creatures are used for narrative purposes to elicit strong sympathetic or antipathic responses. Several techniques are used, involving design elements (anthropomorphism, neoteny, hybridity), narrative elements (adjuvants or antagonists), and filmic techniques (framing, music). These techniques aim at triggering universal cognitive processes in order to foster empathy or revulsion, which enables us to tease out these processes by carrying out a comparative analysis of creatures with various characteristics and matching them with intended and recorded responses. Creature redesigns after screen testing (for example, the 'prawns' of Neill Blomkamp's District 9) can give us an insight into the creative process at play when designing a creature for specific narrative ends, and how this can sometimes clash with audience reception.
Finally, this raises the question of real-world application. Is empathy a muscle that grows just by being used, or does it need to be object-specific in order to have an effect? In other words, does empathy for fantasy creatures through fiction increase the spectator's empathy for real-world minority groups?
Visual examples will be taken from the films Fantastic Beasts and Where to Find Them (2016), Avatar (2009), District 9 (2009), Creature from the Black Lagoon (1954), and The Shape of Water (2017), and the television programme Star Trek: Discovery (2017-present).
Zoe Wible is a PhD student in Film at the University of Kent. Her research interests include science fiction and cognitive film theory. Following her master's dissertation on the reception of androids in the contemporary television show Westworld, she now researches the relationship between fantasy creatures and spectator engagement in visual narrative media. She also draws on recent developments in interactive media and forms of engagement, including video games and online fandom spaces. The provisional title for her thesis is 'Monster schemas and the space of possible minds: A cognitive approach to science fiction characters in contemporary cinema'.

Kim Wickham:
'I paint a picture': Postcolonial Fantasy and The Magical Woman
Like other genres of the fantastic, such as science fiction, fantasy has the opportunity to present alternatives to our world, which makes it a genre well-suited for critical intervention into traditional narratives. While fantasy deals in the impossible (rather than the improbable), it is not so divorced from our world that it relinquishes the capacity for critical work. In The Broken Kingdoms, the second novel in The Inheritance Trilogy, N. K. Jemisin investigates relations of power through a protagonist that in nearly all conventional ways is stripped of power—Oree Shoth is a black, blind, poor woman from a conquered and nearly destroyed people. Far from being a pawn, Oree must both work within and fight against the multi-layered structures of power that order her world. Fantasy often presents 'characters of colour' whose race does not materially affect them within their world, but Oree is continually marked as 'Other' within the Arameri Empire. This Otherness, determined by Oree's race, gender, and national history, is vital to the ways in which she experiences the world and the way the world reacts to her. Through Oree, Jemisin is able to explore issues of race, gender, and the colonial project in her created world, making use of Secondary World fantasy's ability to create space to explore tensions and disparities that exist in our world, thereby preparing us to confront these issues head on. Colonialism is rampant in fantasy, especially those works that tend towards militaristic approaches, but it is often a feature rather than a point of critical intervention. By placing this particular character at the centre of the novel, Jemisin not only challenges epic fantasy's tendency towards male heroes, but also puts front and centre issues of race and the colonial project.
Kim Wickham is a fifth-year PhD student in the Department of English at the University of Rhode Island. She defended her dissertation, Questing Feminism: Magical Women and Narrative Tensions in Modern Fantasy, in March 2018. Her areas of interest include fantasy, gender and women's studies, science fiction, the neo-slave narrative, and twentieth-century American literature. She has taught numerous college composition courses and classes on English literature, with a focus on marginalised authors and texts.

Mark Williams:
Teaching Escapism and Confrontation in British Culture since 1980: Reflections on a Cultural Studies Course
What do Trainspotting and the In-Yer-Face Theatre of Sarah Kane have in common with V for Vendetta? Or Dead Man's Shoes and Bridget Jones's Diary with the subversive fantasy of Stephen Barber in England's Darkness? One answer is that they all engage with social escape, either by subversion of escapist tropes or by attempting to formulate a positive principle of escape. Another is that they all enjoy particular positions in contemporary British cultural discourses, which signals that the relationship between confrontation of social ills and escape from them is a problem that recurs continually when studying British culture.
Taking the concepts of escapism and confrontation as trans-generic ideas that can be traced across formal conventions, but tend to import the fantastic into unexpected discourses, I used the tensions and exchanges between them as the basis for three years of courses on contemporary British cultural studies at Johannes Gutenberg Universität Mainz. Historicising the demand for escape and engagement against the transformations of British culture between 1979 and the Brexit referendum has enabled patterns to emerge between overtly fantastic and otherwise realist cultural texts and forms that revealed the ongoing importance of escapism for contemporary British culture.
This paper will signal some of the ways that this dialectic of confrontation and escapism plays out in texts across wider British cultures of the fantastic beyond the scope of my course, but which form significant dimensions of my planned research. This takes in the concerns of traditions of countercultural fantasy from Savoy and Creation Books, to CodeX and Neo-Attack Books, and those of more mainstream and popular genre fantasy from Discworld to Harry Potter.
A post-doctoral research associate at the University of Duisburg-Essen, Mark P. Williams is a literature and cultural studies academic specialising in contemporary fiction and politics in forms such as fantasy and science fiction, horror, the Gothic, and superhero narratives. He has taught at universities in the UK, Germany, and New Zealand. While in New Zealand, he also worked as a political reporter as a member of the New Zealand Parliamentary Press Gallery. His PhD was entitled 'Radical Fantasy: A Study of Left Radical Politics in the Fantasy Writing of Michael Moorcock, Angela Carter, Alan Moore, Grant Morrison, and China Miéville'.

Prabhash Yadav:
The Price of Dreaming: Choice, Protest, and 'Fantastic' Disobedience in Guillermo del Toro's Pan's Labyrinth
'Ofelia: I saw a fairy.
Mother: Just look at your shoes.'
Stephen Donaldson argues that generic definitions of fantasy build on our need for metaphors of magic and monsters to understand the human condition. In this paper, I explore how Guillermo del Toro's 2006 film, Pan's Labyrinth, offers a counterargument to the antiquated act of 'escaping'. I approach fantasy as a counterintuitive strategy where 'fantasising' does not mean escaping to a world where standard parameters of reality do not operate, but instead implies active subversion, whereby disobedience, protest, and danger become part of fantasy's engagement with 'the real'.
I investigate the ontological instabilities in the notion of fantasy and subsequent relationships to power and authority. While fantasy has been posited as a carte blanche for an individual to channel feelings of inadequacy or anxiety regarding the real, when such hesitations and beliefs are coalesced and shared by many, they become the foundation for a collective myth that is transformed into an institution. This curious manipulation of fantasy becomes a collective fascination for order and even a yearning for fascism, as we see in the film. The protagonist Ofelia's objection to this myth does not involve her 'escape' from her pitiable condition—instead, in choosing to disobey the myth of the real, she wagers her own fantasy against it. However, Ofelia's personal mythmaking demands its price: to exist and pose a threat to the established regime of myth, it must be believable. This paper explores how Pan's Labyrinth discards run-of-the-mill Disneyesque fantasies where the character has to escape in order to survive. The paper places its analysis of fantasy as a conceptual category that stands at the crossroads of multiple vectors of discourse formation—myth, control, and escape—and charts out the ways in which 'technologies of the self' play out in such situations.
I recently completed an MA in English Literature at the University of Delhi, India, and am preparing for a research degree in Latin American literature and the journalism of Gabriel García Márquez. Alongside my academic aspirations, I am writing a draft of my first novel about a dying man who once held a lot of power. Unlike him, I have never had any power, so I amuse myself and others with freelance writing and journalism, and a bit of woodworking. If I cannot finish my novel, I will at least have a chair to sit on and think about it.
Programme
Thursday 26 April 2018
9:00 – 9:45 (Chapel): Registration & Coffee
9:45 – 10:00 (Chapel): Opening and welcome
10:00 – 11:00 (Chapel): Keynote by Dr Dimitra Fimi: In the blood and in the landscape: escaping (into) the "Celtic" past in contemporary children's fantasy
11:00 – 12:00 (Chapel): Keynote by Dr Will Slocombe: There is No Escape from Here (Wherever Here Is): Fantasies of Control in Fictions of Artificial Intelligence
12:00 – 13:00 (Chapel): Lunch
13:15 – 14:30 (University Gardens 4, room 202)
Panel 1: Pictures are worth a thousand words: Illustrations, visual interpretations, and costume
13:15: Rachael Grew: The fantastical costumes of Leonor Fini
13:35: Gill Sampson: Exploring the role of Illustration in picture books at the intersection between fantasy, imagination and meaning
13:55: Alexandra Gushurst-Moore: Escape to the country: examining the role of natural imagery in late nineteenth century British fantasy art
14:15: Discussion
13:15 – 14:30 (University Gardens 5, room 101)
Panel 2: Fear, fantasy, and fairy tales
13:15: Laura Martin: Experiencing the Fairy Tale in Therapeutic Practice: "The Golden Bird" by the Brothers Grimm
13:35: Gabrielle Cohen: The instability of knowledge: Three types of fear in the works of H.P. Lovecraft
13:55: Oliver Rendle: The Cthulhu Mythos: Lovecraft's Diseased Fancy
14:15: Discussion
13:15 – 14:30 (University Gardens 5, room 205)
Panel 3: Breaking the rules: Justice, law, and the power of disobedience
13:15: Karen Gardiner: Escaping Justice in Wonderland
13:35: Prabhash Yadav: The Price of Dreaming: choice, protest and "fantastic" disobedience in Guillermo del Toro's Pan's Labyrinth
13:55: Thomas Moules: Escapism as a Weapon: An Exploration of N.K. Jemisin's Broken Earth Trilogy
14:15: Discussion
14:30 – 14:50 (University Gardens 4, room 203): Coffee Break
15:00 – 16:15 (University Gardens 4, room 202)
Panel 4: Abandoning the Analogue: Digital and Virtual Realities
15:00: Anna Mackenzie & Patricia Flores: Locating the secondary world of Harry Potter within the primary landscape: A new Digital Humanities approach
15:20: Monica Vazquez: Virtual Reality and the rules of immersion: the non-place that I call home
15:40: Ana Gabriela Méndez Gutiérrez: Digital Characters
16:00: Discussion
15:00 – 16:15 (University Gardens 5, room 101)
Panel 5: The Shape of Suffering: Monsters and Escapism
15:00: Zoe Wible: Creature design: The structure of empathy in fantasy and sci-fi films
15:20: Elena Pasquini: Monsters: Patron Saints of Children
15:40: Callie Coogle: Chasing your Demons: How Fantasy is Filling the Spiritual Void and Becoming the New Religion
16:00: Discussion
15:00 – 16:15 (University Gardens 5, room 202)
Panel 6: Escape or Confrontation? Realities and how (not) to face them
15:00: Laurie Beckoff: Sword Versus Sorcery: The Medieval(ist) Juxtaposition of Magic and Might in Harry Potter
15:20: Colin Gibson: Race and Fugitive Freedom in N. K. Jemisin's Broken Earth Trilogy
15:40: Allan Rae: "The Impossible Is True": Fantasy as Emancipatory Theory in the Work of China Miéville
16:00: Discussion
16:15 – 16:40 (University Gardens 4, room 203): Coffee Break
16:45 – 18:00 (University Gardens 4, room 202)
Panel 7: Out of the Books: Metafiction Against Escapism
16:45: Marita Arvaniti: Near, Far, Wherever She's Not: Gendered Escapism through Metatextual Faerie
17:05: Beatrice Kunkel: "What's real, what's not real and what's the difference": Pratchett's Fantastic Metafiction and the Möbius-Strip of Reality and Fantasy
17:25: Akylina Printziou: The Chimera of Escape: Entrapment and the Fantastic in Abe Kōbō's The Woman in the Dunes and Karagatsis M.'s The Lost Island
17:45: Discussion
16:45 – 18:00 (University Gardens 5, room 101)
Panel 8: There be dragons: maps, architecture and worldbuilding in fantasy
16:45: Siddharth Pandey: Distant Estrangement or Deep Engagement?: Countering Fantastical Escapism through Materialist Making in British Fantasy
17:05: Chris Lynch: Off the Map: Spatial Revolution in Terry Pratchett's Discworld
17:25: Lena Abraham: Poetics of Pending in F. Hernández's "The Balcony"
17:45: Discussion
16:45 – 18:00 (University Gardens 5, room 205)
Panel 9: The Legacies of the Professor
16:45: Anna Milon: The Inescapable: does the author's personal experience dictate the fantasy narrative?
17:05: David Selfe: An Apostrophe to Escapism: Linguistic Realities in Imaginary Worlds
17:25: Felix Taylor: 'No longer glades of silent turf': J.R.R. Tolkien, Algernon Blackwood, and the ill will of the wood
17:45: Discussion
19:00: The event dinner will take place at Curler's Rest on 256 Byres Road.
Friday 27 April 2018
8:30 – 10:00 (University Gardens 4, room 202)
Workshop 1: Oliver Langmead and Ruth EJ Booth: Discovering New Worlds Through Writing
8.30 – 10:00 (University Gardens 5, room 101)
Workshop 2: Elaine Gallagher: Writing for Escape
8.30 – 10:00 (University Gardens 5, room 205)
Workshop 3: Angie Spoto: Writing Our Fears
10:15 – 11:30 (University Gardens 4, room 202)
Panel 10: Mirrored Portals and Distorted Idols
10:15: Bettina Juszak: The Hopeful Cynicism of the Discworld: Fantasy as a Focusing Mirror of Reality
10:35: Sonia García de Alba Lobeira: Through the looking glass: Worlds within worlds in Michael Ende and Lewis Carroll
10:55: Laura Poladian: Fantasies of Portal Escapes: Inter-dimensional Experiences of the Mundane in the Magicians Trilogy and Rick and Morty
11:15: Discussion
10:15 – 11:30 (University Gardens 5, room 101)
Panel 11: Escape in Japan
10:15: Hanna Greenblott: Broomsticks and Bathhouses: Modes of Connection in Hayao Miyazaki's Kiki's Delivery Service and Spirited Away
10:35: Miguel Cesar: Death, Loss and the Fantastic in Japanese Contemporary Media
10:55: Ruth Booth: Growing-up in the Time of No-Face: Escapism, Illusion, and Identity in Spirited Away
11:15: Discussion
10:15 – 11:30 (University Gardens 5, room 205)
Panel 12: When Fantasy is not Enough
10:15: Jessica Seymour: "… a fanciful, but sensible thing. Like a platypus": The Limitations of Magic in the Raven Cycle
10:35: Philippa Semper: 'Tales of Peace…Cities too Good to be True': Fantasy and Escapism in the Wonder Tales of Lord Dunsany
10:55: Discussion
11:30 – 11:45 (Chapel): Coffee Break
11:45 – 12:45 (Chapel): Keynote by Tex Thompson: Once Upon a Time in the West: Fantasy and Identity on the Fictional Frontier
12:45 – 13:30 (Chapel): Lunch
13:30 – 14:30 (Chapel): Keynote by Professor Alice Jenkins: Getting away from it all: prediction, induction, and reading fantasy
14:45 – 16:00 (University Gardens 4, room 202)
Panel 13: Fantasies Against the War
14:45: Mohammed Sibahi: Quo Vadis? The Carnivals: No-Man's Land and Entombment
15:05: Siobhán Morrissey: Escaping into War: The Fantasy Works of Enid Blyton
15:25: Danielle Simard: Pan's Labyrinth and the Mythopoeic Voice
15:45: Discussion
14:45 – 16:00 (University Gardens 5, room 101)
Panel 14: Crossing screens: TV, film, and games
14:45: Justine Houyaux: Fantastic Feasts: Reflexions on two famous intersemiotic transpositions of the Mad Tea-Party in Alice's Adventures in Wonderland
15:05: Alix Beaumont: Escaping from Myth into Fantasy, and from Fantasy to Myth: How the blurring of mythology with the conventions of fantasy allows world-building and engagement in God of War
15:25: Katarina O'Dette: Hanging Lampshades on Emotional Vampires: The Anti-Escapist Use of Emotional Realism and 'Lampshading' in Fantasy Television
15:45: Discussion
14:45 – 16:00 (University Gardens 5, room 205)
Panel 15: Category-Breaking Escapes
14:45: Mark Williams: Teaching Escapism and Confrontation in British Culture since 1980: Reflections on a Cultural Studies Course
15:05: Meghanne Flynn: Fantasies of Escape: Feminism and the Modern Romance Novel
15:25: Elaine Gallagher: Escaping Straitjackets of Identity: Representation of Gender Variance in Science Fiction and Fantasy
15:45: Discussion
16:00 – 16:15 (University Gardens 4, 203): Coffee Break
16:15– 17:30 (University Gardens 4, room 202)
Panel 16: A changing philosophy: Redefining colonialist approaches to Fantasy
16:15: Kim Wickham: "I paint a picture": Postcolonial Fantasy and The Magical Woman
16:35: Gabriela Silva: The Sword and the Cross: Reading and Colonisation in Diana Wynne Jones's Dark Lord of Derkholm
16:55: Taylor Driggers: Escaping (into) the Past?: Nostalgia and Radical Theological Imagination in Star Wars: The Last Jedi
17:15: Discussion
16:15– 17:30 (University Gardens 5, room 101)
Panel 17: Women and Witches
16:15: Sarah Tytler: Exeunt Stage Left, Pursued by the Patriarchy: Young Women Protagonists in Portal-Quest Fantasies
16:35: Lucinda Holdsworth: "Weak as Women's Magic": The Domesticity of Women's Magic
16:55: Anna Köhler: Wayward Women as Wicked Witches: Negotiating Gender Roles Through Fantasy
17:15: Discussion
16:15 – 17:30 (University Gardens 5, room 205)
Panel 18: The Power of Words: Podcasts, Games and the Languages of the fantastic
16:15: Maayan Priel: Adventures Away from the Table: Social Escapism in Actual Play Podcasts
16:35: Kira Apple: Stories that Resonate: Sympathy and other Transformative Affects in Fantasy Fiction Podcasts
16:55: Alicia Copeland & Natalie Finlayson: Words as our most inexhaustible source of magic: exploring the language of the fantastic through corpus linguistics
17:15: Discussion
17:45 – 18:45 (University Gardens 4, room 202): Closing statements & wine reception
Keynote Speakers
Dimitra Fimi: In the blood and in the landscape: escaping (into) the "Celtic" past in contemporary children's fantasy
A common "rule of thumb" often simplistically repeated about genre fiction is that fantasy is "about the past" while science fiction is "about the future". Though both statements can be ripped to shreds by creative and scholarly work, there is something about fantasy's engagement with the (often mythological or legendary) past that makes this popular perception stick. In this lecture, I will be looking at some of the best-known children's and YA fantasy texts from the last few decades, which focus on the protagonists meddling with or running away from the "Celtic" past. Children and teenagers escape into the mythological past of Ireland and Wales to save their own world (Pat O'Shea's The Hounds of the Morrigan, Kate Thompson's The New Policeman, Susan Cooper's The Dark is Rising Sequence), or to search for a sense of belonging and identity (Mary Tannen's Finn books and Catherine Fisher's Darkhenge). In other examples, the legendary past erupts into their own mundane reality and the aim is to escape its potentially perilous powers (Alan Garner's The Owl Service, Jenny Nimmo's The Snow Spider trilogy). The lecture, therefore, will argue that fantasy literature not only shapes the "popular" perception of the past, but also offers us ways to "deal" with the past and its powerful hold on us.
Dr Dimitra Fimi
Dr Dimitra Fimi is a Senior Lecturer in English at Cardiff Metropolitan University. Her first monograph, Tolkien, Race and Cultural History: From Fairies to Hobbits (Palgrave Macmillan, 2008) won the Mythopoeic Scholarship Award in Inklings Studies. She co-edited the first critical edition of J.R.R. Tolkien's essay "A Secret Vice", in which Tolkien theorizes his language invention (A Secret Vice: Tolkien on Invented Languages, HarperCollins, 2016). The book won the Tolkien Society Award for Best Book. Her latest monograph, Celtic Myth in Contemporary Children's Fantasy: Idealization, Identity, Ideology (Palgrave Macmillan, 2017), was runner up for the Katharine Briggs Folklore Award. She has published widely in journals and edited collections. She lectures on fantasy literature, science fiction, children's literature, and medievalism. She contributes regularly to radio and TV programmes (BBC Radio 4, BBC Radio Wales, History Channel, BBC4). You can find out more on her website.
Alice Jenkins: Prophecy, prediction and escape in fantastic literature
"For Isildur's Bane shall waken,
And the Halfling forth shall stand."
"When the Dark comes rising, six shall turn it back;"
"Two magicians shall appear in England…
The first shall fear me; the second shall long to behold me;"
Prophecies like these by Tolkien, Cooper and Clarke are a determining marker of high fantasy, and even their subversion is a well-recognised trope of fantastic literature more widely. Prophecies exploit the workings of temporality in fiction in ways that challenge both characters and readers to think differently about where we are now as well as where we expect to be. They contribute to and disrupt patterns of knowledge, discovery and adaptation to experience that the characters and readers in their different ways become familiar with as the novel progresses.
We can think of prophecy as deductive knowledge, i.e. knowledge derived from given laws and applied to lived experience. This view of prophecy emphasises its strangeness and separateness from many of the knowledge processes of fiction, which are inductive, i.e. built up by comparing many observations. Is prophecy a shortcut to knowledge, one that undermines the otherwise careful work of world-building on the part of writers, characters and readers? Or is prophecy functionally the same as prediction and in some ways amenable to similar rules of knowledge as those that govern the steadier, more gradual processes of knowledge which characterise fiction, especially long fiction?
This paper explores some possible responses to the ways in which predictions and prophecies are formed in fantasy, and how fantasy's predictions paradoxically lead us away from the known and familiar.
Alice Jenkins is Professor of Victorian Literature and Culture and works mainly on the emergence of the knowledge economy in the nineteenth century. Publications include Space and the 'March of Mind': Literature and the Physical Sciences, 1815-1850 (OUP, 2007) and an edition of Michael Faraday's essays, Michael Faraday's 'Mental Exercises': An Artisan Essay-Circle in Regency London (Liverpool UP, 2008). She has recently completed a book on Victorian ideas about the ultimate unity of knowledge, as well as a cultural history of Euclidean geometry in the nineteenth century, which was written as part of Professor Jenkins's three-year research project, 'Nineteenth-Century Euclid', funded by the European Research Council.
Will Slocombe: There is No Escape from Here (Wherever Here Is): Fantasies of Control in Fictions of Artificial Intelligence
This talk explores the ways in which representations of Artificial Intelligence operate within science fiction and associated genres. Often, the refrain of "It's just science fiction" (read as: "It's just escapist nonsense") can be overheard when hard-nosed pragmatists hear concerns about a "machine apocalypse" as AIs escape human supervision; equally, scare-mongers seeing AI as nothing other than the end of humanity often seem overly concerned with the projection of their fantasies over the reality of current possibilities of AI technologies. Walking somewhere in the middle (with the occasional detour), this paper examines such concerns through the trope of control that such fictions engage with. Offering a summary of some cogent examples across media, such as the Deus Ex computer games, the Westworld and Person of Interest series, and a host of texts by various authors (Asimov, Asher, Banks, Dick, Heinlein, and Reynolds, to name a few), this paper examines the fantasies and realities of "control", as narrative device and as metatextual problem. In so doing, it is clear that such texts not only draw on long-established fantasies about threats to human exceptionalism and agency, but also promote an illusory sense of "free will" and "control". In short, the paper considers the somewhat depressing conclusion that no matter the fictional representation of AI, the "real" issue may be more akin to that raised by Baudrillard's concept of simulation or something expressed most succinctly by the late, great Terry Pratchett: "The truth may be out there, but the lies are in your head".
Dr Will Slocombe
Dr Will Slocombe is a Senior Lecturer in the Department of English at the University of Liverpool. He is the author of Nihilism and the Sublime Postmodern (Routledge, 2006) and various chapters and articles on contemporary literature and theory, especially on postmodernism, deconstruction, metafiction, and science fiction.
He is currently working on his second monograph, Emergent Patterns: Artificial Intelligence and the Structural Imagination (forthcoming Peter Lang, 2019).
Tex Thompson: Once Upon a Time in the West: Fantasy and Identity on the Fictional Frontier
Fantasy and Westerns are, in a crucial sense, twin children of a single timeless parent. From the days of Beowulf, when the great Geatish gunslinger first rode into town to liberate the Danes from the ravages of the outlaw Grendel, the story of the dauntless hero striving against impossible odds has fascinated us all.
But the paths of these two genres diverge at the moment of the hero's calling. Where fantasy tends to part the clouds and shine a ray of divine light down on the Chosen One, the Western is apt to showcase whichever inglorious mortal drifter happened to be passing by and decided to set themselves to the task at hand.
Yet while the open range of the American West closed all too quickly, and the golden age of the Geats ended with Beowulf's passing, the fictional frontier only grows. Today, it stretches ever more widely across populations and storytelling mediums undreamed of even a hundred years ago. Which means that today, we have an unprecedented opportunity to bring fantasy and Westerns back together – to blur the lines between 'born' and 'made' heroes – to entice new audiences into the fold, by recasting these 'long ago and far away' genres in ways that invite the world's most diverse readership to take up a heroic identity all their own.
Tex Thompson
Arianne "Tex" Thompson is a home-grown Texas success story. After earning a bachelor's degree in history and a master's in literature, she channeled her passion for powerful, innovative, and inclusive fiction into the Children of the Drought – an internationally-published epic fantasy Western series from Solaris.
Now an instructor for the Writers Path at Southern Methodist University in Dallas and the founder / 'chief instigator' of WORD (Writers Organizations 'Round Dallas), Tex is blazing a trail through writers conferences, workshops, and fan conventions on both sides of the Atlantic – as an endlessly energetic, relentlessly enthusiastic one-woman stampede. You can find more about Tex on her website.
Workshops
Discovering New Worlds Through Writing
by Oliver Langmead and Ruth EJ Booth
Join fantasy author Oliver Langmead and award-winning fantasy author Ruth EJ Booth for a creative writing workshop designed to help you discover a new world through your very own portal quest adventure. This is an especially adapted version of the Discovering New Worlds Through Writing workshop series, designed for fantasy writers looking for an opportunity to sit down and get started on a new adventure in a friendly and encouraging environment.
Important: This workshop has a cap of 20 people. Attendees will state whether they want to participate on Thursday morning on a first-come, first-served basis.
Oliver Langmead has an LLB in Law, an MLitt in Writing Practice and Study, and an MLitt in Fantasy, and is a first-year doctoral researcher at the University of Glasgow. His first book, Dark Star, was featured in the Guardian's Best Books of 2015, and his second book, Metronome, was published in 2017.
Ruth EJ Booth is a BSFA award-winning author and poet. A member of the Glasgow SF Writers Circle, she is a columnist for Shoreline of Infinity and edits From Glasgow to Saturn. She is a former James White and British Fantasy Awards juror, and current student on the University of Glasgow's MLitt in Fantasy.
Writing for Escape
by Elaine Gallagher
We will look at weird fiction like China Mieville's Perdido Street Station and Jeff Vandermeer's Annihilation, discuss the fun the authors had in writing them, and try it out for ourselves. Then we will look at the escape that marginalised people find in reading fiction that represents and empowers them, discuss Amanda Downum's The Bone Palace, and use the ideas from the first exercise to build an inclusive world.
Important: This workshop has a cap of 10 people. Attendees will state whether they want to participate on Thursday morning on a first-come, first-served basis.
Elaine Gallagher is studying the MLitt in Creative Writing part-time at the University of Glasgow. She is a member of the Glasgow SF Writers' Circle and has written reviews and editorials for Interzone magazine. She co-edited the GSFWC anthology Thirty Years of Rain and her short film High Heels Aren't Compulsory won Best Scottish Short at the Scottish Queer International Film Festival 2015 and was shortlisted for the Iris Prize.
Writing Our Fears
by Angie Spoto
This workshop will focus on how writing our fears can be a political act. We'll spark a discussion on how some authors have addressed their fears—as well as major social or political issues—directly in their speculative writing, including Octavia Butler in Bloodchild and Leonora Carrington in The Debutante. We'll spend time looking closely at excerpts of these works and then write our own stories or poetry.
Important: This workshop has a cap of 15 people. Attendees will state whether they want to participate on Thursday morning on a first-come, first-served basis.
Angie Spoto is an American fiction writer and poet. Her most recent endeavours include a lyrical essay about her Italian family, a collection of horror surrealist fairy tales, and a fantasy novel about grief. She is working toward a PhD in Creative Writing at the University of Glasgow and volunteers with the Glasgow-based social enterprise Uncovered Artistry, which supports the creativity of domestic and sexual abuse survivors. She is artist-in-residence at HIV Scotland. Her work has appeared in numerous anthologies, including Crooked Holster, From Glasgow to Saturn, and Toad Suck Review.