Information for applicants
You can have it all – a degree, salary, and career at the same time
We are the only Russell Group university in Scotland to offer a graduate apprenticeship in software engineering. The programme was created in collaboration with employers and is taught by an award-winning team.
Achieve a BSc (Hons) in Software Engineering in 4 years, splitting your time between university-based, on-campus study (20%) and workplace learning (80%).
Over years 1 and 2, you will attend 8-week learning blocks of university-based study to provide you with a solid foundation in software engineering.
In years 3 and 4, you can choose subjects from the University's full honours catalogue of electives, taught by leading experts in the relevant fields. Your study in years 3 and 4 will be in the form of day-release from work (during term time).
Why choose a Graduate Apprenticeship?
You can earn a full-time salary, even when undertaking blocks of study.
You do not pay any student fees (this programme is fully funded by the Scottish Funding Council via SAAS).
You will get real world work experience early in the programme, working with your employer on live projects of real commercial significance.
Why choose the University of Glasgow?
You will enjoy all the benefits of student life – study alongside your peers, access student support services and university resources, and learn from leading experts in their fields.
You can apply directly to our diverse range of partner employers (the application process sits outside UCAS). This means applying for graduate apprenticeship vacancies does not impact your UCAS applications — you can apply for standard degree programmes via UCAS and for the Graduate Apprenticeship Programme, allowing you to keep your options open.
Our unique programme structure mitigates the effects of context switching by delivering university-based teaching in solid blocks during years 1 and 2 – this has been found to help you learn faster.
We offer you an opportunity to up-skill before the course starts with Summer Schools in Programming and Mathematics.
We provide a dedicated Applicant CV and Support Service to help you with your applications.
Who can apply for a Graduate Apprenticeship?
Entry requirements recognise alternative learning routes – this programme is open to school and college leavers as well as those with university-level qualifications or professional careers who wish to retrain or upskill.
For information about the benefits for employers, visit Information for Employers.
Academic entry requirements
To be successful, applicants need to meet the following minimum academic requirements along with employer's selection criteria.
SQA Higher Entry Requirements
BBBB or above achieved by S6.
Must include Maths and ideally two Science subjects.
A-level Standard Entry Requirements
BBB or above.
Must include Maths and at least one Science subject.
HNC/D Entry Requirements
B in Computing, Software Development, or Computer Games Development.
All applicants must have either Mathematics: Calculus and Matrices for Computing or Higher Maths at B or above.
We will also consider candidates who have successfully undertaken alternative learning routes, including the Modern Apprenticeship (with Highers), the International Baccalaureate or relevant international qualifications.
Email the Graduate Apprenticeship Team at compsci-ga-team@gla.ac.uk to check your eligibility.
Funding eligibility
Anyone aged 16 years and over with a right to live and work in the UK, and living in Scotland by the time they commence their apprenticeship, can apply to the programme.
The programme is funded by the Scottish Funding Council (SFC) via SAAS. All applicants need to apply directly to SAAS to approve funding once they have been offered a place on the programme.
The funding eligibility is slightly different to standard student funding in Scotland. For example, you may still receive funding even though you already have a degree.
Applicants from the rest of the UK will receive funding if they have settled status and ensure they meet the Scottish residency requirements before the programme starts.
The SAAS website can provide more information for applicants from Scotland and the Rest of the UK. SAAS also have information if you have relocated to the UK within the last seven years. If you are unsure about your eligibility, contact SAAS directly.
2023 dates
| Events | Dates |
| --- | --- |
| Apply directly to employers | November 2022 to July 2023 |
| Summer School | August and September 2023 |
| Induction | Monday 16 October 2023 |
| Start employment | Minimum of two weeks before the First Semester begins |
| First Semester (Level One and Two) | Monday 30 October to Wednesday 20 December 2023 |
| First Semester (Level Three and Four) | Monday 11 September to Friday 15 December 2023 |
| Second Semester (Level One and Two) | Monday 4 March to Wednesday 24 April 2024 |
| Second Semester (Level Three and Four) | Monday 8 January to Friday 24 May 2024 |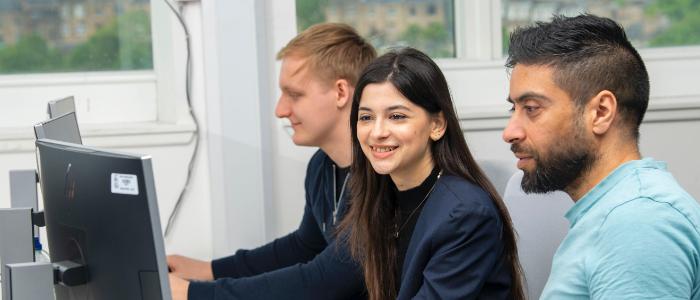 Programme structure
Discover more about our unique programme structure.
Student experience
Watch our videos to find out more about being a graduate apprentice in software engineering.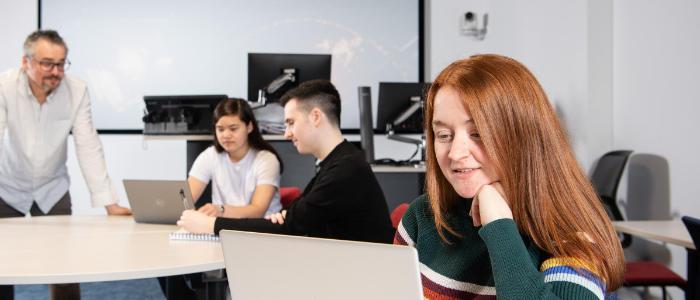 Information for prospective employers
Find out more about the Software Engineering Graduate Apprenticeship Programme and discover our employer partner benefits.