Music Facilities
Music facilities within the School include three studios, the Audio Lab, a small library and a number of seminar and practice rooms. The School also has preferential access to the University Concert Hall. For more information on bookings rooms, please contact Music, or Music students can refer to the Music Handbook for details.
Please note, the Music facilities are only for those students enrolled on Music courses within the School of Culture & Creative Arts or part of the Music Clubs and Ensembles.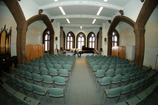 University Concert Hall
A short walk from the Music building, in the University's main Gilbert Scott building, is the University Concert Hall. The School has preferential access to the hall and uses it extensively for recitals, performance practice and teaching. The Concert Hall houses two Steinway Model D grand pianos, an 1840s Broadwood grand, and a Mozart-era fortepiano, two chamber organs (one an 18th-century Snetzler), two harpsichords, an extensive range of percussion and other instruments for the performance of orchestral and contemporary music. In addition to the instruments housed in the Concert Hall the School also owns a fine consort of viols, baroque strings, recorders, crumhorns and other wind instruments. The Concert Hall also houses Music's Diffusion System for the public performance of electroacoustic music.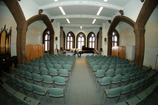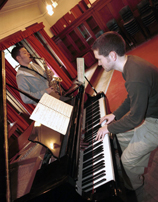 Practice Rooms
Music students have access to ten practice rooms for solo instrumental or ensemble practice. Five of these rooms are located in the Music building, with three in the Alexander Stone Building and the remaining two soundproof rooms in Number 13 University Gardens, and most are available 7 days a week, from 9am to 11pm.
The largest of the Music rooms, 'The Club Room' contains a baby grand piano and is big enough for ensemble rehearsal. All other rooms contain an upright piano, a full length mirror and a music stand. These rooms can be booked in advance, for up to 2 hours a day by students studying within Music. Music students should refer to the Music Moodle for booking details.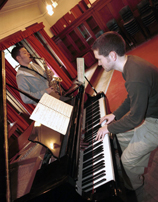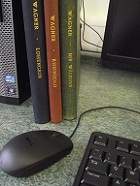 ‌
Music Library
The Music building houses its own small reference library. It holds a high quality selection of books and scores that complement those provided by the main University Library. In addition, the Music Library also houses eight PC workstations running Microsoft Office and Finale notation software. Each machine has an attached MIDI keyboard for quick and intuitive notation entry. A microfiche scanner is also provided to aid musicological research.
Each year an undergraduate Music student is sought to act as the Librarian for the Music Library. If you are a current undergraduate student studying Music and would like to be considered for the post please email Dr Björn Heile.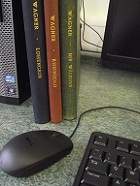 ‌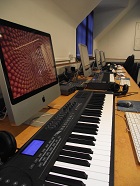 ‌
Audio Lab
Students have access to the Music Audio Lab for audio production, acoustics, composition and sound synthesis work. The lab contains 12 Apple iMacs each with Avid audio hardware, a MIDI keyboard and a comprehensive suite of installed software including:-
Finale
Pro Tools - including RTAS plug-ins by:


Cycling 74
GRM Tools
Cycling 74 Max
Each machine is connected to a high quality playback system.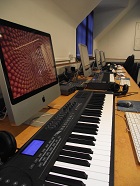 ‌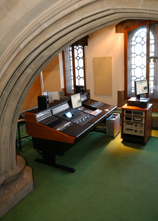 Studios
The School has three studios dedicated to composition and audio production. Studios One and Two are housed in the Gilbert Scott Building above the Concert Hall. Both feature audio tie-lines linking them to the Concert Hall, the Bute Hall and each other. Studio Three is a smaller composition studio housed in the Music building.
All the studios are based around Apple Mac G5 digital audio workstations running a comprehensive suite of applications including:-
Pro Tools - with RTAS plug-ins by:


Cycling 74
GRM Tools
Sony Oxford

Cycling 74 - Max
Finale
Each year an undergraduate Music student is sought to act as an intern in the Studios to carry out simple admin and maintenance tasks and to assist with production work. If you are a current undergraduate student studying Music and would like to be considered for the post please email Neil McDermott.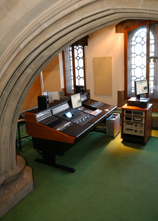 Diffusion System
The Diffusion System is used for public performances of music by international and Glasgow based composers including current students. The system is located in the University Concert Hall. It comprises an 8-channel speaker array and sound diffusion desk for live sound processing and spatialisation.
Diffusion hardware includes:
4 Genelec 1031 active speakers

3 d&b D12 amplifiers

4 d&b Q10 loudspeakers

2 d&b Q-SUB subwoofers

2 Mackie 1604 mixers

2 ATC100 active speakers (shared with Edinburgh University and the RSAMD)

2 ATC50 active speakers (shared with Edinburgh University and the RSAMD)