Andrew Stewart Cinema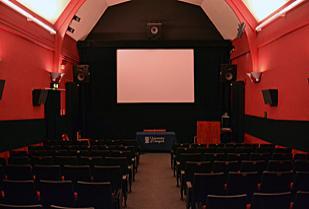 The Cinema seats 138 and is used for lectures and screenings. The following media can be projected:
35mm film
16mm film
Blu-ray
DVD
VHS
Mini DV
Computer data
James Arnott Theatre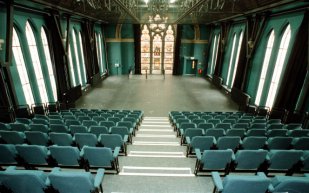 The Theatre, named in memory of the founding Head of Drama, has a capacity of 182 in studio-theatre format. It has a large wire-mesh 'trampoline' lighting grid installed, the only example of its kind in Scotland and one of only three in the UK. Lighting and sound are fully computerised.
Associated with the Theatre are dressing rooms and a green room.
Student productions are performed here as well as being used by professional theatre companies.
Performance Studio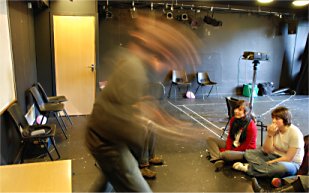 This space is equipped with lighting and sound facilities and may be used as a rehearsal room or where practical work such as video production, theatre direction, playwriting, design or stage management can take place.
The space contains a lighting desk, audio mixer and many sound sources. This equipment is available to all users, after appropriate instruction, and external equipment such as, data projector and laptop can be requested as and when required. LCD television and DVD/VHS playback are permanently situated in this room.
Resources Room
This space is currently unavailable.
Video Editing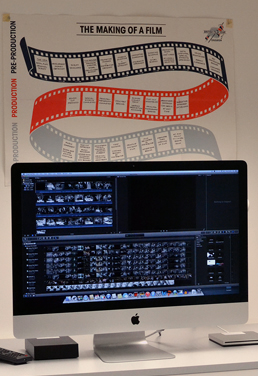 We have 2 non-linear digital video edit suites installed in the building in recognition of the fact that we have been developing a need for high-quality, digital editing facilities to be accessible on-demand by students, both undergraduate and postgraduate, working on Video Production Projects or on Multimedia Production and moving-image digitisation assignments of various kinds.

Both suites are of a similar specification:
27" iMac
3TB external HDD
Super drive
Final Cut Pro X
Adobe Creative Cloud suite (Premiere Pro, Photoshop, After Effects, etc)
Wireless keyboard and mouse

One suite also has a VHS deck for capturing from that format.

The edit suites are available for use during Gilmorehill Hall's normal working hours, Monday to Friday in term-time and may exceptionally be available at other times - especially those of particular pressure - by special arrangement, provided that all building security precautions are observed.