Research targeting developing world honoured by the Queen
Researchers from the University of Glasgow's Boyd Orr Centre for Population and Ecosystem Health were awarded the Queen's Anniversary Prize for Higher and Further Education at a ceremony at Buckingham Palace today (27 Feb). The award commends Centre's 'outstanding achievement at a world-class level' and was assessed by a specialist panel over several months before being put forward by the Prime Minister to the Queen for Royal Assent.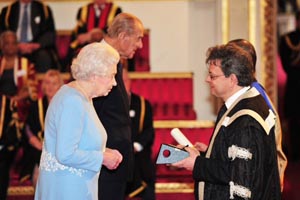 ‌The Centre conducts applied research that addresses the links between human activity, ecological changes and the overall health of ecosystems that include humans, livestock and wildlife.
The award was made for the work addressing the spread of infectious diseases of national and international importance. The research aims to translate laboratory, desk-based and field research into benefits for individuals and communities, informing and improving government policy at home and overseas.
Recent research themes consider diseases affecting animals and humans across high-, low- and middle-income countries and include rabies, foot-and-mouth disease, bovine tuberculosis and malaria.
The award also highlights the success of the Centre in building close ties with external research institutions to support major research initiatives, including over £40m in grant income from a diverse array of UK and international funding sources.
The Centre plays a crucial role in fostering collaborations between researchers working across a wide range of areas, including veterinary science, mathematics, ecology, evolutionary biology, physics, engineering, economics and the social sciences.
The Boyd Orr Centre retains a diverse portfolio of activities, including:
Major contributions leading to the declaration of global canine rabies elimination as an objective of the WHO, FAO and OIE, the establishment of a global World Rabies Day and major funding support from the Bill and Melinda Gates Foundation.
An extended collaboration to pioneer the use of whole-genome sequencing to trace Foot-and-Mouth Disease transmission, a project that has advanced understanding of the disease transmission processes at organizational scales from the individual to the national herd level.
An extensive programme of work on the epidemiology of bovine TB, including the first ever use of whole genome sequencing to track the disease between hosts, and the development of innovative approaches to surveillance at a national scale.
A partnership that includes 11 different African Institutes via the Wellcome Trust funded AfriqueOne consortium. This initiative involves capacity building and the development of formal operational links and affiliations among African regional institutions to enhance research that will reduce the burden of diseases affecting human health, livelihoods and biodiversity conservation in Africa.
Rowland Kao, Director of the Centre, said: "While traditional epidemiology has been successful in studying and controlling many infectious diseases, it is typically focused on solving single disease problems via relatively simple direct measures.
"Many of the world's most serious infectious diseases are embedded in diverse and complex ecosystems and cannot be effectively addressed in isolation. Our Centre is committed to breaking down traditional boundaries across academia and promoting new research partnerships that have a direct and positive impact on communities around the world."
Professor Anton Muscatelli, Principal and Vice-Chancellor of the University of Glasgow, said: "I am delighted that the Royal Anniversary Trust has seen fit to honour Boyd Orr Centre for Population and Ecosystem Health with this award. It is testament to the important work that is happening at the University of Glasgow and impacting on the lives of people around the world."
---
First published: 27 February 2014