Daniel Streicker wins new international prize from Science and SciLifeLab
Daniel Streicker, Research Fellow, has been named the first grand prize winner of the new Science & SciLifeLab Prize for Young Scientists.
The award was created by Science, a publication of the American Association for the Advancement of Science, and SciLifeLab, a center for molecular bioscience focused on health and the environment. Streicker received the prize, which includes a $25,000 honorarium, on Dec. 9 in Stockholm.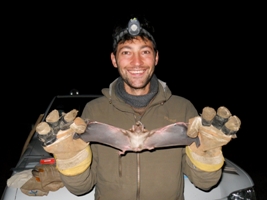 Daniel studies the ecology and evolution of emerging infectious diseases. Working with rabies virus in bats, he explores questions about when, where and how viruses jump from one host species to another. His findings not only answer basic scientific questions but have real-world implications for public health, agriculture and wildlife conservation.
"My particular field of research, how infectious diseases jump between species, is a complex, fascinating and tremendously important problem," Streicker said. "Solutions require scientists with broad training who are excited to collaborate across scientific disciplinary boundaries. The Science & SciLifeLab Prize is a tremendous honour and I hope it will inspire other young scientists to infuse ecological and evolutionary thinking into the topic of emerging infectious diseases."
---
First published: 9 December 2013