Professor Paul Garside Appointed Dean for Global Engagement
Issued: Tue, 19 Jun 2018 10:51:00 BST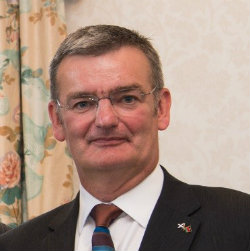 Professor Paul Garside has been appointed University of Glasgow Dean for Global Engagement, Africa & Middle East.
In this role, Prof Garside will act as a source of expertise in the education sector of Africa & the Middle East and will provide advice and guidance to University staff relating to government and the higher education sectors in these regions.
This key role will seek to enhance and support strategic internationalisation initiatives in accordance with the University's Internationalisation Strategy. A big part of the role will be to identify, promote and support research by engaging with overseas governments and industry.
Prof Garside is well placed to build the reputation of the University across Africa and the Middle East having worked and lived in the region over recent years. He has also been the driving force in developing initiatives and fruitful partnerships with many overseas Institutions.
Professor James Conroy, Vice-Principal for Internationalisation, said: "I am absolutely delighted that Paul has taken on this extremely important role.
"He and his colleagues in the Institute have been world leaders in working with colleagues and communities in Africa to improve lives. I very much look forward to working closely with him"
Professor Iain McInnes said: "It is a pleasure to see Prof Garside take on this new and exciting role. I can think of no one better qualified to bring the necessary energy, vision and impact that will ensure success."
Prof Paul Garside said: "I am delighted to be able to represent the University as it continues to develop and strengthen its links in Africa and the Middle East based upon the many excellent partnerships that already exist in these regions"
---