Professor Mark Petrie
Professor/Honorary Consultant (Institute of Cardiovascular & Medical Sciences)
telephone: 0141 330 4558
email: Mark.Petrie@glasgow.ac.uk
https://orcid.org/0000-0002-6333-9496
Biography
Professor Mark Petrie was an undergraduate in Edinburgh University before training in cardiology in Glasgow. He worked as a heart failure and interventional cardiologist for many years before transferring to the University of Glasgow in 2016. Mark was Director of the Scottish National Advanced Heart Failure Service 2010-2014 and has served on the National Advisory Committee for Heart Disease 2004-2018. He established and chaired the Scottish Heart Failure Hub 2014-2017. Mark has published around 130 original manuscripts including many in high impact journals such as the New England Journal of Medicine, the Lancet, the European Heart Journal, JACC and Circulation. He has leadership roles in many trials including STICH, REVIVED, REDUCE-LAP, PARADISE-MI, Dapa-HF and IRONMAN. He was an author of the 2011 European Society of Cardiology NSTEMI Guidelines and a reviewer of the 2016 ESC Heart Failure Guidelines. Professor Petrie has a major interest in mentoring future high-caliber cardiologists and has supervised many outstanding individuals during their PhDs and MDs.
Research interests
Professor Petrie's Research interests include Revascularisation in heart failure, Interventional heart failure (including inter-atrial shunt devices for HFpEF), Peripartum Cardiomyopathy, Diabetes and cardiovascular disease (including diabetes and heart failure), microvascular disease in HFpEF, post-MI cardiac remodelling, iron and heart failure, cardio-oncology
Grants
Grants and Awards listed are those received whilst working with the University of Glasgow.
BHF Centre of Excellence
British Heart Foundation (BHF)
2019 - 2024

The epidemiology of peripartum cardiomyopathy in a Western European country: An analysis of the Scottish population 1990-2016
British Heart Foundation
2018 - 2021

EURO SHOCK
European Commission
2018 - 2022

The effects of sacubitril/valsartan compared to valsartan on left ventricular remodelling in patients with asymptomatic left ventricular systolic dysfunction after myocardial infarction: a randomized, double blinded active-comparator cardiac-MR based trial
British Heart Foundation
2017 - 2020

How do arrhythmias and conduction disturbances contribute to death or rehospitalisation in patients discharged following an admission with acute heart failure? A prospective, observational, multi-centre cohort-study
British Heart Foundation
2017 - 2022

A study of the epidemiology of peripartum cardiomyopathy in Scotland from 1981 - 2014
NHS Greater Glasgow and Clyde Endowment Funds
2017 - 2018

Palliative Care Needs in Patients with Heart Failure
British Heart Foundation
2013 - 2016

Publications
Number of items: 190.
2019
2018
2017
2016
2015
2014
2013
2012
2011
2010
2009
2008
2007
2006
2005
2004
2003
2002
2001
2000
1999
1998
This list was generated on Sat Jul 20 17:38:20 2019 BST.
Number of items: 190.
Articles
Book Sections
This list was generated on Sat Jul 20 17:38:20 2019 BST.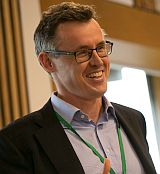 Room 235, Level C2, Institute of C&MS, BHF GCRC, Glasgow, G12 8TA