Tackling chronic housing problems
DISCOVER MORE
Where does housing go from here? CaCHE is researching the way to better housing systems
The 2008 global financial crisis led to the latest significant crash of our volatile housing market. The crash exposed the vulnerability of the UK housing system, one already facing long-term problems of affordability, inequality and homelessness.
The University of Glasgow leads a consortium of nine universities and four non-academic professional bodies in a major new research programme examining the UK's housing systems.
Led by Professor of Housing Economics, Ken Gibb, the UK Collaborative Centre for Housing Evidence (CaCHE), funded by the ESRC, AHRC and Joseph Rowntree Foundation, has been established to influence housing policy at all levels.
Importance of a stable housing market
Housing has a considerable impact on our society and economy. Almost 1 in 10 British jobs are in the housing sector, and more than a fifth of household spending goes on rent, mortgage payments, home repairs, maintenance and improvements. Failure of housing markets can lead to wider economic problems, as well as poverty and homelessness.
CaCHE brings together a comprehensive range of stakeholders to tackle housing problems at a national, regional and local level.
Establishing CaCHE
The Centre is based at the University of Glasgow's east end hub in the Olympia building, though researchers and support staff are located throughout the UK—with the second biggest partner at the University of Sheffield. Once the centre was created in August 2017, it was a matter of putting an outstanding team in place and getting started on 12 exemplar research projects, included in the original bid, all of which are now up and running.
The CaCHE team is operating a distinctive innovative method of working that emphasises co-agreement with its wider stakeholders across the housing system to determine future priorities and projects.
CaCHE also has a 'responsive mode', which seeks to leverage its capacity and respond to the current policy landscape, developments in housing practice and media conversations around the housing system. Up to date relevancy is critical to ensure CaCHE will influence policy makers in real-time. The centre has recently added a seventh theme around the critical question of homelessness—in addition to the initial six themes of housing and the economy, markets, choice, wider drivers, place, and governance outlined in the initial bid.
"CaCHE will allow policy makers and practitioners across the UK to benefit from the best possible evidence to help them take the robust action needed to tackle chronic housing problems. We use multi-disciplinary expertise to provide relevant and rigorous housing evidence and research to influence and ultimately alter housing policy for the benefit of all. By working in collaboration, we are making a serious contribution to tackling one of the most pressing policy problems in the UK today." Professor Ken Gibb
Addressing power imbalances in the housing system
Imbued in the research themes, exemplar projects, and working model of the centre are ways of addressing poverty, inequality and uneven power distributions. Professor Gibb points out the increasing tendency to store wealth in property, which can have lifelong effects on transmitting inequality in terms of unequal access to home ownership. Housing can be both a site and a cause of inequality. CaHCE will work with key stakeholders from across the housing system in knowledge exchange workshops throughout the UK to help set priorities but will also hold resident voice focus groups around the country so that the views of those with lived experience will be heard alongside and not drowned out by elites and professionals.
The researchers at CaCHE hope to practically influence policy and the way housing practitioners work to create fairer, better systems within the UK. The exemplar projects tackle issues such as 'measuring social housing investments impacts on residents' and wellbeing as a tool for evaluation housing outcomes and policy impacts'.
Professor Gibb says, "CACHE aims to use its growing evidence base to inform the policies that can make a better housing system. Disseminating evidence, networking and exchanging knowledge requires extensive time and staff commitment to work with policy, practice and communities to listen, share and communicate as effectively as possible in all parts of the UK".
Going forward the CACHE team is committed to developing their ongoing research and building a strong evidence base from which informed policy and practice recommendations can be made. Sustainability of the centre is also at the forefront of CACHE's priorities. The team is working on securing additional funding, secondments of experts both to and from CACHE to increase knowledge exchange, and disseminating their work through their newly launched website http://housingevidence.ac.uk/.
A critical part of the Centre is its scope to make a significant difference to the research capacity of housing academics across the UK. Funding PHDs, researchers, early career co-investigators and the wider housing research community through, for example, a housing PhD summer school and partnership with the Housing Studies Association will catalyse capacity building activities. CaCHE's legacy will be to develop the next generation of housing researchers.
DISCOVER MORE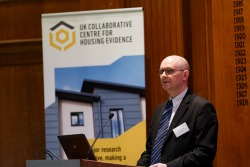 Ken is a professor in the School of Social and Political Sciences in the subject area of Urban Studies. He is also Director of the UK Collaborative Centre for Housing Evidence funded by ESRC, AHRC and the Joseph Rowntree Foundation. CaCHE is located in the Olympia Building, Bridgeton, in the social sciences research hub. For four years, Ken was the first director of Policy Scotland, and also a co-director of What Works Scotland ‌co-funded by ESRC and Scottish Government (until taking up the role in CaCHE).
Ken's research interests are focused on the economic, financial and policy dimensions of housing.
DISCOVER MORE