Brainfood!
Listen to our range of podcasts, created by the UNESCO Chair team and our affiliate podcasters. Guaranteed to get you thinking!
UNESCO RILA: the sounds of integration
Welcome to the podcast channel UNESCO RILA: The sounds of integration.
**Due to the upcoming UCU strike, our release schedule will be disrupted and no new episode will be released until May. More information about why we are striking can be found here.**
Here you will find all the episodes created by the team and by invited guest podcasters (latest episode first). This podcast is about integration, about the sounds it makes and about the feelings, thoughts and ripples it causes. In short: an eclectic mix, just like integration itself. New episodes are released every fortnight.
If you are interested in featuring in one of our episodes, please send an email to Bella on unesco-rila@glasgow.ac.uk outlining what you would like to talk about.
Our podcast can be found on all the major channels, including Google Podcasts, Spotify, Castbox, Apple Podcasts, Stitcher, Deezer, PocketCasts and many more. Just search for UNESCO RILA or click on the logos below. Why not add us to your favourites in your preferred podcast app?
Would you rather listen on Soundcloud? Here's the link to our

---
Main series: The Sounds of Integration
This is our main strand and features episodes by core team members and partners. A mixed bunch.
Episode 45: Repost of CUSP Podcast E1 - Dr Mary Boatemaa Setrana and Zaza Muchemwa on Women and Peacebuilding (27/01/2023, originally released on 03/08/2021)
Episode 38: Alison Phipps on the New Scots Refugee Integration Strategy (part 2) (13/09/2022)
Episode 37: The RoundView Sustainability Takeover at the Scottish Crannog Centre With Dr Joanne Tippett (30/08/2022)
Episode 35: Alison Phipps on the New Scots Refugee Integration Strategy (part 1) (02/08/2022)
Episode 30: Poetry with Sawsan Al-Areeqe (10/05/2022)
Episode 29: Jason Oliver on binary structures and the post-covid society (26/04/2022)
Episode 24: Sensation of Blackness (21/12/2021)
Episode 20: By the fire at The Scottish Crannog Centre part 2 (26/10/2021)
Episode 19: By the fire at The Scottish Crannog Centre part 1 (18/10/2021)
Episode 9: The sounds of 2017-2020 part 2 (24/05/2021)
Episode 8: The sounds of 2017-2020 part 1 (10/05/2021)
Episode 2 - Tawona Sitholé introduces his poem Cape Coast Caper (22/08/2020)
Episode 1 - Professor Alison Phipps' intro to the UNESCO Chair programme (23/01/2018)
The Sounds of our Affiliates
In this series we talk to visiting scholars, affiliate artists and other members of the wider UNESCO RILA team. You will hear more about their work and their views on current (geopolitical) developments.
Episode 41 - Let's talk about access to education for refugees with Arianne Maraj (26/10/2022)
Episode 40 - Let's talk about theatre with Zoe Hogan (11/10/2022)
The Sounds of the Spring School
This series is a collection of recordings from our annual Spring School: The Arts of Integrating. This event brings together academics, artists, New Scots, policy makers, students, third sector organisations and anyone else with an interest in integration and community building.
Episode 39: Immersive Soundscape: From Alba To Aotearoa (27/09/2022)
Episode 34a: Bonus! Aoife is Returning - a journey of exile and return to self and place: Imagining a decolonial vision of home (26/07/2022)
Episode 34: Poetry by our Keynote Poets (19/07/2022)
Episode 32: Christian Hanser about his Tiny Campus and pop-up hospitalities (20/06/2022)
Episode 31: Saskia the Wildt explores Polar Bear Research as Ethical Space, Practice and Process of Engagement (07/06/2022)
Episode 28: Collaborative Keynote Listener Poem 2021 (12/04/2022)
Episode 18: World Words (28/09/2021)
Episode 17: Dar to Dunoon - a closer look (13/09/2021)
Episode 16: Artists on Conflict (30/08/2021)
Episode 15: Poetry from the Spring School (16/08/2021)
Episode 14: To Build a Home (02/08/2021)
Episode 13: The Art of Integration: M'Aidez, May Day and MacIntyre (19/07/2021)
Episode 12: Interview with Nazek Ramadan (05/07/2021)
Episode 11: Reciprocity and the senses: a reply to mayday (21/06/2021)
Episode 10: Comforting Sounds - Tawona Sitholé (07/06/2021)
The sounds of good books
In this series we discuss book we think are worth reading, with people we think are worth knowing.
Episode 44: The Raven's Nest post-recording discussion (11/01/2023)
Episode 43: Sarah Thomas' The Raven's Nest (07/12/2022)
Episode 42: Free to Go with Esa Aldegheri (09/11/2022)
Episode 36: Caroline Lenette on Participatory Action Research: Ethics and Decolonization (16/08/2022)
Episode 33: Robert McNeil's Grave Faces (04/07/2022)
Episode 26: Language in a Globalised World with Khawla Badwan (01/02/2022)
Episode 25: The Invention of Multilingualism with David Gramling (part 2) (17/01/2022)
Episode 23: The Invention of Multilingualism with David Gramling (part 1) (07/12/2021)
Guest series: What Community Means to You
This guest series was made by Sadie Ryan, who makes the podcast Accentricity, and Ken Gordon, who makes the podcast Refugee Voices Scotland. This series was commissioned by UNESCO RILA and was designed to explore refugee integration through languages and the arts, focusing on themes of community, solidarity and friendship during the Covid-19 pandemic. It is set in Glasgow, and Glasgow features prominently, but interviewees are also invited to talk about communities they have been part of in different places during their lifetimes.
Episode 7: "People aren't as bad as you think they are" (26/04/2021)
Episode 6 - "Love... was the most important thing" (11/04/2021)
Episode 5 - "It's a place where you can feel safe" (29/03/2021)
Episode 4 - "What does community mean to you?" (15/03/2021)
Episode 3 - "We're all allowed to be who we are" (01/03/2021)
The Sounds of Unsettled Objects
The episode in this series were recorded in September 2021 during Unsettled objects: post-colonial perceptions of belonging, exile and home, a collaboration with Glasgow Museums in which we sought to gain more knowledge about place, relationships, fragmentation and dispersal of objects.
Episode 27: A Settler View from Ongoing Colonized Lands (08/03/2022)
Episode 22: Caring and Sharing (23/11/2021)
Episode 21: Unsettled Objects opening discussion (09/11/2021)
Affiliate podcast: Refugee Voices Scotland
From 17 March 2020 we are suspending all LIVE in person podcast recordings due to Coronavirus - however they will all be done online and will be available in due course.
Thanks to Refuweegee for hosting us at their headquarters on Byres Road up til now.
Previous interviews in this series:
Olivia Ndoti, Community Activist and student at the University of Glasgow
Ngqabutho Mpofu, DJ and Chair of Ignite Theatre
Nihaya Jaber, from Gaza, PhD candidate at the University of Glasgow
About Refugee Voices Scotland
We make podcasts that capture refugee stories.
Refugee Voices Scotland podcasts amplify refugee stories to counteract distortion of their situation in the media. We give refugees and refugee support organisations a voice.
We aim to make a difference to public attitudes to refugees in Scotland and the UK. Our podcasts are a way for refugees and refugee support organisations to tell their story. We support all efforts to make refugees feel safe, secure and welcome in Scotland.
Affiliate podcast: Accentricity podcast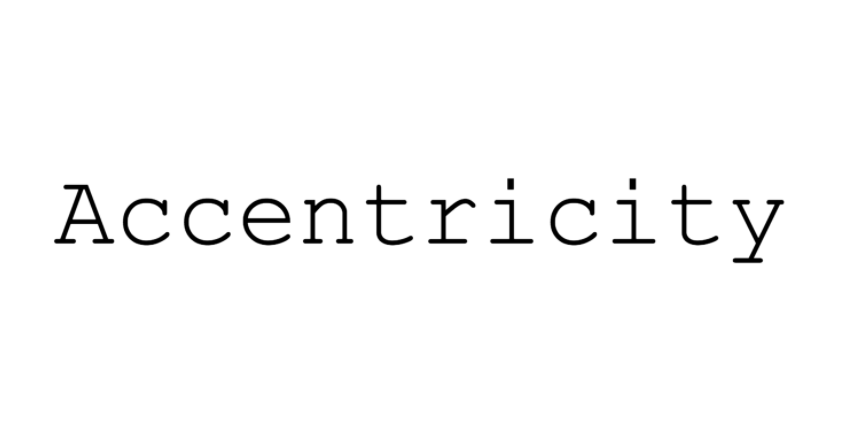 Accentricity Podcast is a podcast about language and identity: how the way we speak connects with who we are.
The podcasts are made by Sadie Durkacz Ryan, with production support from John McDiarmid and music by Seb Philp.
Sadie is a lecturer in sociolinguistics at Glasgow University. She recently finished a PhD, where she worked with Polish teenagers who live in the East End of Glasgow, and found out about the links between language use and identity for them. To find out more about her academic work, follow @sadie_d_ryan on Twitter.
John is a freelance radio producer, cameraman, documentarian, broadcaster and journalist. His production company is called Telt Media. To find out more, follow @teltmedia on Instagram. He speaks Gaelic and English. He is interested in the stories behind people's accents.
Episodes 5 and episode 6 are a 2-parter about multilingualism, featuring Professor Alison Phipps discussing the concept of linguistic hygiene, and how we can question and disrupt our linguistic hygiene practices.
Affiliate podcast: The Art of Bridging
The Art of Bridging is a podcast from the Distant Voices project. Over the last four years, we've been bringing people together to write songs in and around the Scottish criminal justice system. We set out to learn more about what it's like to come home after prison, and to try to build bridges through songwriting and creative practice. In the Art of Bridging, the community of people around Distant Voices - all of whom are connected to the criminal justice system in different ways - share some of what we've made and learned along the way. Whether you're a music-lover, a community organiser or a system changer, we hope you'll enjoy this mix of thought-provoking conversations and compelling, challenging and beautiful tunes.

Distant Voices is a collaboration between arts organisation Vox Liminis, the University of Glasgow, the University of Edinburgh, and the University of the West of Scotland, funded by the Economic and Social Research Council (Award No: ES/P002536/1)
Pick your preferred link below to listen to the podcast.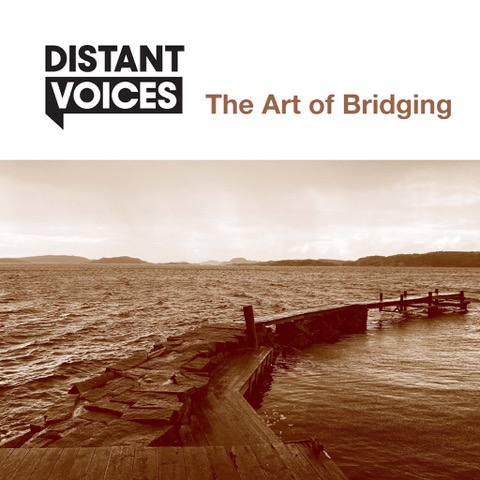 The RILA team on other podcasts
Here you'll find episodes from other podcast channels that the team have been involved in. If you host a postcast series and are interested in talking to our team about a collaboration or contribution from our team, please contact Bella on unesco-rila@glasgow.ac.uk.
---
Who do we think we are? - Beyond the headlines... with Alison Phipps and Tawona Sitholé (05/08/2022)
The story of how British citizenship developed and why this matters for questions of race, migration and belonging in 'Global Britain'
In June 2022, the headlines in the UK were full of news about the Rwanda plan. As an ECHR ruling halted the first deportation flight scheduled to depart from Rwanda, from the Prince of Wales to the Archbishop of Canterbury it was the high-profile opponents of the scheme to offshore the UK's responsibilities to those seeking asylum that caught the attention of the press. But this public outpouring of resistance to bordering did not emerge from nowhere. It sits on years of resistance and protest from the grassroots and within local communities. Professor Alison Phipps, UNESCO Chair in Refugee Integration through Languages and the Arts at the University of Glasgow, and Tawona Sitholé (AKA Ganyamatope), Poet-in-Residence for the Glasgow Refugee, Asylum and Migration Network join Michaela and Ala to go beyond the headlines to look into the roles of local communities in resistance to bordering. Taking local community action in Glasgow as a starting point, they explore everyday acts of resistance, the connections between solidarities movements around the UK, and the political potential of poetry and storytelling.
For the full shownotes, please visit the Who Do We Think We Are homepage.
---
Scots Whay Hae! Bella Caledonia - An Anthology of Writing (04/04/2022)
The latest Scots Whay Hae! podcast is all about Bella Caledonia and the new Anthology of writing from the years 2007 - 2021. To discuss all things Bella, Ali is joined by founder and editor Mike Small as well as contributors, writer Neil Cooper, writer and performer Dougie Strang, and academic Alison Phipps.
They talk about the beginnings of Bella Caledonia, the aims and ideas behind it, each person's initial involvement, how time can change the context of the chosen essays, the importance of, and dangers in, having a wide and inclusive brief, and so much more.
---
Hope Against Hope: Spirituality & Climate Change Vodcasts for COP26 - Episode 2: Hope in the making (01/11/2021)
Spiritual reflections on art and hope in the context of deepest loss hosted by UNESCO Professor Alison Phipps with the UNESCO artists and scholars Hannah Thomas and Hyab Yohannes.
Beginning on 31 October 2021 and continuing throughout COP26, this series of vodcasts features contributions from leading scholars, representatives of faith movements, creative artists, and climate activists, who will reflect upon the spiritual challenges of the climate crisis.
See the full list of episodes here.
---
UofG Spotlight - Episode 17 (30/09/2021)
On this week's episode we speak to Professor Alison Phipps, UNESCO Chair in Refugee Integration through Languages and the Arts, and Hyab Yohannes, UofG PhD scholar, about their work on refugees and their integration into the societies that they have come to.
We also talk to Dr Ali Fraser, Director of the Scottish Centre for Crime and Justice Research, about his research on public health, youth and violence reduction, including work on the 'Changing Violence' project.
Timestamps 01:03 Dr Ali Fraser 21:52 Professor Alison Phipps and Hyab Yohannes
---
"Integrating asylum seekers and refugees to build a more inclusive, equal society" (19/08/2021)
In S03E05 of the Royal Society of Edinburgh Tea and Talk Podcast, Dr Rebekah Widdowfield discusses the issues asylum seekers and refugees face in a post-Brexit Britain with RSE Fellow, Professor Alison Phipps, Professor of Languages and Intercultural Studies at the University of Glasgow and UNESCO Chair in Refugee Integration through Languages and the Arts.
---
Modern African Art for Schools (10/02/21)
In May 2021, Dunoon Burgh Hall hosted an exhibition of twelve works of modern art from East and Southern Africa from the Argyll Collection. The works were the subject of a two year research project (Dar to Dunoon) to document them, track down their makers and trace their journeys from the African continent to Argyll. This podcast is a conversation about making the exhibition and the future potential for African modern art as educational resources. With:
Tawona Sitholé, UNESCO Artist in Residence, University of Glasgow, UK
Madeleine Conn, Cultural Coordinator, Argyll and Bute Council
Meredith Loper and Elikem Logan, Dar to Dunoon research assistants
---
"The Importance of Connecting to the Land for Refugees" (10/02/2021)
Prof Alison Phipps is featured in the BBC Radio Scotland Scotland Outdoors podcast discussing with Mark and Euan the importance of connecting to the land for refugees.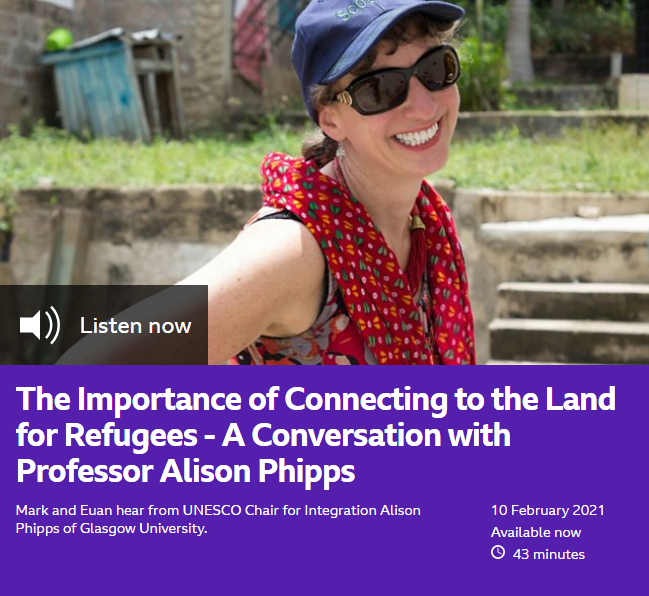 ---
In August 2020, Professor Alison Phipps chaired the book launch of Riders on the Storm: The Climate Crisis and the Survival of Being by Alistair McIntosh. The launch was hosted in partnership with Climate Fringe and the Centre for Human Ecology, who recorded the event and turned it into a podcast.
---
The North's inhospitable hospitality towards refugees (16/02/2020)
The University of Glasgow's Professor Alison Phipps is an activist for an end to the awful and lengthy detainment and the inhumane treatment that refugees are put through when they turn up on borders seeking refuge. The UNESCO chair shares her views on how New Zealand is managing with the resettling its refugees.
From Sunday Morning - Copyright held by Radio New Zealand Limited.
---
Doctor Giovanna Fassetta about her work in Teaching Arabic to Speakers of Other Languages (TASOL) (08/11/2019)
Cultures for Sustainable and Inclusive Peace (CUSP) Network + Podcast
UNESCO Chair Prof Alison Phipps also leads the CUSP N+ project. The CUSP N+ team have their own podcast series looking at different aspects peacebuilding and conflict transformation. Listen to the CUSP Podcast here.