Prof Barbara Mable
Prof Barbara Mable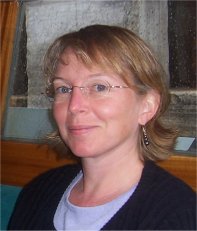 ‌Professor of Evolutionary Genetics
Institute of Biodiversity, Animal Health & Comparative Medicine
College of Medicine, Veterinary & Life Sciences
Graham Kerr Building
University of Glasgow
Glasgow, G12 8QQ
Tel.: +44 (0)141 330 3532
Email: Barbara.Mable@glasgow.ac.uk
Academic History
Academic History
2014-present Professor of Evolutionary Genetics,

Institute of Biodiversity, Animal Health and Comparative Medicine, University of Glasgow

2011-2014 Reader, Institute of Biodiversity, Animal Health and Comparative Medicine, University of Glasgow
2007-2011 Senior Research Fellow, Division of Environmental and Evolutionary Biology, University of Glasgow
2005-2006 NERC Advanced Research Fellow, Division of Environmental and Evolutionary Biology, University of Glasgow
2004-2005 Lecturer, Division of Environmental and Evolutionary Biology, University of Glasgow
2000-2005 Assistant Professor, Department of Botany, University of Guelph
1998-2000 Postdoctoral Fellow, ICAPB, University of Edinburgh (BBSRC grant to Deborah Charlesworth)
1996-1998 Postdoctoral Fellow, Dept. of Zoology, University of British Columbia (Killam Memorial Fellowship to BKM and NSERC award to Sarah P. Otto)
1992-1996 Ph.D. (Zoology) University of Texas at Austin
1989-1991 Research Associate, Agriculture Canada Research Station Project: Genetics of resistance to acaricides in European Red Mites on apples.
1987-1989 M.Sc. (Zoology) University of Guelph
Fellowships
Fellowships
Marie Curie Incoming International Fellowship, 2004-2006 (Declined)
NERC Advanced Research Fellowship, University of Glasgow, 2004-2009
NSERC University Faculty Award, University of Guelph, 2000-2005
Izaak Walton Killam Memorial Fellowship, University of British Columbia, 1996-1998
Teaching Responsibilities
Teaching Responsibilities
MSc in Quantitative Skills in Biodiversity, Conservation & Animal Welfare: Programme Co-ordinator; teach Key Research Skills and Molecular Methods in DNA Barcoding
L2b Evolutionary Biology: Course Co-ordinator
Also contribute lectures in: L3 Genetics (lectures on molecular evolutionary genetics); L4 Evolution
Research Interests
Research Interests
Research in my laboratory is directed towards understanding how changes at the molecular level affect cellular and whole organism processes in a wide range of organisms (Figure 1). My main focus has been study of the genetic and ecological consequences of a particularly extreme form of genetic change- whole genome duplication or polyploidy- but I am also interested in the consequences of gene duplication at the level of gene families that control recognition processes involved in adaptation, such as plant self-incompatibility systems (SI), plant resistance genes and the vertebrate Major Histocompatibilty Complex (MHC). I am particularly interested in how such genomic changes affect interactions between organisms, such as mate choice and pathogen response. My own research has concentrated on three major areas: 1) the evolutionary dynamics of gene families involved in recognition systems; 2) the causes and consequences of changes in mating systems for genetic diversity and adaptation; and 3) the consequences of mating system variation and polyploidy for mate recognition and pathogen response.

Research within the group has also focused on a wider range of other topics, focused on conservation genetics, adaptation to changing environments, and host-pathogen interactions, mostly through collaborative PhD projects. I have also supervised master's and undergraduate projects on a wide range of subjects.



Figure 1. Polyploidy in (a) Hyla versicolor, (b) Saccharomyces cerevisiae, and (c) Arabidopsis lyrata.
Current Research
Current Research
Most of the research in my laboratory is currently focused on understanding the adaptive dynamics of plants in variable environments. In particular, I am interested in the effects of mating systems (i.e. inbreeding vs outcrossing) and ploidy level (i.e. diploid vs tetraploid) on the ability of plants to tolerate or adapt to changes in the abiotic and the biotic (e.g. changes in pathogen pressures or proximity to competitors) environments.

We have been using A. lyrata as a model to investigate how mating system and polyploidy affect pathogen response systems. We have been focusing on particular oomycete pathogens (causing white blister rust and downy mildew) that are known to be problematic for cultivated species of Brassicaceae and for which candidate genes for resistance have been previously characterised in Arabidopsis thaliana. We have been investigating variation in resistance to pathogens in plants sampled from across their European range (where the plants are known to vary in ploidy level) and in the Great Lakes region of Eastern North America (where the plants are known to vary in mating system) and investigating the prevalence of the pathogens in native environments and variation in candidate resistance genes. We have also been using RAD sequencing to enable comparison of genome-wide patterns of variation in neutral genes with those that might be involved in adaptation. This research is currently funded by a grant from NERC, in collaboration with Eric Holub, from the University of Warwick. The project has involved three postdoctoral researchers (Volkan Cevik and Joana Vicente, Warwick; James Buckley, Glasgow), and three research technicians (Aileen Adam, Elizabeth Kilbride, Ryan Carter).

We are also using the University field station on Loch Lomond (SCENE) to pilot use of outdoor experimental nurseries to use a common garden garden approach to investigate the ability of plants with different ploidy and mating systems to adapt to novel and variable environmental conditions (Figure 2).
| | |
| --- | --- |
| | |
Figure 2. Experimental nursery at SCENE showing natural variation in climatic conditions.