Prof Dan Haydon
Prof Dan Haydon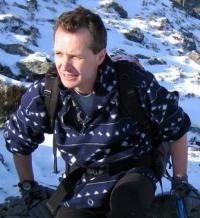 Professor of Population Ecology and Epidemiology
Institute of Biodiversity, Animal Health and Comparative Medicine
College of Medicine, Veterinary & Life Sciences
Graham Kerr Building
University of Glasgow
Glasgow, G12 8QQ
Tel.: +44 (0)141 330 5843
Email: daniel.haydon@glasgow.ac.uk
Academic History
Academic History
Current: Professor of Population Ecology & Epidemiology (Appointed as Lecturer in 2004, promoted to Professor in 2007 and to Director of Institute in 2010)
2001-2004: PDRA: University of Guelph
1998-2001: PDRA: University of Edinburgh
1996-1998: PDRA: University of British Columbia
1993-1996: PDRA: University of Oxford
1992-1993: PDRA: University of Texas at Austin
1987-1992: Ph.D. (Zoology) University of Texas at Austin
1983-1986: B.Sc. (Biology and Oceanography) University of Southampton
Research Interests
Research Interests
I am interested in just about any ecological process - regardless of the scale at which it occurs. Whether it is how an RNA virus adopts a particular replication strategy within a single cell, how a malaria or trypanosome parasite is regulated within a host, why some populations cycle, why multiple populations cycle synchronously together, how metapopulations persist, how landscape heterogeneity is maintained by disturbance, or how complexity influences ecological stability–these are all more and less obviously problems that benefit from a fundamentally ecological and quantitative (if not mathematical) approach.
Systems approaches to ecology and epidemiology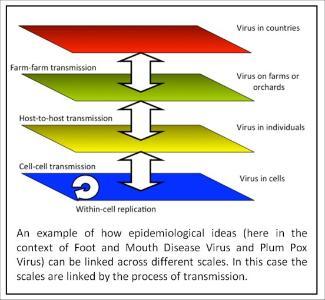 A modern 'systems' approach that imposes a multi-scale perspective on research formulation is now increasingly advocated and adopted across the biological sciences. To ecologists, this is how we've always studied complexity. A multi-scale perspective has two major advantages: First, it broadens the community of scientists one deals with in tackling a particular problem, forcing interdisciplinary communication, which of course is always a good thing. Second, it is often the case that while we have questions about a pattern or process at one scale, data can only, or are most easily gathered, at another. In these cases a multi-scale approach, in which we use models to link what we see at one scale to predictions at another, is essential.
Science with impact
Although I started off with, and remain fascinated by purely theoretical ecological problems (was MacArthur really right in his 1955 paper? What sort of community dynamics really are the most indeterminate?); I am increasingly persuaded that as scientists we need to deliver on a shorter time-scale. There is an abundance of fascinating science to be done on and in systems that actually matter to public and animal health, to conservation science, and to the sustainable exploitation of renewable resources. Now much of my work is quite applied, although I'd always be interested to hear from any potential student or fellow with more abstract interests.
Research teams
A consequence of truly interdisciplinary science is that it requires real teamwork and communication. My research activities are woven closely together with those of colleagues here in the Institute and throughout the College, the University, and external partners. The concept of the 'research group' is perhaps dating fast, no single 'group-leader' can possibly encompass the range of skills required for a really modern approach to biological problem solving. Here, we build specifically formulated teams to address particular problems. Most of our PhD students are multiply supervised with appropriate combinations of ecologists, epidemiologists, veterinarians, mathematicians, programmers and statisticians.
The research environment
The organization is a little complex. We are one of seven research Institutes in the College of Medical, Veterinary & Life Sciences. But cutting across these Institutes and indeed other Colleges within the University are a number of Centres that coordinate interdisciplinary research. These include the Boyd Orr Centre for Population and Ecosystem Health, Glasgow Centre for International Development and Glasgow Sustainable Development Network to name just a few. We also work very closely with a number of external organizations that includes: the James Hutton Institute, Millport Marine Biological Station, the Moredun Research Institute, and the Institute for Animal Health. The availability of such a broad range of expertize means that we can address a broad range of research questions in new ways. It makes for a very dynamic and vibrant research environment.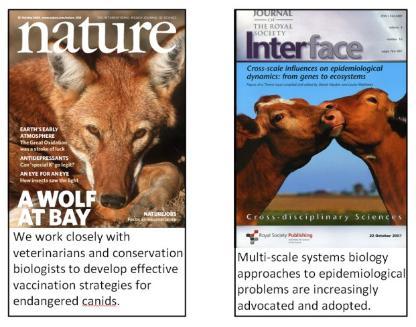 Specific Research Interests
These interests might usefully be described in terms of those I am doing, and then additional areas I'd like to work more in.
Starting with the latter:
I am very interested in how to model animal movement using the rapidly developing technologies to tag and track individuals, and how such models of animal movement may better inform the way populations use space.
I would like to continue to work on the use of metapopulation models to study epidemiological questions, particularly those focusing on pathogen persistence, synchrony, and Critical Community Size.
I would love to become more involved in microbial community ecology and the management of antibiotic susceptibility.
I have a long-standing interest in understanding the relationship between stability and complexity in model ecosystems and factors that modulate this relationship, and the origins of ecological indeterminancy.
I am very interested in the measurement of pathogen cross-reactivity and the polyclonal antibody response to viruses.
I have a latent interest in the spatial ecology of lichens.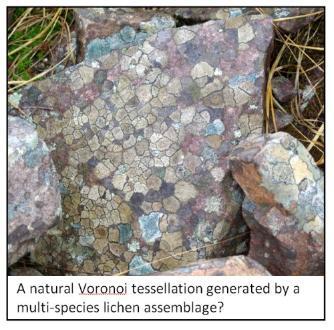 You can read a rather long interview about some of my research interests here. Possibly a bit blunt in places
Professional Associations