Dr Ciara Keating
Research Associate

(Institute of Biodiversity Animal Health & Comparative Medicine)
email: Ciara.Keating@glasgow.ac.uk
School of Engineering
https://orcid.org/0000-0001-9199-3068
Research interests
Biography
I am a trained microbiologist (BSc from the National University of Ireland, Galway). It was here at NUIG that sparked my interest in environmental microbiology and using the power of microbes for good. My primary research focus is on the application of microorganisms to biological waste remediation. I obtained a PhD from NUI Galway in 2015 on my work on the microbiology of low temperature anaerobic digestion waste treatment systems. In anaerobic digestion a wide variety of microbes (grouped according to 'job/function') degrade organic material in the absence of oxygen and produce methane gas. This methane gas can be used as a form of renewable energy. Turning our waste into energy and recycling nutrients is a win/win. Globally, as we try to reduce our reliance on fossil fuels these technologies can be a key player in helping us achieve a sustainable future. My research vision is to understand and harness the true potential of the microbes underpinning the process so that we can develop more robust and resilient treatment systems in the field.
Current Research
My aim is to develop novel methodologies so that we may better understand key microorganisms in the AD process. This is difficult as oxygen is toxic to these microorganisms. In my role as PDRA at the Water and Environment Group I have developed a platform for real-time growth analysis of anaerobic microorganisms. Through a collaboration with biomedical engineers we have explored the use of microfluidic devices within this system for the analysis of single cells. We can use this platform to understand the complex cell-cell interactions of the species responsible for methane production in order to improve the process at the macro-scale. This represents a step change in lab-based methodologies for these difficult to grow microorganisms. I have been recently been awarded a small internal grant (£1367) to explore a salt-tolerant methanogenic species for saline remediation.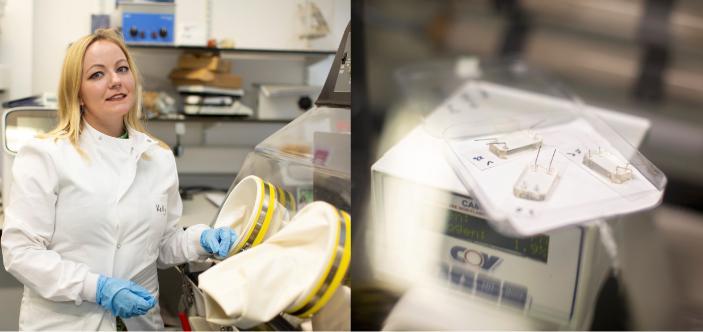 Asian Institute of Technology collaboration
At the University of Glasgow I am involved in a collaboration with the Asian Institute of Technology. This work looks to understand the microbiome of decentralised waste treatment systems.