Quick links
Research Professionals' Hub
To enable collaborative working, meet peers and facilitate easier access to ARC residents and events we have established a base for those that support research across the University on level 4 of the ARC, the Research Professionals' Hub.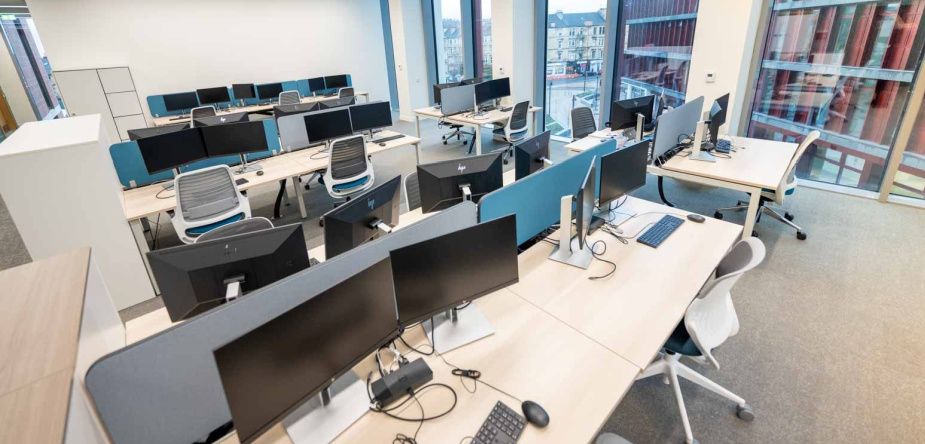 The Research Professionals' Hub consists of 14 desks which include dual monitors and docking stations. The Hub provides a base for those that may have multiple meetings in the ARC, ensuring there is a fully functional working environment for you to use.
The Hub shares an open plan area with colleagues from the Centre for Sustainable Solutions and the GALLANT project.
It includes several lockers, available for use via the app (more information provided below) and is in close proximity to a shared kitchen.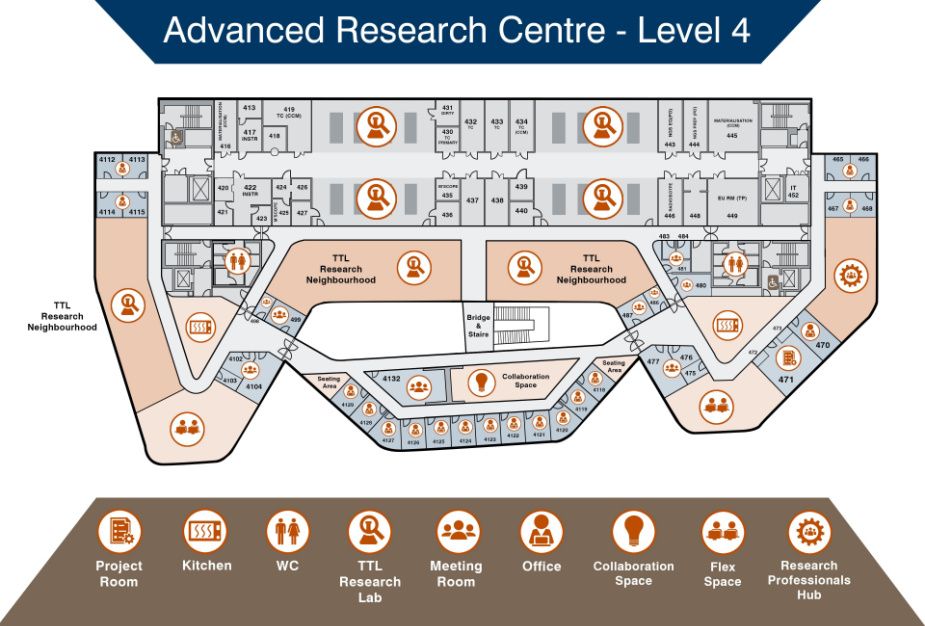 Quick links
Accessing the Hub working space on level 4
Your staff card will allow access to floors 3 through to 5 in the ARC via the salto access system.
If you are accessing level 4 for the first time you may need to update your staff card on the card reader outside the main entrance to the ARC, there is a black box (card reader) near the accessible door for the ARC. If you still have issues accessing the spaces you can speak to reception or email arc-reception@glasgow.ac.uk.
Note that the main doors to the ARC are automatically unlocked from 8am to 8pm Monday to Friday. If you require out-of-hours access to the building, please contact arc-reception@glasgow.ac.uk as a first step.
We recommend that you store any items of value in one of the lockers when away from your desk.
Hub layout and desk numbers
The Research Professionals' Hub is outlined in green and blue in the layout below.
The green area includes height adjustable desks. The blue area indicates fixed height desks.
The Red area indicates Gallant fixed height desk spaces.
You may wish to refer to this information when booking a desk:
Booking a desk
To guarantee a space desks should be booked in advance at the UofG Helpdesk.
Some things to note:
If you do turn up to work without booking a desk then please be aware that you will need to move to another desk should a colleague turn up with a booking for that particular desk. Please do not expect colleagues who have booked to use another desk.
Desks can be booked up to 2 weeks in advance. You can make multiple bookings at once.
Desks can be booked in half day slots, mornings (9am to 1pm), and afternoons (1pm to 5pm).
The Hub is not a space for Colleges or Services to block book for training or team building purposes.
Users are responsible for ensuring their hardware is compatible with the docking stations provided. I.e. USB-C compatible.
Meeting rooms and project rooms on levels 3 – 5 of the ARC are not currently available to non-residents, however you can contact arc-reception@glasgow.ac.uk to enquire about availability. Meeting rooms on level 2 are available to all for booking via central time-tabling (more information below).
There is flex space and collaborative space which is open to use and non-bookable. Please be considerate to other users when using this space and ensure spaces are not monopolised for large periods of time.
If you need help with desk booking, contact arc-reception@glasgow.ac.uk.
A password for the booking system can be supplied by your College/ Service:
Getting connected
All desks are equipped with dual monitors and docking stations.
If you need to use wifi then you can find details of how to connect to Eduroam at IT services.
Contact arc-itsupport@glasgow.ac.uk if you have any connectivity issues.
Conducting hybrid meetings
All meeting rooms on level 2 support hybrid meetings. These rooms can be booked by submitting a Non-Teaching Booking form available via the UofG Helpdesk (more information below).
If you are joining an online meetings at your desk, a headset must be worn.
Booking meeting rooms
At this time, only ARC residents can book the meeting rooms on level 3-5. If you are using the Hub and also need meeting space then please book a meeting room on level 2.
Access to the meeting spaces you need, when you need them, is important. Follow these simple steps to ensure a smooth running system and avoid a frustrating work experience:
Right space, right size. Choose a space of the correct size for your meeting, and don't occupy rooms larger than you need.
Cancel rooms when no longer required. You may not now need the space, but a colleague might.
Be on time. As a general rule of thumb, it's not unreasonable to regard rooms not occupied within 15 minutes of the meeting start time as available for others to use.
Available meeting spaces in the ARC are:
Larger meeting rooms 223 (capacity 16-18), 224 (capacity 8-10) and 225 (capacity 16-18)
Smaller meeting rooms 242, 243 and 244 adjacent to the main seminar room (capacity 4, 4 and 8 respectively)
These are bookable by all UofG staff for research related activity.
Meeting rooms can be booked by:
Submitting a Non-Teaching Booking form available via the UofG Helpdesk:
Log into the UofG Helpdesk
Use the search box for 'Room Booking: Non-Teaching'
Complete the form selecting the ARC and the preferred room plus any other requirements
Requests should be submitted at least 24 hours in advance. Timetabling will reply or confirm all bookings within 24 business hours.
Seminar and engagement spaces – level 2
The Seminar Suite (237A, B & C), Studio 2 and the Exhibition Space are available for collaborative research events, public engagement, networking and key UofG strategic activity.
They can be booked by all UofG staff following an initial conversation with the ARC Events and Engagement Manager, Casi Dylan (casi.dylan@glasgow.ac.uk) and completion of the ARC Engagement & Events proposal form. These are curated, public-facing spaces, and are not intended for hosting regular internal meetings.
Lockers
You will need to download the app to use the lockers in the ARC. The app is called 'Releezeme locker app' or 'Vecos' and you can download these from Google play or Apple store.
Locker instructions:
Download the Releezeme locker or Vecos app
On the locker bank, press 'Link my phone', this will provide you with a QR code that needs to be scanned within the Releezeme app.
The app will ask you to register with an email address. Please use your UofG email address.
Go to your emails and locate the email sent to you by the Releezeme app. This may take a few minutes to come through. Click on the email and select the link within this email that confirms the registration of your device.
This will take you to a web page where you will need to confirm again that you are registering a new device. Press 'confirmation registration.' This will take you to another page where you will need to click the link to take you back to the app.
Once in the app select 'reserve a locker' and then 'ARC building'. Then floor you wish to have a locker on and the select your desired locker from the list. The lockers are organised into banks, select the banks until you see the lockers that you require
If at this point the app advises there are no lockers available in the ARC, please go to reception and this issue can be fixed there.
The app will then advise you that you now have the locker, press open. At this point you will have 10 seconds to open the locker. The easiest way to do this is to press down on the number in the corner of the locker and the door should bounce open.
Once you have placed your belongings in the locker close the door. This locker is now registered to you. You can visit the locker as many times as you want through the app, and you can retain the same locker for as long as you like.
Once you are finished using the locker for good then you must release the locker on the app and that locker will no longer be registered to you once this is done.
If you would like your staff/ student card linked to your locker account, then please visit reception and this can be done for you. It is recommended that when you first obtain a locker that you do this through the app as this gives you the ability to choose which locker. If you use your card in the first instance, then it will allocate you a locker that might be further away from where you are working than you would like. Once you have obtained a locker through the app you will be able to open and close the locker with the use of your card.
If you have any issues with the lockers or are unable to retrieve your belongings, then please go to reception and they will be able to open your locker for you.
Principles of use
Working in a new space is exciting and also challenging. We've suggested some ideas around workplace etiquette, also known as principles of use, to help each other get the most out of our new space.
These principles are designed to enhance our interactions, respect our privacy needs and promote effective use of our shared resources with tips for everyone to use to get the benefit of the new space.
What if things aren't working well?
While we all adjust the way we have been used to working, issues can arise. Try having a chat as individuals or as a team as questions arise. If you have any thoughts on the space and how it is being used then please contact ARC Management.
Our principles of use:
Private/sensitive conversations:
where possible, sensitive conversations related to salary or personal information should take place in one of the meeting rooms or in a quiet space within the ARC.
where this is not possible, be mindful that staff from across the University may be within earshot so be careful what you say in an open-plan setting.
it is perfectly acceptable to hold a non-private/sensitive meeting at your desk or any of the open-plan collaborative work spaces. If using Teams or Zoom at your desk, wear a headset so your colleagues are only hearing one side of the conversation.
Kitchen use:
remember that the kitchen is a shared space so please keep it clean for others to use and enjoy.
wash up any items you use and put them away in the cupboards, or pop them in the dishwasher.
if you make use of the coffee machine, empty the drip tray at the end of your working day.
if you notice the dishwasher is full, pop in a cleaning tablet and turn it on.
if you notice the dishwasher needs emptying, take 5 mins to empty it.
clean up any spillages or crumbs, both by the tea/coffee making area and on the kitchen/bar area.
You will need to supply your own milk, please do not use other's without their permission.
Do not use the kitchen as a workspace or general social space – others may need the space to eat food.
Desk use:
when you have finished using a desk for the day ensure it is left clean and clear for the next user.
do not leave any personal items on desks overnight. Take them home or store them in a locker.
please don't eat over your keyboard. The keyboards are used by others and no-one wants to come in and use a keyboard full of crumbs!
Sound travels. Here are a few ways you can help keep the workplace from becoming too noisy:
Move to a collaboration or flex space. If you are having a lengthy conversation with more than one colleague then please consider moving to a quieter spot. Remember you don't need to do everything at a desk anymore. There are a variety of enclosed and open spaces on level 4, so try moving to one of the collaboration or flex areas.
Use an "indoor voice". Try to speak in a moderate tone, especially when you are on the phone.
Never use a speakerphone in the open office. Keep mobile phone ring tones at an appropriate level and turn off unnecessary technology sounds which may disturb others.
Be mindful of others around you. Head to a kitchen area or collaboration zone if discussions are likely to become lively and animated.
Quiet time/space. If you need some focus time on your own then:
Move to the flex space. Just like working in a coffee shop, the 'flex spaces' around the ARC provide space where you can spend time to be anonymous, avoid interruptions and have a private chat.
Use headphones to signal when you are busy or when you simply need to concentrate without being disturbed – and look out for others doing the same!
Microsoft Teams: update your status to show where you are on campus.
Share your Outlook calendar with your colleague. Update your calendar to show your whereabouts including working from home or if you are at another location.
If you are using the Hub then help colleagues to connect with you by ensuring they know where you are.
Let's maintain a clean and tidy experience for employees and visitors.
Clear up after yourself and leave rooms/areas in a clean condition for the next users. Remember to take empty cups and rubbish with you and restore furniture to their original settings.
Erase all whiteboards and writable glass after use. Cleaning wipes will be provided.
Return crockery and cutlery to the kitchen. Load the dishwasher or wash-up. Washing-up liquid will be provided in the kitchens.
Plants should be appropriately placed in communal areas such as on storage units or shelves around your neighbourhood leaving clear access and walkways. Don't forget it is your responsibility to water plants brought into the office. Please ensure the furnishings are protected particularly when watering plants.
It's our responsibility to keep the fridges clean, so throw out unwanted items and mop up spills. Report any stains or damage immediately to reception.
Happy and healthy. There's lots to think about when we work in a new environment, take time to adjust to your new desk space:
Properly adjust your chair so that you can be seated comfortably with feet flat on the floor.
Set your keyboard to allow for a minimal bend at the wrist, with relaxed forearms and elbows close to your sides.
Adjust your monitors to reduce screen glare and improve viewing distances.
Research shows that changing postures throughout the day is physically energising and mentally stimulating, supporting different work modes and overall wellbeing.
Take regular breaks, use the sit-to-stand desks to adjust your posture, and walk around and explore our new office space and the facilities around ARC.
Familiarise yourselves with the evacuation procedures, and your nearest emergency exit.
Security. Office security is an important factor to consider when working within a shared office building. Here are a few things to keep in mind:
Wear your lanyard and staff card at all times.
Download and use the Safe Zone app particularly when working out of hours.
Lock your personal belongings into a locker.
Ensure sensitive information is not left on your desk or visible on your screens, remember to Lock your laptop when you walk away.