CAMPUS SECURITY TEAM
The University of Glasgow's Campus Security team is responsible for creating and maintaining an environment within which students and staff can study, work and live safely.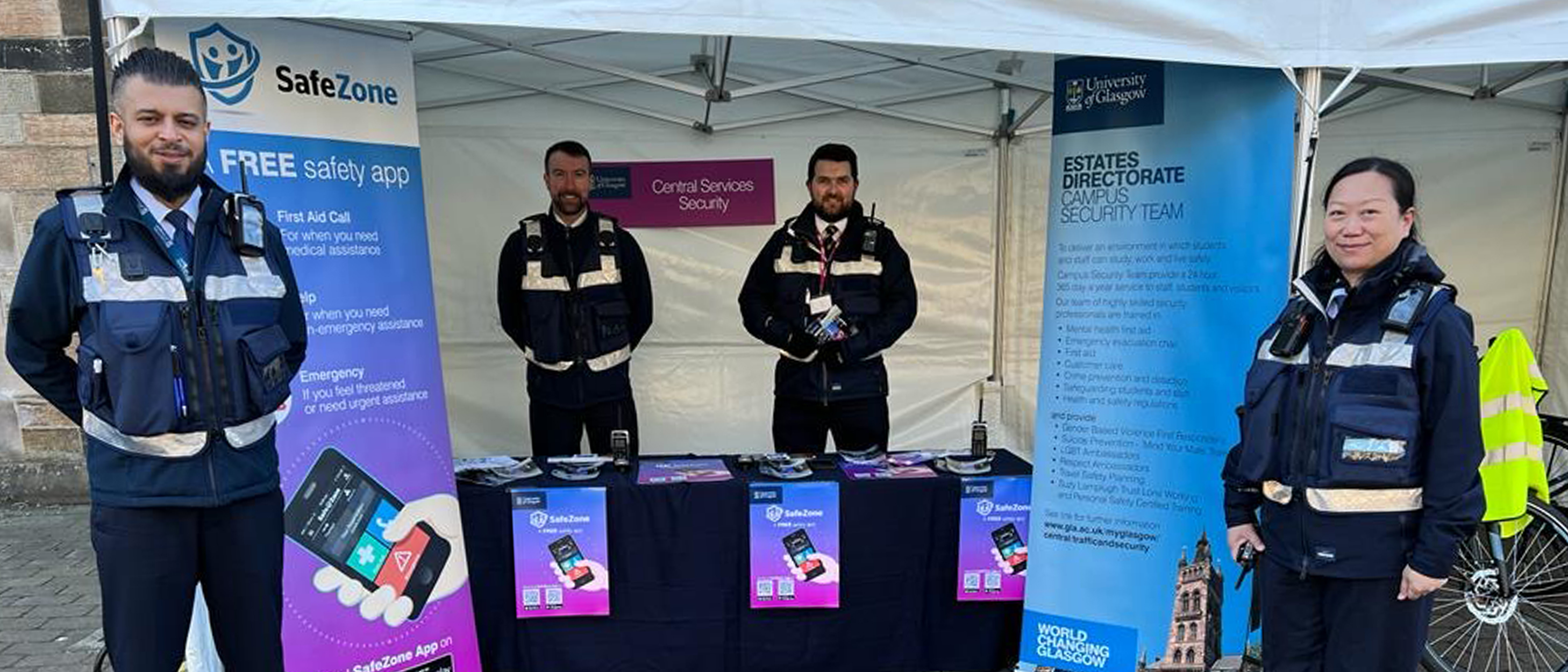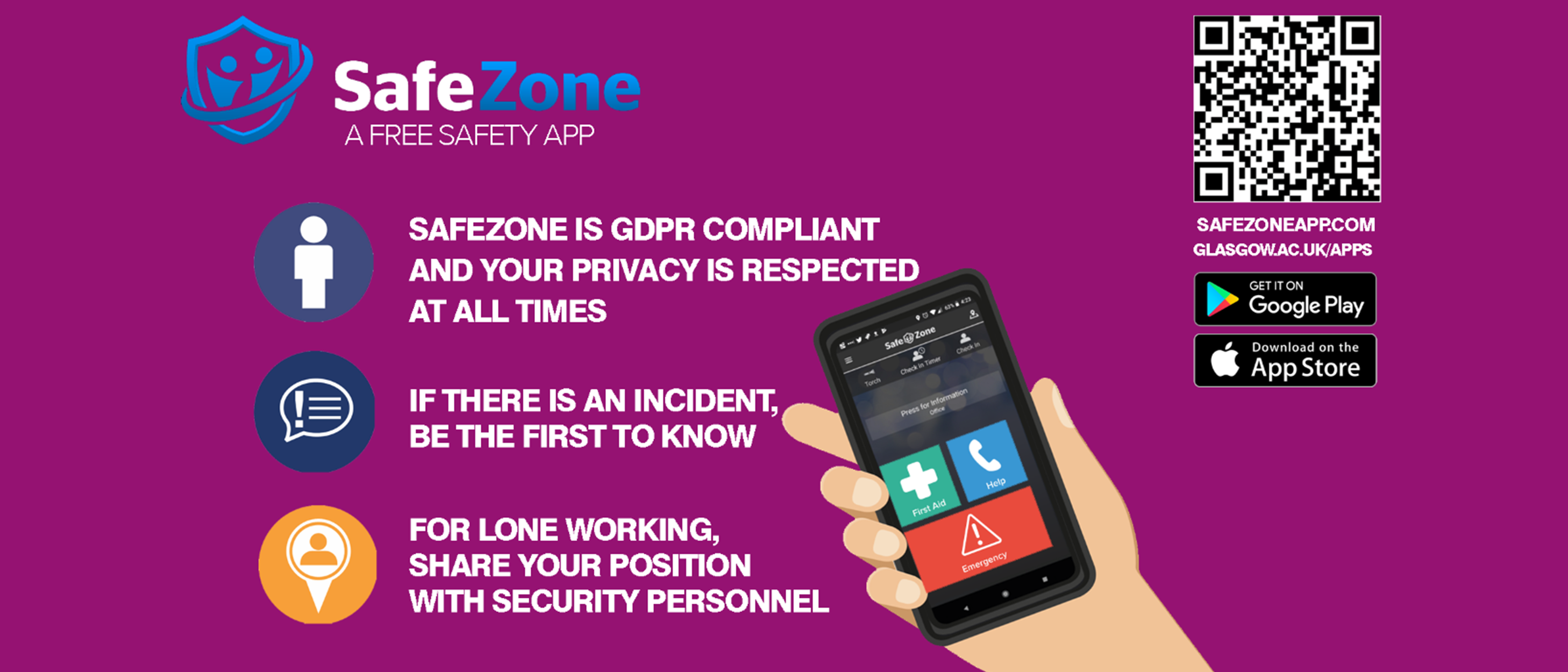 SafeZone App
A must have for every member of staff and student at the UofG, the SafeZone App is an app that is monitored 24 hours a day by the Campus Security team ensuring the safety and security of our staff and students - whether it be on campus, at halls or anywhere in between.
Download UofG SafeZone App
The SafeZone App is a way of helping ensure staff and students feel safe and secure throughout their time at UofG. Although it is primarily designed for o working, much of its functionality is still useful for the Covid-19 and lockdown world we are finding ourselves in.
The main functions of the SafeZone App:
The blue button is for general enquiries if you have any questions or need help in a non-emergency situation, such as you're a little lost.
The red button is for emergencies and shares your location with the security team so they can find and assist you as quickly as possible.
There's also the option to call emergency services. If you are not within range of the campus the app will give you the option to call 999, but the security team here at UofG will still be alerted and they'll get in touch to check if you're okay.
The green button is for first aid if you or someone around you needs medical assistance.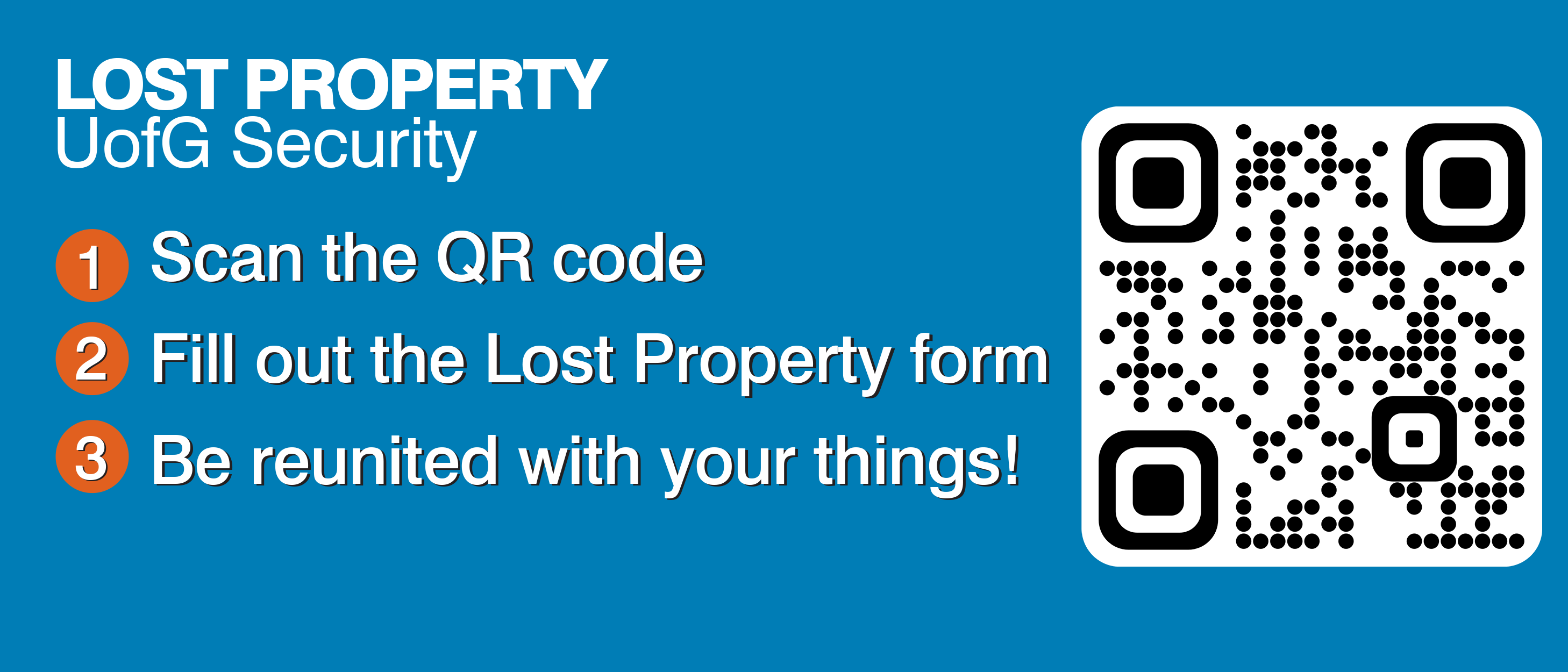 Lost Property
The Campus Security team has developed a new Lost Property system to help our UofG community get reunited with their items.
Colleagues, students, and members of the public can now log their lost property on a new online system.
The process is very simple:
Scan the QR code or follow the link to log your lost property (above)

Fill out the lost property form

Be reunited with your things!
Security Management Team
Head of Security and Logistics
Mr Gary Stephen
Tel: 0141 330 2766
Security Operations Managers
Mr Gerry Moore
Miss Claire Lowe
Email: security-management-team@glasgow.ac.uk
Tel: 0141 330 5252/0362