UofG lends expertise to higher and further education carbon footprint report
A team from the University of Glasgow has contributed to the first-ever profile of the UK higher and further education sector's carbon footprint.

Professor Jaime Toney, of the Centre for Sustainable Solutions and the School of Geographical and Earth Sciences, and Dr Stewart Miller, the University's sustainability manager, played roles in the preparation of the Royal Anniversary Trust's "Accelerating towards Net Zero" report.

The report is an ambitious roadmap for carbon reduction in the tertiary education sector. It offers a robust profile of the tertiary education sector's carbon footprint using detailed modelling which highlights target areas for emissions reporting and reduction.

It also proposes a new standardised carbon reporting framework designed exclusively for the sector which will enable all HE and FE institutions to measure, report and manage carbon emissions.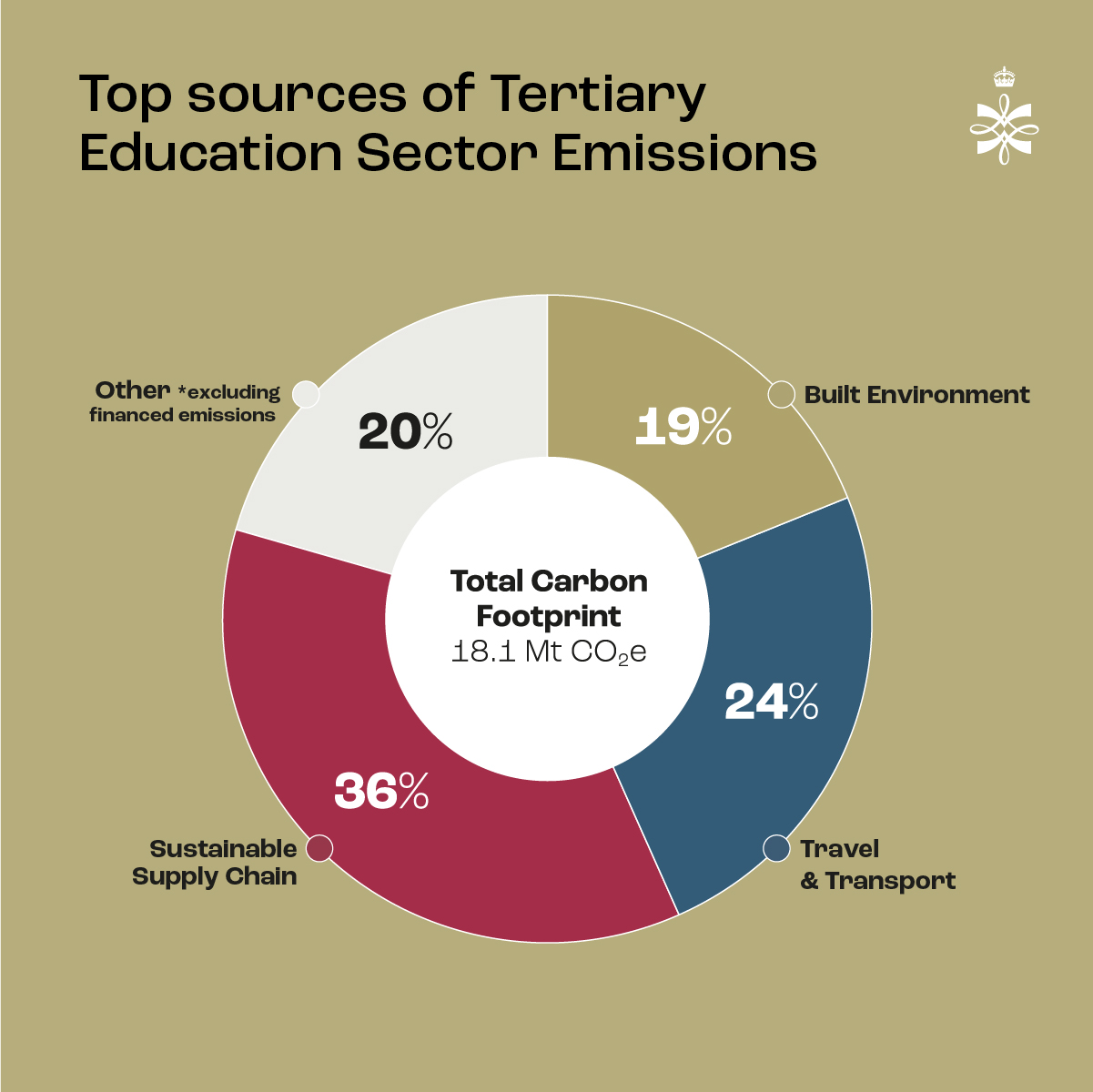 It is the result of a year-long research project – The Platinum Jubilee Challenge – led by 21 higher and further education institutes from across the UK, all recent winners of the prestigious Queen's Anniversary Prize.

It concludes with 14 clear recommendations to Government and priorities for the sector that will accelerate progress towards Net Zero; Ministers have committed to responding by 28th March, 2023.

Professor Toney said: "In 2022, Stewart and I joined a group of sustainability leads to participate in the Queen's Platinum Jubilee Challenge, providing advice and expertise on how the sector can progress toward Net Zero in the wake of the global climate emergency.

"Stewart and I joined other Challenge participants in a four-day residential workshop and subsequent working groups that aimed to identify clear net zero emissions principles and a sector-wide decarbonisation roadmap and review and test the Environmental Association for Universities and Colleges' Emissions Reporting Framework.

"Together, we worked on drafting the content of the overall report. I was part of the Offsetting and Carbon Sequestration working group, while Stewart joined the Travel and Transport working group.

"We're proud to have been a part of putting together this important report, which highlights to the UK Government what is needed for HE and FE sector to accelerate its contribution to Net Zero. It also provides an invaluable resource to accelerate a sector-wide approach."

Kristina Murrin, CEO of The Royal Anniversary Trust commented: "Our ambition was to bring together the extraordinary winners of the Queen's Anniversary Prizes to collectively tackle a tough shared challenge. The resulting report sets out a clear action plan for the tertiary education sector to accelerate progress to Net Zero, with recommendations for institutions and government. We are enormously proud of the proposed carbon reporting Framework – if adopted sector-wide, this will allow for consistent, transparent, and data-led decision making."
Education Secretary Gillian Keegan said: "The fight against climate change is one we will only win if we all work together. The UK's world-leading higher education and further education sectors are creating a pipeline of talent to fill the key skills gaps that will be vital to our national response to climate change. Institutions from across the UK are working together towards our common goal to be net-zero and I am hugely grateful for their work to date.

"I also want to thank the Royal Anniversary Trust for their recommendations to both the sector and Government. These will be carefully considered and we look forward to responding formally later this year."
---
First published: 23 January 2023