21st Century Technology Delivers History & Literature Lesson on Scotland's National Bard!
Published: 25 January 2021
Dr Pauline Mackay from the University of Glasgow's Centre for Robert Burns Studies has worked with edify VR experts to create a virtual lesson on Robert Burns' Tam o' Shanter poem.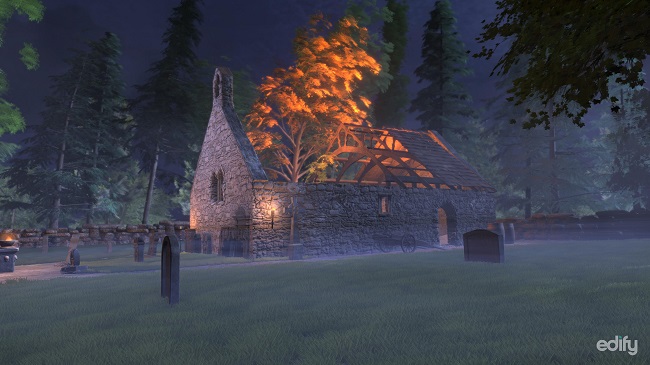 Ever thought how marvellous it would be to drop into one of Robert Burns' poems to see part of the story unfold?
Or get a live lesson from the comfort of your armchair on one of Burns' iconic poems from a leading expert on Scotland's national bard?
Or how about travelling back in time to Alloway Kirk in the 18th century on a strange haunted night similar to the one encountered by Burns' popular character, Tam o' Shanter?
Now thanks to new virtual reality (VR) education platform edify developed through a partnership between the University of Glasgow and Sublime you will soon be able to do just that.
Dr Pauline Mackay from the University of Glasgow's Centre for Robert Burns Studies has worked with edify VR experts to create a virtual lesson on Scotland's national bard.
Dr Mackay is now able to teach live lessons about the material culture that has been generated by Burns' fame - and specifically by his supernatural epic Tam o' Shanter - to an international audience from her virtual classroom at Alloway Auld Kirk in Ayrshire, Scotland.
The first live virtual lesson, via Zoom, will take place on Saturday 30 January 2021 and it is hoped this will be the first in a series to a broad international audience of school children, students, academics and Burns' admirers.
In lockdown popular communications platforms like Zoom and Microsoft Teams have come into their own allowing many students to be taught remotely. Edify has combined VR technology and video conferencing to allow teachers and students to explore and learn in virtual environments.
Through the edify platform, anyone is able to dial-in to an instructor's 3D lab or classroom environment, via these popular communications platforms.
Dr Mackay said: "Edify's immersive technology will enable a host of relevant objects from disparate locations to be brought together and examined in the context of Burns's most iconic poem, 'Tam o' Shanter', in the environment that inspired the work, Alloway Auld Kirk, complete with the resplendent imagery of the poem.
"In a sense, it enables us to create a comprehensive 'site of memory', which is a real game changer in terms of the way we teach memory studies, and for the way people learn about the legacy and commemoration of important literary and historical figures.
"The possibilities for the implementation of this model in education, culture and heritage are limitless."
The Burns lesson using 'Tam o' Shanter' is the latest VR classroom to be created on the platform. It is also being used for students studying topics including physics, history and anatomy.
Fergus Bruce, edify's Director of Education Partnerships said: "During this most unusual of Burns seasons, it is very exciting to be working with a world authority and superlative educator like Dr. Mackay to bring his work to life using the superpowers offered by immersive technology.
"VR allows teachers and students alike to go anywhere, and to do anything when you get there. Edify's mission is to enable anybody with internet access to learn using the enormous flexibility, scope, and nuance these superpowers deliver, and we are thrilled to be continuing our partnership with the University as we roll edify out to teachers, students, and institutions world-wide.
"To mark this weekend's event - and as a part of our ongoing effort to make innovative new teaching technology available and accessible as widely as possible - we are also offering test access to edify to any secondary school in Scotland until the end of the spring term."
As well as being able to take part in a lesson on 'Tam o' Shanter' from the virtual Alloway Auld Kirk, students will also be able to discover more about the growth of the popularity of Robert Burns and his poetry, after his death, through their memorialisation in material culture (everything from relics, to souvenirs and domestic objects).
To realise this Dr Mackay and edify have worked closely with the National Trust for Scotland Robert Burns Birthplace Museum.
Dr David Hopes, Head of Collections and Interiors for the National Trust for Scotland, said: "As custodians of the birthplace of Burns and the setting for his great poem, Tam o' Shanter, The National Trust for Scotland is delighted to be involved in this cutting-edge initiative to make the place and its unique material heritage available for learning and inspiration."
---
For more information contact Áine Allardyce, Communications Manager, External Relations, University of Glasgow on email aine.allardyce@glasgow.ac.uk or Fergus Bruce at edify on email fergus@sublime.cc


Edify & The University of Glasgow Virtual Lesson
Edify & The University of Glasgow presents…. 'Burns Beyond Reality' - A VR storytelling of 'Tam O'Shanter' virtual lesson takes place on Saturday 30 January 2021 starting at 7pm. The event is free, but places to the interactive session are limited, so register your interest now at Eventbrite.
The Centre for Robert Burns Studies
The Centre for Robert Burns Studies at the University of Glasgow has the biggest concentration of Burns experts in the world. It was established in July 2007. Its mission is the development of research, scholarship and teaching around Robert Burns, his cultural period and related literature. Follow the Centre for Robert Burns Studies on Twitter @GlasgowBurns
Tam o' Shanter
In 'Tam o' Shanter' Robert Burns paints a vivid picture of sociability and folklore in the late 18th century. Tam o' Shanter's eventful ride home continues to stimulate the public imagination in Scotland and beyond. For generations, Scottish schoolchildren have thrust new life into the poem through ceremonial recitals and dramatic re-enactments. In 2012, a YouGov survey (conducted as part of the Year of Creative Scotland) declared Tam o' Shanter as 'the nation's favourite' Burns poem. Read the Centre for Robert Burns Studies blog on the poem here.
Click on the BBC Scotland website pages to listen to 'Tam o' Shanter' being recited by some of Scotland's best-known actors (recorded for the BBC Scotland website): Tam o' Shanter – BBC Robert Burns
Edify and Sublime
Edify is an immersive learning platform who mission is to deliver 'learning without limits, and to realise the enormous potential VR holds for educators and students of all kinds – particularly in a time when students and teachers are separated from one another. Edify is committed to grow into a platform that will enable anybody with internet access to obtain an affordable and personalised education.
Sublime is pioneering the future of Digital Realities (Virtual Reality & Augmented Reality) with a range of solutions covering hardware, software, and content. Sublime's solutions are aimed at transforming the worlds of work and learning, enhancing human capabilities, and providing next-level immersive experiences.
First published: 25 January 2021