The first appearance of Auld Lang Syne is studied by UofG academics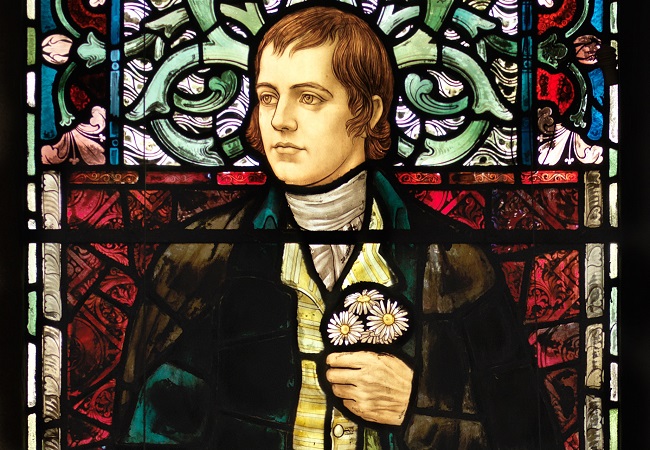 It is a poem synonymous with Scotland's national bard, Robert Burns.
And today Auld Lang Syne has become an anthem sung around the world at New Year.
But surprisingly the way we know it today is thanks to his second song editor, George Thomson, and not to the bard himself.
Now the relationship between Burns and Thomson is receiving its first detailed scrutiny by academics at the University of Glasgow's Centre for Robert Burns Studies.
In 4th volume of The Oxford Edition of the Works of Robert Burns, due to be published in February, Professor Kirsteen McCue has looked at Burns' songs for George Thomson.
Professor McCue, who is Professor of Scottish Literature and Song Culture and Co -Director of the Centre for Robert Burns Studies at the University of Glasgow, said: "Burns' relationship with his second song editor, Thomson, was a stormy one, and Thomson is seen as a 'bad boy' in the Burns story.
"Thomson is accused of changing Burns' texts and choosing different tunes for Burns' songs, after the poet's death in 1796 and of making lots of money from the proceeds, after having failed to pay Burns for all his work. Burns, in fact, often mixed and matched songs and tunes himself and he forcefully refused to accept payment from Thomson. But the battle against Thomson has raged to this day."
But Professor McCue, a talented singer in her own right, states that it was thanks to Thomson's combining the Auld Lang Syne text with a different tune that we have ended up with the version known around the world today.
It's also the first time, since their original publications, that the songs Burns produced for Thomson have been presented as they were seen by Thomson's readership in the 18th century. The new volume also has detailed notes and commentary so that we can see this creative collaboration in all its detail.
The letters between the poet and Thomson reveal to us what Burns thought of specific songs and tunes and even tell us how he wrote a song.
They explain a great deal about why Burns' passion for songs was so important to his artistic work, and why they took up so much of his time, especially when farming at Ellisland and then in Dumfries where he worked for the Excise in the final years of his all-too-short life.
Professor McCue added: "In 1799, just three years after Burns' death, Thomson combined the text of 'Auld Lang Syne' that Burns sent to him with a different tune.
"He was inspired by Burns's discussion of the song to seek a new tune, and the one he chose has ended up being the one we all now sing as the global song of parting and which we'll all be singing across Burns' birthday again in 2021."
The Burns expert added: "Burns would most probably have approved of this new tune for 'Auld Lang Syne' as it was very similar to a tune for another of his songs 'O can ye labour lea'. It's strange then to think that Burns knew the tune, but that he never heard it with his text for 'Auld Lang Syne', which was published in The Scots Musical Museum, when Burns was still alive, with a more reflective tune than the one that has become much more popular in recent years."
Thomson (1757-1851) was an Edinburgh civil servant who was to be one of Burns' major correspondents across the last four years of his life.
As Burns died so soon into the project, Thomson was left to publish most of his Burns songs posthumously.
In the 1800s Thomson would be the editor who then married Burns' lyrics with musical settings by several of the most influential European composers of the day, including Joseph Haydn and Ludwig van Beethoven.
He would also be a central figure in the memorialisation of Burns in the early decades of the 19th century – helping in the erection of the Edinburgh Statue, and aiding in the preparation of James Currie's first major edition of the poet's life and works, alongside appearing at several important early Burns suppers.
---
For more information contact Áine Allardyce, Communications Manager, External Relations on aine.allardyce@glasgow.ac.uk

Auld Lang Syne
The first mention that Burns makes of the song appears in a letter sent to Mrs Dunlop on the 7 December 1788, where he asks her, 'is not the Scotch phrase 'Auld lang syne' exceedingly expressive?' As an avid collector of traditional Scots music and song, Burns noted that both the old song and the tune 'thrilled thro' my soul'.
Learn more about Auld Lang Syne on the Centre for Robert Burns Studies online exhibition which can be view on these webpages.
The Oxford Edition of the Works of Robert Burns
The Oxford Edition of the Works of Robert Burns, Volume IV, Robert Burns's Songs for George Thomson, edited by Professor Kirsteen McCue, is due to published on Thursday 18 February 2021 by the Oxford University Press.
This is the fourth volume of the new Oxford edition of The Works of Robert Burns currently being produced by the team at the Centre for Robert Burns Studies at the University of Glasgow with Professor Gerard Carruthers as General Editor.
Professor Nigel Leask's Commonplace Books, Tour Journals, and Miscellaneous Prose was the first volume of the multi-volume scholarly edition to appear in 2014 and Professor Murray Pittock's edition of The Scots Musical Museum, Burns's first big song project, appeared as vols 2 and 3 in 2017.
This fourth volume completes the editions supported by the Arts Humanities and Research Council as part of Editing Robert Burns for the 21st Century: Prose and Songs project. A further research project on Correspondence & Poetry is now well underway and will deliver the remaining run of volumes for this brand new, ground-breaking edition.
Professor Kirsteen McCue
Kirsteen McCue is Professor of Scottish Literature and Song Culture and Co -Director of the Centre for Robert Burns Studies at the University of Glasgow.
She was previously General Manager of the Scottish Music Information Centre and worked for both the BBC and the Edinburgh International Festival.
She has published widely on Romantic song culture and on Burns's songs and musical responses to Burns's work. She is editor of James Hogg's Songs by the Ettrick Shepherd and Hogg's Contributions to Musical Collections and Miscellaneous Songs for the Collected Works of James Hogg (Edinburgh University Press, 2014) and has recently co -edited Women's Travel Writings in Scotland with Pamela Perkins (Routledge, 2016). She is currently working on British National Song culture during the period 1750–1850 and was Principal Investigator of the Romantic National Song Network between 2017 and 2019.
The Centre for Robert Burns Studies
The Centre for Robert Burns Studies at the University of Glasgow has the biggest concentration of Burns experts in the world. It was established in July 2007. Its mission is the development of research, scholarship and teaching around Robert Burns, his cultural period and related literature. The co-directors of the centre are Professor McCue and Professor Gerard Carruthers. Follow the Centre for Robert Burns Studies on Twitter @GlasgowBurns
First published: 24 January 2021