University of Glasgow unveils photo of the first woman solicitor in the UK
Issued: Fri, 18 Jan 2019 10:00:00 GMT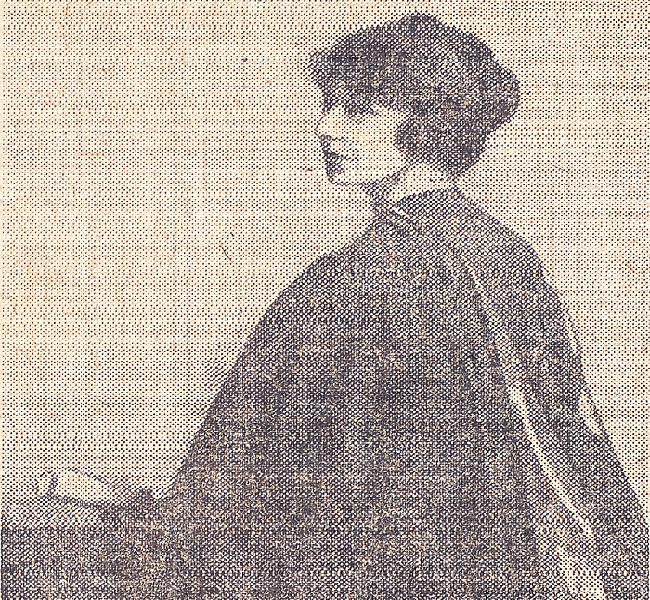 She was the first woman solicitor in the UK.
But despite this amazing achievement only limited information survives about Madge Easton Anderson.
Up until now, researchers couldn't even find a photo or image of Anderson.

But University of Glasgow law academics and students, carrying out research at The Mitchell Library for this year's centenary of woman in law project called - First 100 Years: Celebrating women in law - have discovered a rare photo of the law pioneer.
And they hope to use it to raise the profile of Anderson's place in UK legal history. They also hoping that the photo may help them to trace her relatives to learn more about her life.‌
Maria Fletcher, Senior Law Lecturer at the University of Glasgow and a Champion of the First100Years project, said: "Madge Easton Anderson is an important person for us to remember, both here in the School of Law and more widely in the legal profession.
"2019 is the centenary of the Sex Disqualification (Removal) Act 1919 which paved the way for women to become lawyers for the first time. We should celebrate Madge and her tenacity. She studied law and underwent her professional training in a law firm even prior to the passage of the 1919 Act."
"Madge had a number of firsts to her name - she was the first woman law graduate at Glasgow, the first to be admitted to practice as a solicitor in Scotland and indeed the first UK female lawyer, as well as being a partner in the first UK law firm to be run only by women based in London."
Professor Anne Anderson, Vice Principal and Head of the College of Social Sciences who is also the University's Gender Equality Champion, said: " This is a remarkable story of a remarkable woman and we are delighted to support this project at the University of Glasgow. It is right to celebrate the diversity agenda and the role of pioneering woman like Madge Easton Anderson at Glasgow."
Ms Fletcher said that the details of Anderson's later life remain obscure although after a time working in London, she retired to Scotland after the Second World War and ran a private hotel for a number of years.
Ms Fletcher added: "It would be wonderful to get a fuller picture of Madge's life and we are hoping her relatives might get it touch to help us do that.
"For me as a law lecturer, I most admire Madge for her sincere social conscience and from what I have learned about Madge's character I think this would be what she would like to be remembered for, not the fact she had so many firsts in the legal profession.
"Through the University's Settlement organisation, Madge volunteered her time to offer free legal advice to those in the Anderston community of Glasgow. Records show that she acted as a 'Poor Man's Lawyer' from 1920-1930. Her work undoubtedly inspired the later opening of a Free Legal Dispensary run from the University of Glasgow; itself a precursor for the first Citizen's Advice Bureau in Glasgow.
"She has much to be admired not only as a real pioneer but as a wonderful inspiration for our students today. It seems only right and fitting that her legacy is remembered at her alma mater. I am delighted to be able to unveil a photo of her found in the Mitchell Library archives."
The University of Glasgow is planning a major conference in 2019 looking at the role of women in law and Madge Easton Anderson and the newly discovered photo, found in the archives of the Mitchell Library, will be a key element of the day.
A rare photo of the UK's first female solicitor, UofG's Madge Easton Anderson, has been found as part of a project marking the centenary of women in law. @UofGLaw Maria Fletcher explains why Anderson was a law pioneer @First100years Read more here https://t.co/hnhCPtWIon … pic.twitter.com/5BX61Pn2ta

— University of Glasgow (@UofGlasgow) January 8, 2019
The First 100 Years is a ground-breaking history project, supported by the Law Society and the Bar Council, charting the journey of women in law since 1919.
Dana Denis-Smith, founder of The First 100 Years project, said: "I founded First 100 Years to unearth and share the stories of legal pioneers so that they are celebrated and not forgotten.
"As the profession is becoming increasingly female, it is important that women lawyers in the future can reference back to a hall of fame of women in law - learn about their journey in law but also about the obstacle that lay in their path, as they sought to achieve their professional ambition.
"The hardest aspect of the project in the four years since it was set up has been finding photographs, artefacts and any materials by and about these legal pioneers in order to finalise the puzzle and discoveries such as this are critical for understanding the role women played in the legal profession."
Ms Fletcher and her students has been assisted in their research by the University of Glasgow Archive Services and the National Records of Scotland
Alison Lindsay, Head of Historical and Legal Search Rooms at National Records of Scotland, said: "I have been researching Madge Easton Anderson for the past three years and recently contributed a biography of her to the Oxford Dictionary of National Biography.
"I was very interested to learn of Pat Lucie's researches into Anderson's work through the University of Glasgow Settlement as a 'Poor Man's Lawyer'. It is inspiring to know that she wanted to share her expertise with her fellow citizens, and continued to do so throughout the 1920s before moving to London.
"It was particularly special for me to read these records and realise that a similar post – convenor of a Free Legal Dispensary – was later held by my father, who also studied law at the University of Glasgow."
The First 100 Years is a ground-breaking history project, supported by the Law Society and the Bar Council, charting the journey of women in law since 1919. It is an ambitious video history project documenting the journey of women in the legal profession, from 1919 to present day. Learn more here.
Follow the First 100 Years on Facebook, Twitter and Instagram to learn the story that is #legallyhers
Madge Easton Anderson (24 April 1896 - 1982)
Anderson who was born in Glasgow in 1896 was the first woman to graduate from the University of Glasgow with a degree in Law.
She graduated MA(Ord) on 26 Jun 1916, BL on 8 Nov 1919, then LLB on 20 Apr 1920.
However she was not the first law graduate in Scotland – Eveline MacLaren and Josephine Gordon Stuart graduated from the University of Edinburgh some years earlier but at that time women were not allow to practise as lawyers.
Anderson began her working life as an apprentice law agent at the practice of Maclay Murray & Spens in Glasgow.
In December 1920, Anderson became the first woman in the United Kingdom to qualify as a solicitor, following a successful petition to the Court of Session (Scotland's highest civil court), although the decision was not formally registered until January 1921.
The details of her later life remain obscure. Madge Easton Anderson died in 1982 in Auchtergaven, Perthshire.
In 2017 Maclay Murray & Spens combined with Dentons. Denton's Amanda Jones, a partner at the firm and its Women's Advancement Officer, is supporting the University of Glasgow work on Madge Easton Anderson.
---
For more information please contact Aine Allardyce in the University of Glasgow Communications and Public Affairs Office on 0141 330 7126 or email aine.allardyce@glasgow.ac.uk