International event to celebrate Hergé's Adventures of Tintin
Published: 6 June 2018
University of Glasgow's academic gives keynote address at international event in England celebrating one of the most recognisable comic characters of the 20th century – Tintin.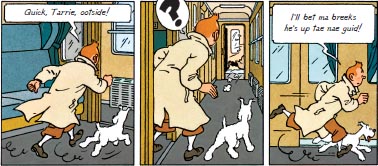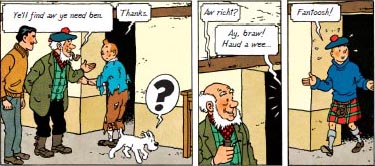 An international event on one of the most recognisable comic characters – Tintin – will feature a keynote address by a leading University of Glasgow academic.
Professor Laurence Grove, Professor of French and Text/Image Studies, will discuss the continuing popularity of Tintin for today's audience.
The comic series follows Tintin, a courageous young Belgian reporter and adverturer, and his faithful dog Snowy. The Adventures of Tintin is a series of 24 comic albums created by Belgian cartoonist Georges Remi, who wrote under the pen name Hergé.
‌The Tintin two day conference, takes place between 13-14 June, at the Leeds Beckett's Northern Film School and Leeds Art Research Centre.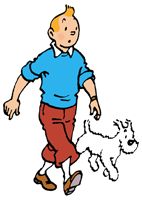 The conference will discuss the popularity of Tintin, the relationship between Tintin and Hergé, and such areas as friendship, audience appreciation, masculinity, sexuality and legacy.
Dr Steve Gerrard, Senior Lecturer in the Northern Film School, who is leading the conference said: "Hergé is the founding father of the modern comic. His masterpiece Tintin remains one of the most enduring, popular and enthralling creations of 20th Century literature.
"Adored and read by millions, the 24 adventures sees the ginger-quiffed boy reporter and his trusty dog Snowy battle despots, topple regimes, dive under the sea and even journey to the moon."
Professor Grove is part of the production team of a new French Tintin documentary about the the comic hero's Black Island adventure which features a a gang of forgers in Scotland.
Professor Grove said: "Tintin is not only Belgium's number one superhero, he's a European James Bond.
"It's no wonder he has been a star of screen from Sixties animation and two live-action films to Spielberg's epic movie, with a new French TV show about to explore Scotland in search of Tintin's Black Island castle."
Professor Laurence Grove is Professor of French and Text/Image Studies and Director of the Stirling Maxwell Centre for the Study of Text/Image Cultures. His research focuses on historical aspects of text/image forms, and in particular bande dessinée (French comics)
The Tintin series began1929 to the death in 1983 of their creator George Remi (Hergé).
They are much loved around the world and have been translated into over 100 languages.The other keynote speaker at the event is world-renowned Tintinologist, Michael Farr.
---
First published: 6 June 2018