Bookable Spaces on Campus for Online Exams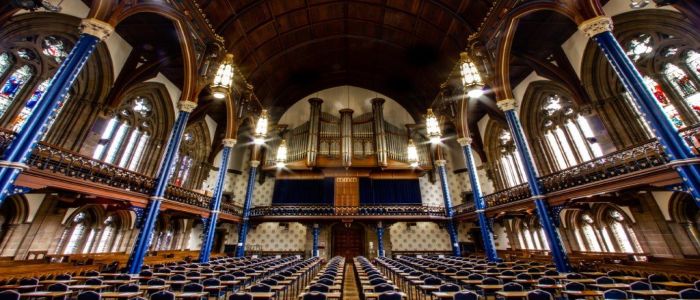 We recognise that over the upcoming Winter 2021 exam period, many students may wish to complete their online exams from spaces on campus. To support this, we have supplemented the available bookable study space with an additional 350 bookable seats, enabling students to secure suitable space with access to power and wifi.
You will need to bring your own device to complete the exam. If you do not have a suitable device, please submit a request via the UofG Helpdesk self-service, selecting 'Student Laptop Loan' ahead of your exam date.
Bookings for these additional spaces will be managed through the UofG Helpdesk – you simply search for "Exam: Book an exam space" via the Helpdesk self-service.
This will allow you to select a location, date and timeslot. Up to 3 timeslots are available each day. These include:
08:30-12:30, 13:30-17:30, 18:00-22:30
You will need to book for a whole slot, even although you may only need to use it for part of the available time.
Seats in each venue will not be numbered and you will be able to choose your own seat. However, bookings are limited to a level appropriate to each location to ensure appropriate distancing to be maintained and to keep everyone safe.
When using these shared spaces, please be respectful to other students (e.g. entering, exiting or moving around the room quietly) and be careful not to position yourself in a way that could be perceived as allowing collusion (cheating) between other students. It's also worthwhile reminding you of the exam misconduct guidelines.
In addition to these new spaces available over the exam diet, existing study spaces (both open access and bookable) remain available. You should check the UofG Life App for more information.
Good luck with your upcoming exams.
---
First published: 2 December 2021