Student Societies at UofG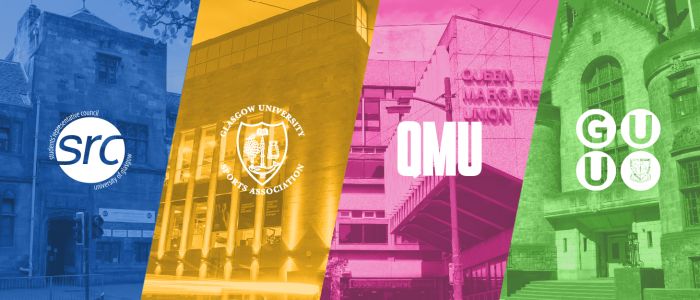 Societies are a great way to make friends, develop new hobbies and continue old ones, learn new things, and add another line to that graduate CV. Student Monique talks about all you need to know about societies at UofG!
Any student can become a member of any society
Whether you're a squeaky new undergrad, a fourth year doing your dissertation, a masters student, or a PhD/student researcher, there's a place for you in student groups. Some societies also allow non-student members (particularly alumni), though often there's a cap on how many they can have - either way, it's worth asking!
Whether you need to be a member to interact with a society varies
Some societies host events and have online content which you can attend/interact with without formally signing up - membership might instead involve newsletters, discounts to paid events, and other perks. Some societies only open their activities to signed-up members. It's worth looking at each society you're interested in, and drop them a message/email if you're not sure!
Most societies are on social media and update members that way
Facebook, Instagram, and Twitter are the most common platforms to find them. Some might have group chats for members on platforms like Messenger, Whatsapp, and Discord. If you're not a social media person, fear not - all groups have a functioning email, and many of them send out newsletters.
Student groups at Glasgow aren't just societies - there's also unions, committees, and clubs
As arbitrary as it sounds, there's different student groups with different functions (and therefore names) that you can get involved with! Let's break down each one and how you can get involved:
Society: A society is what you thought of going into this blog post - Neuroscience Society, Sewing Society, Shrek Society (yes, it exists). At Glasgow, societies are usually by committees of Presidents, Secretaries, and Treasurers - plus other optional roles like Social Media Manager, Welfare Officer, and whatever else the society needs. You can get involved in societies by joining in with their activities or running the society as part of committee!
You can easily become a member and/or run for committee in yearly elections, and anyone can join or even start a new society at any time. Some societies have membership fees (e.g. £3 for the year) while others don't - this depends on each society. There's over 300 societies on campus, and you can find them on the the SRC's website.
Union: Glasgow technically has four student unions - the Student Representative Council (SRC), Glasgow University Sports Association (GUSA), Glasgow University Union(GUU), and Queen Margaret Union (QMU).
Each of them have a specific focus and offer different things: the SRC is more about academic and welfare representation, GUSA about the sports clubs and uni gym, and the GUU and QMU about aspects of student life like club nights and daytime events. Every student is automatically an SRC member, but to be a member of GUSA you need to buy a uni gym (or "UofG Sport") membership, and to be a member of the GUU and QMU you need to sign up for their free membership.
Through bi-annual elections, the unions provide opportunities for you to represent the student body and influence student/union life by joining their Board. The SRC's positions include Representatives for your School/College and welfare (e.g. Gender Equality and International Student Reps). GUSA, GUU, and QMU have Convenors for different aspects of their union activities, with unique ones including Health and Fitness (GUSA), Debates (GUU), and Campaigns and Charities (QMU).
Each union has more full-on "executive" positions - Presidents, Vice Presidents, and Honorary Secretaries - with Presidents being full-time paid positions. Apart from GUSA, they all also have general representative positions. Find out more about the boards of each union through their websites!
Committee: You'll hear about committees in the context of societies - this is the group of people who run the society. But you'll also hear about committees within the student unions, particularly the GUU and QMU. In this sense, committees are groups within the unions which run their different activities, which are led by the elected Convenors. Some (but not all) might host their own mini-elections for other positions, forming a "committee" like in a society with different positions (this is getting confusing, huh?). To get involved, you'd need to be a member of the union, but not necessarily an elected board member like Convenors are.
With the QMU, you can get involved by simply turning up to meetings. The QMU committees include Campaigns and Charities, Events, Social, Tech, and Publications (running the qmunicate magazine). Publications runs mini-elections for editors and other people to work on qmunicate, but you can also turn up to support or contribute your work. C&C also has a subcommittee, Elephant in the Room - this is a dedicated mental health campaign and has its own elections, including for Convenor, but again you can just turn up. Find more on the QMU website.
With the GUU, the main way to get involved at first is running for their committees (in the society sense). The GUU committees include Debates, Games, Entertainment, and Libraries (running the G-You magazine) - they also have mini-elections for positions under the Convenor. With Libraries, where you can turn up to meetings as a non-committee member to contribute your work. Other groups include the Daft Friday committee, who run the annual black-tie ball, and PR committee - both of these also have mini-elections. Find more on the GUU website.
While not technically committees, it's worth mentioning the student media groups financed by the SRC: The Glasgow Guardian, Glasgow University Magazine, Glasgow University Student Television, and Subcity Radio . The SRC also coordinates other volunteering opportunities, from supporting soup kitchens to local schools to fellow students on campus.
Club: When someone talks about a club, they're most likely talking about a sports club in GUSA. There are over 50 sports clubs at Glasgow, from Cheerleading to Muay Thai to Ultimate Frisbee. To get involved, you'll need to have a UofG Sport full access academic year membership (which is free if you're in uni accommodation and otherwise currently costs £132) - this also gives you full access to the Stevenson Building Gym on campus.
Each club runs in different ways, but generally they'll have a Captain, Secretary, and Treasurer. Most will also have committee elections to organise the other aspects of the club, such as socials and fundraising. They have regular training sessions and many have both competitive and recreational aspects. Find the many different clubs through the website.
Societies are what you make of them
The ones you join might be more formal or they could be completely for-fun. They could take up all of your free time, or be an occasional part of your monthly calendar. Your society experience is entirely up to you!
My experience with societies and the student unions (unfortunately am not a sporty gal) have really enhanced my uni experience, and while they're not for everyone, I couldn't recommend them enough!
---
First published: 29 October 2021