Welcome (and Welcome Back!) to our Library and Study Spaces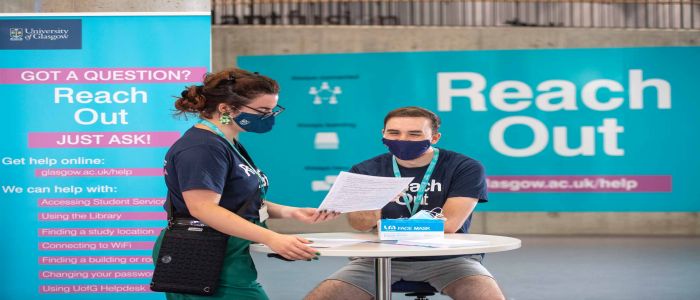 The UofG Library and the James McCune Smith Learning Hub are open, and we're excited to welcome our new students, and those returning for another year.
Use the UofG Life app to check how busy our spaces are before visiting, our opening hours, and to find out about other study spaces on Campus.
Library Updates
In line with Scottish Government guidelines, we're very happy to reintroduce some of our popular services
Additional study space is now available in our Libraries and study spaces
The Welcome Desk is open for service and we're looking forward to helping you
Inter Library Loans have returned. If we don't have a book you need, log in to your Library account and follow the links to request an item we don't have
Self return is back. You can now return your own books using our self-service kiosks. Don't worry though, the external book return drop is still available if you'd prefer to return your books without coming in to the Library.
Reach Out is Here For You
Reach Out Ambassadors are available around campus and in the Library and James McCune Smith Learning Hub. Look out for our friendly team in blue Reach Out t-shirts –we'll be delighted to offer you support and to help you find the answers you need.
You can also get in touch with us through UofG Helpdesk, or search the UofG Help Knowledge Base for instant answers to many of your questions.
Use the Library Wherever You Are
If you have access to the internet, you can use your GUID to access over 80,000 e-journals and more than 1 million e-books.
Glasgow Anywhere is full of information about the Library and other University Services available to support you both on and off campus.
Face Coverings
Help us to keep our Libraries and study spaces safe by wearing your face covering at all times. This is compulsory unless you're medically exempt.
---
First published: 16 September 2021