Exam Season Support From UofG Library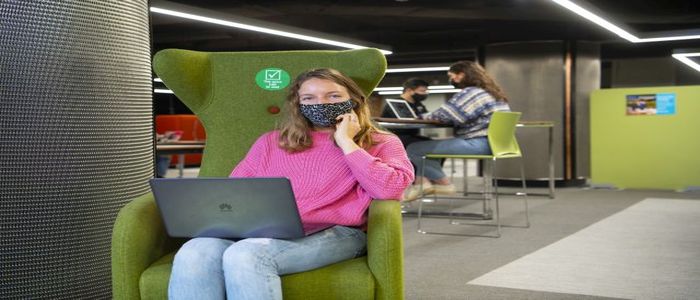 Exam Season Support from the Library & IT Services – We're Still Here for You.
We know this is a difficult time for our students, especially with exam time approaching, but we're still here to help. The Scottish Government advice is still to stay at home if at all possible, but there are lots of online resources available to help you revise from the safety of home.
Using our Library Building Safely
If you do need to visit the Library, we are currently open between 10am-8pm on Mondays, and 8am-8pm from Tuesday to Sunday.
Things look and feel a little different. We've made changes, following guidelines from the Scottish Government, to keep students and colleagues as safe as possible:
No gathering in groups, even with your flatmates or others in your bubble. You must keep a two metre distance from everyone else at all times in the Library.
Only sit in designated study spaces marked with green stickers, and eat any food at your desk. Anyone who repeatedly gathers in a group will be asked to leave the Library.
No access to bookshelves or browsing. We are unfortunately unable to allow access to print book stock. You may make one request through UofG Helpdesk, for a very limited number of print books, using the Essential Loans Service. Please only use this service if it is absolutely essential - we are trying to keep our staff as safe as possible by limiting the time they spend in the building.
Face coverings are compulsory, unless you are exempt. Please help us to keep everyone as safe as possible. If you can't wear a face covering you also have the option of booking one of the individual study spaces available across campus, using the UofG Life app
Reduced building capacity and enhanced social distancing. We have reduced the number of study spaces to ensure space for social distancing. Check the UofGLife app for space availability, before visiting us. Only use study spaces with a green sticker and keep a minimum of two metres distance from others, at all times.
Please return all books to the book drop outside the Library
We'll let you know as soon things change, so please check the Library Updates page and follow us on social @UofGLibrary for the latest information.
Thank you all so much for helping us to keep the Library safe!
---
First published: 17 March 2021