Stories from Glasgow: Ep.2 - The World's First Comic
Published: 20 October 2022
The College of Arts podcast looks at 'The Glasgow Looking Glass'
Move over Gotham, there's a more important city in comic book history. Glasgow is home to the world's first comic, The Glasgow Looking Glass, and in this new episode of the College of Arts podcast, Stories From Glasgow, we're uncovering its fascinating story.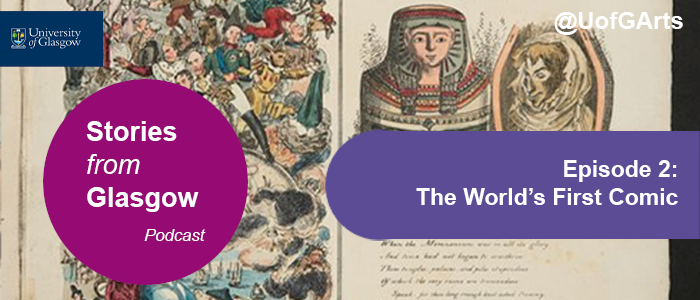 Expect local landmarks, missing mummies and more, as researcher Danielle Schwertner and Professor Laurence Grove share some of their favourite extracts of the periodical, explaining what we can learn about 19th century Glasgow, and comic book history.
Episode 2 is available now from Spotify, Apple Podcasts, Google, and wherever you listen to podcasts. You can find out more about this episode and past episodes via the podcast webpage.
Don't forget to follow @UofGArts on social media for previews of upcoming episodes, as well as regular updates on what's happening in the College of Arts.
---
First published: 20 October 2022