ARC – update on access
The official opening of the ARC is taking place on the 8th June and over the last few months more researchers and research groups have moved in. The building is becoming fully operational and will soon be open to the University research community for use.
Staff card activation (all staff and research students)
From the 1st September all University staff and research students will have access to the ARC (all floors) via their staff/student card. Salto access is required for meeting rooms and spaces on level 2 and to access level 3 upwards.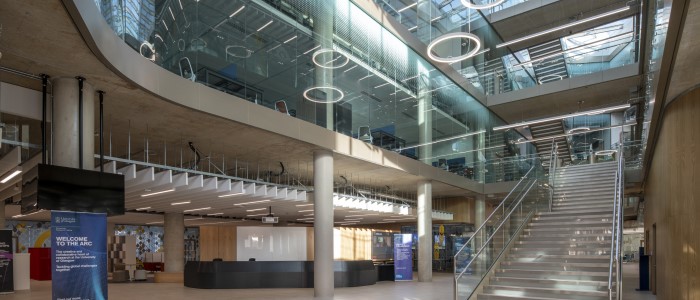 Flex spaces/desks
There are around 90 desks available in the ARC available for ad hoc use. These are available on a first come basis and are situated on levels 3, 4 and 5. The flex spaces will be clearly signposted for users. Some desks will have docking stations for laptops – monitors, keyboards etc. However, not all desks will be kitted out in this way – at least not initially. The desks will be available for use from the 1st September.
Meeting rooms
From mid-June all staff and research students will be able to book meetings in the ARC via the central bookings system. You can find out more information about the spaces in the ARC in our Delivery Plan.
Level 2 - engagement and events
We are in the process of developing an online portal to support engagement events in the ARC, including information, resources and the booking platform for our Level 2 spaces. We hope that this will be available for the start of the new term in September.
We want to encourage activity across Level 2 that supports collaboration, creativity and careers in line with our research strategy and that develops relationships with partners and public audiences. You can find out more about the criteria for hosting events in the ARC in our Delivery Plan. If you would like to host an engagement event in the ARC please contact the ARC Engagement team: arcengage@glasgow.ac.uk.
We are in the process of planning our public-facing ARCadia Festival which runs from 16-30 September and encourage staff and students to get involved. You can find out more information on the ARCadia festival's website.
Accessing the ARC
Due to the ongoing campus development works, the pedestrian access to the ARC is via a temporary route which is accessed from the corner of Byres Road and University Place, there is a walkway which takes you up the side of the ARC and the Clarice Pears Building which his under construction.
There are plans to open access from the main campus through to the ARC and to also open the walkway linking the ARC to Kelvingrove Park/Kelvinhall. We hope that this will be open by the end of June.
For enquires around vehicular access or other access requirements, please email arc-enquiries@glasgow.ac.uk.
---
First published: 23 May 2022