Hillhead St and Great George St repairs
Published: 23 May 2022
Project to repair the external fabric on Hillhead Street and Great George Street
In June the University's Estates team will commence an external fabric repairs project on Hillhead Street and Great George Street, which will see buildings in the area return to a wind and watertight condition.
The work will focus on improvements to the buildings' sustainability and thermal performance. The team is planning to replace the existing roof coverings with a traditional slate finish, overhaul the traditional timber-framed windows, and address the defective rainwater goods.
The project will be carried out in two phases over an 18-month period. The first phase will focus on the buildings on 52-68 Hillhead Street, while the second phase will see the remainder of the terrace on Great George Street restored.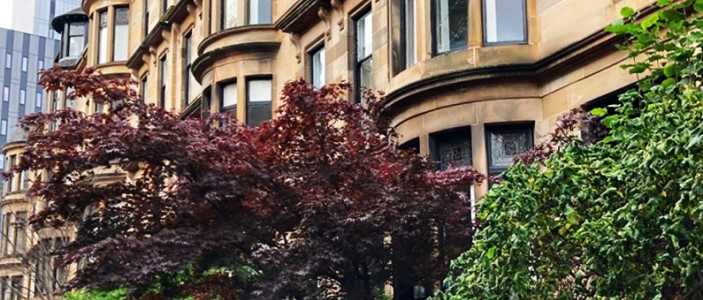 This work will include the removal of the existing bike racks and benches located on the north side of the Library entrance, and we are exploring temporary replacement provisions. Alternative bike storage facilities will continue to be accessible, with the nearest bike parking available at the Fraser Building. We apologise in advance for any inconvenience this project may cause.
Ian Campbell, Executive Director of Estates, said: "The Estates Strategy 20-25 brings additional focus on how we maintain and use our historic properties. One of our central themes is the custodianship of our magnificent campuses; we are placing increased resources into the investigation of the condition of our listed properties and then investing comprehensively to return them to their glory."
Lynsey Paterson, Building Surveyor in the Projects and Conservation team, said: "The main purpose of this project is to address the backlog maintenance and to make buildings on Hillhead Street and Great George Street wind and watertight, whilst improving the sustainability through various upgrades.
"Although not listed, these buildings are located within the West End Conservation Area and are historic in their own right. Our approach to these works will respect this and aims to improve the overall building user experience."
The area on Hillhead Street and Great George Street has not changed significantly since the buildings were completed in the late 19th century, except in the southwest. It consists of mainly residential buildings, though many of the buildings are owned and used by the university. The quiet tenements and terraced houses with a few detached villas date from the 1840s, such as Florentine House, and the 1930s, such as Hillhead High School, and are predominantly of warm blonde sandstone.
---
First published: 23 May 2022