The University community plants Wee Forest at Garscube
Published: 18 November 2022
The planting ceremony featuring academics, students, local community members and schoolchildren, took place on Wednesday 16 November
The University recently celebrated the planting of a Wee Forest on its campus. The planting ceremony took place on Wednesday 16 November, on a patch of land on the Garscube campus. The planting of the Wee Forest was funded by The Queen's Green Canopy, a UK-wide project to plant over one million trees in honour of Her late Majesty The Queen.
The ceremony was well-attended throughout the day by members of the University and Earthwatch Europe, people from the local community, as well as groups of children from local schools.
Volunteers planting the Wee Forest at Garscube
The University's Wee Forest was planted in partnership with Earthwatch, an environmental charity that has been planting Wee Forests in the UK since 2020. A Wee Forest is a dense fast-growing native woodland about the size of a tennis court, based on an established forest management method developed in the 1970s by Dr Akira Miyawaki. Earthwatch identifies suitable sites for the planting of Wee Forests, such as urban areas, and engages with local communities to plant, maintain, and monitor the forest over time. The movement has grown to almost 150 forests, bringing together communities, public sector and businesses.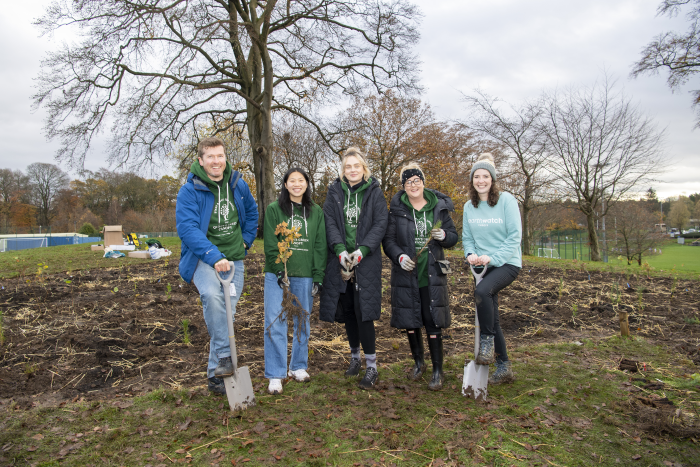 Volunteers alongside organisers from Earthwatch including Hannah Davidson, Project Manager (right)
The Wee Forest at Garscube will provide an immersive and inspiring space for colleagues, students and the local community to enjoy, providing an accessible green space and an outdoor classroom for people to reconnect with nature. The green spaces on the University's Garscube campus are already popular with walkers and dog owners, and it is hoped that the Wee Forest will increase the popularity of these green spaces by maintaining paths and open spaces for the local community to enjoy.
Stewart Miller, Sustainability Manager at the University of Glasgow, said: "The University of Glasgow is committed to protecting, enhancing, and developing its green spaces, and the Wee Forest project is one of several of the University's initiatives to promote biodiversity on campus. We hope that the Wee Forest will provide a fantastic environment for students, colleagues and the local community to enjoy for years to come."
Hannah Davidson, Project Manager at Earthwatch Europe and former student at University of Glasgow, said: "It's lovely to be back at my old University helping to plant this Wee Forest. These forests provide rich opportunities for connecting young and old alike with the environment and sustainability. It's vital that we give people the knowledge and skills to protect our natural world and inspire them to take positive action. Earthwatch are so please to be working with The University of Glasgow and Queen's Green Canopy to bring these inspiring spaces to their Garscube campus."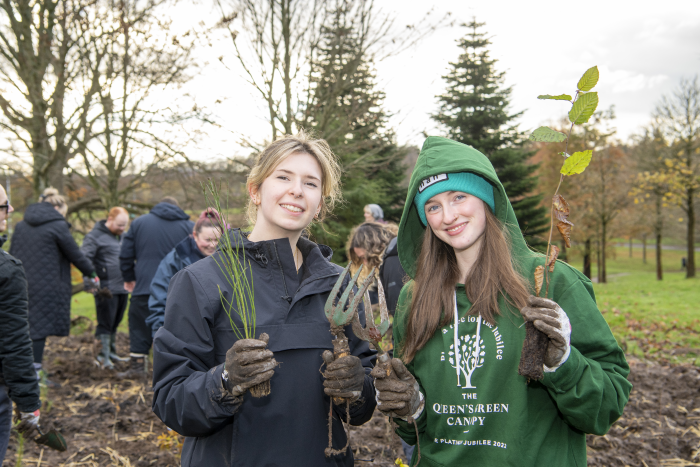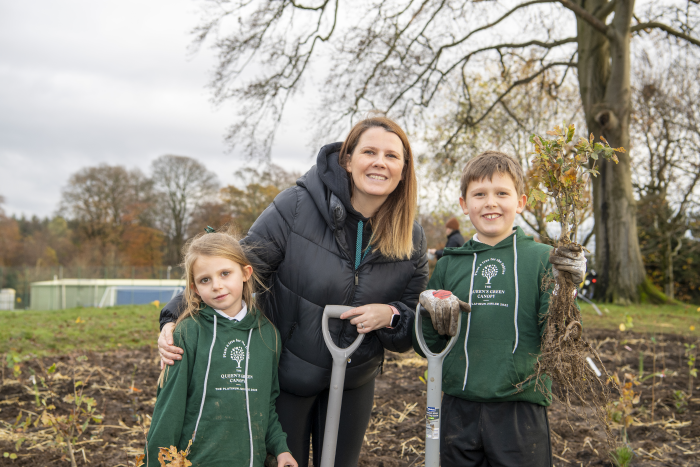 ---
First published: 18 November 2022